---
APRIL 2003
---
4/15/03 - A Less than Taxing Month - For many individuals in the accounting profession, April 15th is a dreadful day at the end of a miserable three months. Fortunately, since I don't actively practice public accounting, I do not have to suffer through a "tax season". Thus, my free time is available for more interesting activities such as the following:
Stars on Ice - Susan and I made the trip to Dallas for our yearly ice skating extravaganza on April 4th. Some of the participants included Kurt Browning, Katarina Witt, and pairs team Jamie Sale´ & David Pelletier (the Canadian team who shared the gold medal in the 2002 Olympics). Although some of the skating seemed to be less than perfect on the technical scale, I thought most of the routines were unique and exciting. We've been to several of these shows together, and they are always entertaining enough to draw us back each year.
Four Day Weekend - On April 12th, we visited the Caravan of Dreams improvisational comedy club in downtown Fort Worth. Four Day Weekend was performing and they were definitely up to their usual hilarious mischief. This was our second visit to the club and we both enjoyed the show. The routines included skits created from random newspaper headlines, musicals based on information shouted out by the audience, and lightning fast wit.
Rangers Baseball - The Texas Rangers faced off against the Oakland Athletics in my first visit to a professional baseball game. Although the game was energetic and close, the Rangers lost 2 to 1. On a side note, Susan and I took blankets to this game in order to keep from freezing. Game day, April 8th, was probably the coldest day Fort Worth had seen in several months.
4/25/03 - Russell's Visit - Our friend, Russell, now works for a company that requires him to travel. He was in Fort Worth this week and we got to visit with him over supper some of the nights. We went to a Cajun restaurant (Razzoo's) and a Lebanese restaurant (Byblos).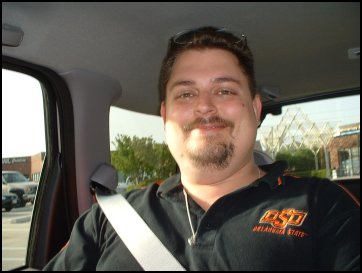 Russell