---
APRIL 2005
---
04/01/05 - Artistic Butterflies – There were a couple of small events in Fort Worth recently. One was a display of 12,000 live butterflies from all over the world. Susan and I saw butterflies of many shapes and sizes along with all sorts of flora.
We also took a tour of some nearby art museums. Most of the art was waaaaay to pricey, but the free wine and finger foods were excellent!
04/15/05 - Austin: Day 1 – Whatever shall we do with Susan's Saturday off this month? How about doing a wine tour of Fredericksburg? That sounds fun...too bad all of the local B&B are booked up for the weekend. How about Austin? That sounds fun too! We could invite Rick and Nina too...it would be a blast. So Austin it was.
We all drove down late Friday night and checked into one of the only available hotels I could find on the Internet - Super 8...we're talking high class here ;). After that, we ventured forth to 6th street...the heart of nightly entertainment in Austin. Russell took me to visit 6th street shortly after he returned from Korea about 10 years ago. The only thing I remembered was eating wonderfully greasy pizza from a street vendor. As such, I had to keep with tradition and eat another slice. I think it was the same grease from 10 years ago, but nevertheless, it tasted wonderful!
In addition to the bar bouncers, shouting "No cover! $2 drafts", there were also plenty of other peculiar and interesting people to watch. We visited only one of the bars - it had a fascinating aquarium on the inside (and fascinating brews as well). There was also a "Tim Burton" car-show of sorts on the street. Some of them were strange...and some of them were really, really strange :).
| | |
| --- | --- |
| | |
| Feed Me Seymour | This Rat Bicycle Had a 20' Tail |
After walking up and down the strip we stopped at the Driskill for dessert. The chocolate was delectable and the hotel was absolutely glamorous. After relaxing for a bit, we all hopped on a couple of bicycle carts and were chauffeured back to our car.
04/16/05 - Austin: Day 2 – Our agenda for the second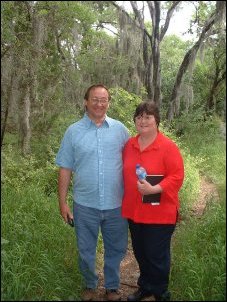 day was filled with scenic views, historic sites, and as many geocaches as we could hit along the way.
Our first stop was the Austin Nature & Science Center. This park was a little difficult to find, so we never actually found the visitor center. Nevertheless, we did enjoy a serene hike through the wilderness. One part of the hike took us to the top of a hill for a spectacular view of the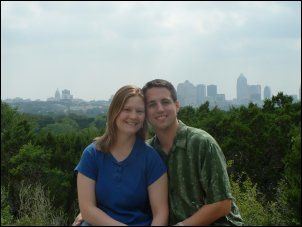 city.
Our second stop was Mt. Bonnell. 106 steps lead up to the top of the "mountain". There are several walking trails and even more photo opportunities.
For lunch we stopped in at The Oasis, a restaurant recommended to us by some of my co-workers. The Oasis is an unusual dining spot overlooking Lake Travis. The restaurant itself consists of 40 outdoor decks at different levels on the side of the hill overlooking the lake. In addition to good food, there was also a great view!
| | |
| --- | --- |
| | |
| View From Our Table | This Buds For You |
| | |
| Sweet Susan | The Oasis Garden |
After a filling lunch, my car passengers slept (those bums) while I drove to the Lady Byrd Johnson Wildflower Center. The wildflower garden was in full bloom with a huge variety of colors. There was also a neat tour of ladybug information. Did you know ladybug spots get lighter as they age?
| | |
| --- | --- |
| | |
| Pretty Indian Paintbrushes | Nathan Loves Purple Flowers |
| | |
| Surrounded By Wildflowers | Clowning Around |
A tour of the University of Texas and the Capital Building were next. As evening rolled around, we proceeded to a grassy knoll near the Congress Avenue bridge. Each evening, between March and November, you can witness over a million bats emerging at sunset. The bats didn't actually exit the bridge at once, but as a steady stream over a fifteen-minute time span. The entire time you could hear thousands of tiny chirping sounds.
| | |
| --- | --- |
| | |
| Capital Building | Governor's Mansion |
04/17/05 - Austin: Day 3 – Before setting out after the wine and cheese, Rick and I woke up early and visited several geocaches remaining on our list. Our journey took us to some old trees, historic cemeteries, and a very intriguing rock garden (all of the rocks in the below picture are balanced there - no additional support is provided).
| | |
| --- | --- |
| | |
| Geocachers Anonymous | Gravity Doesn't Exist Here |
West of Austin is Texas Hill Country, home of some of the finest Texas wines. The first stop on our tour was Spicewood Vineyards. Out of all the wineries we visited, I felt this one had the best wine (either that, or my taste buds were dulled after the umpteenth glass of wine). Each stop offered free (or very cheap) samples of their wine along with chocolate, cheese, and crackers to cleanse the palate. While tasting the wine for body and flavor, the host would cheerfully explain how each wine was created. It was a very enlightening experience and the tour was very informative. At Spicewood, we were even allowed a sample of Zinfandel directly from the barrel!
| | |
| --- | --- |
| | |
| I'd Like Two, Please | Grapes on the Vine |
After a winding trip down the back roads of Hill Country we found our second stop, McReynold's Vineyard. This was by far the most enjoyable, if not bizarre, stop on the wine tour. Upon arrival, we thought our safety might be in question ;). This winery was a small metal shed with an aluminum sliding door. Beyond the door, and a bed sheet curtain, was a tiny sitting room with a table, sofa, and several chairs. This was where the host brought his victims, errr guests, to taste his wine (while he sharpened his knives). The wine was very dry and occasionally crunchy...wait, more victims have arrived. Seizing our chance to escape, we snuck out the back door.
The third stop on our tour was Lost Creek Vineyard. The scenery was pleasant (with black swans and frogs to boot), but I didn't really enjoy the wine here; as such, this was one of the few stops where we didn't purchase a bottle to take home with us. After finding the lost creek we headed towards the town of Llano to see if we could catch a glimpse of the local Bald Eagles. It appears we were just barely on the tail end of the eagles' visit to this area. We saw the nest and one adult eagle, but we didn't see the other two adults or two eaglets. According to an on-line diary, very little of the eagles have been seen since April 15th. I figure we were lucky to catch the below picture. After the bird watching break we journeyed to our fourth and final stop, Pillar Bluff Vineyard. We didn't stick around long since it was after normal operating hours (they were very nice and stayed open late for us), but we did snag a couple of bottles before departing (this was my second-favorite tasting winery).
| | |
| --- | --- |
| | |
| Llano Bald Eagles (with Zoom) | Cheers! |
All that was left was a long stretch of highway back to Fort Worth. Overall the weekend was full of laughs, history, and good times. Susan and I had a great time and look forward to the next adventure.