---
APRIL 2006
---
04/02/06 - Geocaching 101 – Susan and I recently participated in a Geocaching awareness event run by our friend Christina (Coastalfinds). It was held at River Legacy Parks in Arlington and several potential geocachers came by to listen to her demonstration and then follow various guides (us) out into the park for an actual cache hunt. It was a lot of fun, and the Fort Worth Star-Telegram actually followed our group around and took a few pictures. Here is a link to the article they wrote and there are also 4 pictures you can view.
04/16/06 - Eggstatic – Memories of childhood; my mother and I used to dye Easter eggs every year. I really don't remember hiding and seeking them very much, but I distinctly recall sitting at the kitchen table, picking colors, and occasionally making a pretty egg along with changing the hues of my fingers. Sometimes we would color each half of the egg differently, and sometimes we would add stickers - artistry tends to run on that side of my family (except for me; I need numbers to color by - they tell me I must be adopted).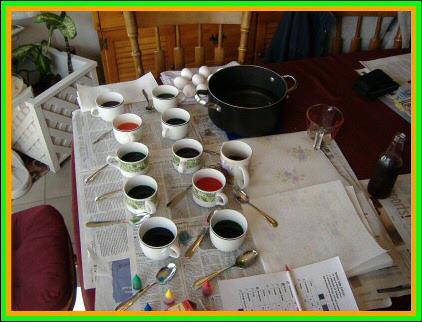 It has been ages since I last colored eggs. Coincidentally, I just happened to have a carton of expiring eggs in my fridge (I suppose I need to make more omelets - I always seem to be letting my eggs hatch; alas I digress). I found a dozen cups and mixed twelve different colors. Nevertheless, it looks more like I only picked Green, Red, Orange, and Purple...but I promise they are all supposed to be different colors!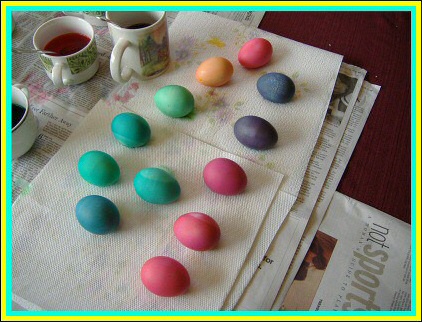 I tempted fate and ate one of the finished eggs before throwing the rest of them away (no need to contaminate everyone in the house). I had lots of fun; perhaps next year I can talk Susan into teaching me how to create more than four colors.
04/29/06 - Botanically Speaking – The Fort Worth Botanical Gardens are really starting to "Spring" up with new blooms and colors. We took a short walk around the park to enjoy some serenity and beauty. We also snapped a few pictures to share with everyone.
| | |
| --- | --- |
| | |
| Susanfly | Symmetry |