---
APRIL 2011
---
04/15/11 - 2011 Cruise – Day 0: Puerto Rico – Well, it is that time of the year – our annual expedition to the sunny Caribbean for a week of relaxation and adventure. Apparently we didn't overtax Anita and Dave with our rigorous schedule last trip, so they were excited to participate in this year's journey. We definitely welcomed the camaraderie and certainly the help with planning ;). After picking a cruise which met our desires, we tossed all of the islands in a hat and drew our assignments from said hat. Thus, each of us was able to plan at least one island toward our personal preference – it worked out grandly. Because of the itinerary, we decided to take Royal Caribbean (our first time on R.C.– with D&A being repeat customers, it made it a great opportunity to try that cruise line.)
| | |
| --- | --- |
| | |
| Trifongo or Old Roy? | Cheers! |
Our cruise departed on the Serenade of the Seas from San Juan. We took an early flight the night before and spent the evening walking the streets of Puerto Rico. We found a wonderful little wine bar and enjoyed a Napa flight with Sangria and prosciutto appetizers. This was followed up with a superbly delicious sampling of authentic Puerto Rican food at our hotel restaurant. The selection of the night was called trifongo (similar to mofongo – a plantain and yuca based dish- with salmon and beef in addition to the vegetables). Despite the fact that it looked a little like dog food, it was yummy! We had dinner on the patio, where it was quite dark, so we couldn't really see the food well. We were surprised to see the above picture (courtesy of the flash) and were glad we only tasted the food during the meal. We also enjoyed a peculiar side of fried cheese with guava sauce.
04/16/11 - 2011 Cruise – Day 1: Puerto Rico – We woke up rested and ready for the heart of our trip. We started by walking along the beach of San Juan and found a nice little beach bar. We had a few frozen beverages and washed the ocean splash against the sandy beach – paradise.
| | |
| --- | --- |
| | |
| Puerto Rico Beach Scene | Love - Love |
Luckily we were able to board the ship a little early with very little effort (RC vs Carnival – First point goes to RC). D&A gave us a brief tour of our home for the next week and eventually we spotted a good location to sit back, relax, and read a book (a great way to pass the time on a cruise – and something Susan and I both need as a contrast to our normal lives).
We thoroughly enjoyed our first dinner with Max & Sally (from Tulsa, OK) and Vickie & Mike (from Long Island, NY) – our wonderful dinner guests for the entire cruise (we didn't scare them off the first evening – which says a LOT about the fortitude of our table – and Susan certainly tried by asking if Mike was from New Jersey). After dinner we enjoyed (I use that word loosely) a comedy show at the ship's theatre (second point goes to Carnival for having a dedicated comedy club-at least on its newest ship; score is 1-1).
04/17/11 - 2011 Cruise – Day 2: St. Thomas – Our morning, like every morning for the following week, started with a delicious breakfast with the Luces (and sometimes the Cooksons – Max & Sally). We used the morning as a time to gather our plans for the upcoming day, and occasionally, play a few rounds of ping pong on the nearby gaming table. I would also like to point out RC was superb at getting everyone quickly off the ship at each port of call (2-1 in favor of RC).
| | |
| --- | --- |
| | |
| Avast! | Sea Turtle |
Our adventure in St. Thomas was hosted by Captain Doug and his first mate Donny of Fury Charters. The Fury, a traditional sailing yacht, took us out near Buck Island – an ocean nature preserve. We snorkeled with the cutest sea turtles, spotted hundreds of fish, and even saw a few barracuda and sting rays. This was an outstanding snorkeling location – highly recommended!
| | |
| --- | --- |
| | |
| One Fish, Two Fish | Red Fish, Blue Fish |
Once back on the yacht, we enjoyed a serene sail back to the port at St. Thomas with a bit of rum punch and snacks (boy, do I have to tell you about Caribbean rum punch – everywhere it is always more rum than punch – unless the punch is what you are supposed to feel when you take a sip).
| | |
| --- | --- |
| | |
| St. Thomas Snorkeling | The Elusive Blue Morpho butterfly snacking on banana |
Afterwards we stopped by a nearby butterfly garden and toured the grounds while a guide described all of the different species and identified several flora species. There was also an interesting bird show outside the garden – kind of like a circus for parrots and cockatiels – they were amazing, and the birds seemed to be thrilled to perform!
| | |
| --- | --- |
| | |
| Bird Brains | Sharply Dressed |
We shopped for a bit before finally returning to the ship in order to prepare for our first formal night. Dinner was stupendous and that was followed by a spectacular tour of Broadway. The show featured hit songs and dancing from Little Shop of Horrors, Hairspray, and Chicago – probably one of the best night shows of the cruise.
04/18/11 - 2011 Cruise – Day 3: St. Croix – For the astute reader you might notice our excursions alternated by sand and land for each island – this turned out to be a good change of pace and also a good chance to reduce sun exposure on the alternating days. For our land day in St. Croix we were part of a small tour bus on the "West End Highlights/Delights" ship adventure (our first official cruise ship sponsored excursion for the trip– we normally avoid ship excursions, but many of the islands we visited were small and didn't have a lot of local companies providing day trips). On a side note Sally and Max joined us, quite coincidentally, for this trip.
This trip certainly did not disappoint – it started with a historical tour of a local sugar cane plantation - Whim Plantation. It was extremely enlightening to see how difficult life was for the local slaves – it is simply something I'm thankful our generation doesn't have first-hand experience with.
| | |
| --- | --- |
| | |
| Whim Plantation | Max, Sally, Susan, Nathan, Anita, and Dave |
Our second stop was the St. George botanic garden where we walked the grounds on a guided tour. There were lots of tropical plants and even a small house filled with bats (I know.. a little odd, but definitely interesting).
Silly Purple (tossing fallen bougainvillea petals)
The third, and final, stop was the Cruzan Rum Factory. This was certainly a highlight (or delight) of this excursion. It started with a very informative tour of the rum process (quite similar to wine, actually, but with sugar cane) followed by a free all-you-can-drink buffet of frozen Piña Coladas, Rum Punch on the rocks, and any desired (and STRONG) combination of rum (regular or about 10 different flavors with various juices, sodas, etc). We sipped on Coladas and relaxed in hammocks – ahhhhhh.
| | |
| --- | --- |
| | |
| Cruzan Rum factory | Relaxing in St. Croix |
Following our adventures in rum we returned to the pier and toured several of the shops and beaches at Fredericksted. This was followed, eventually, with further relaxation back on the ship and a stint in one of the hot tubs before dinner. The evening's entertainment was a repeat show from the first night's comedian.
04/19/11 - 2011 Cruise – Day 4: Antigua (pronounced with a "guh" at the end; not a "gwuh"...that's how the locals say it) – Antigua was another island where we booked our voyage through the cruise ship – mainly because nobody else offered an opportunity to see the stingrays at Antigua. The stingrays here were both friendly, but also occasionally aggressive if you didn't fork over the squid (just ask Dave and his hickey). After playing with the stingrays we returned to shore where the tour group offered rum punch to quench our thirst (once again, more rum than punch – perhaps there is some logic to serving said punch right before accepting tips).
| | |
| --- | --- |
| | |
| Susan Loves Stingrays | Antigua (old boat stuck in sandbar) |
After several days of run-run-run we returned to the ship and simply had to take a brief nap before the evening's juggling show (by far the best juggling show I had ever seen) and dinner with our table mates.
04/20/11 - 2011 Cruise – Day 5: St. Lucia – The beautiful island of St. Lucia began with a private tour on a bus with Neptune (yes, that was his name) via Spencer Ambrose tours. Neptune led us on a wonderful jaunt stopping at several scenic points. The highlight of this adventure was the stops at street vendors offering up local delights. We sampled coconut milk and jelly, sugar bananas from a plantation, banana ketchup, cassava/yuca cakes with cinnamon/raisin/cherry filling, and homemade Creole bread from a mud/clay oven.
| | |
| --- | --- |
| | |
| Banana Farm | Put the Lime in the Coconut (dipping out coconut jelly from an immature coconut...tastes different from a mature coconut) |
We stopped at sulfur springs on the island and spotted bubbling black liquid which we were told was at approximately 200 degrees (we weren't allowed to get terribly close because apparently someone fell in a few years ago while trying to jump over a pool).
| | |
| --- | --- |
| | |
| Serenity | Yummy Cassava! |
The final stop was at a lava beach (lava sand… not flowing lava – too hot!) where we dined on several delicacies. We ate jerk chicken, sole fish & banana salad, dasheen/taro, sweet potato, and bread fruit. The lunch was absolutely delicious, and after enjoying the meal, we were treated to a speed-boat ride back to the cruise ship with a few small sightseeing stops.
The show for the evening was a tribute to the Temptations – which Dave thoroughly enjoyed :). Dinner was delicious; however, by this point, Susan and I had determined we preferred the selection of Carnival to RC (not that RC was bad - cruise food in the dining room is always exquisite - Carnival just happens to be slightly more exquisite ;) Carnival offers molten lava chocolate cake & ice cream every night!- score tied at 2-2).
04/21/11 - 2011 Cruise – Day 6: Grenada – Grenada is considered the spice island and for good reason – there is certainly an abundance of inexpensive spices all over the land (some even growing wild on the side of the road). Beisdes tourism, exportation of spices is the island's main source of income and labor. Our private bus tour with Bamboo (booked through Grenada SeaFaris – along with the later snorkel excursion) included a stop at Grand Etang and Crater Lake (where it rained the entire time – tropical rain forest, go figure), a trip to a gushing waterfall, a visit to several spice markets, and finally a stop at Fort Frederick with a panoramic view of Grenada.
| | |
| --- | --- |
| | |
| Spice Island | Silly Susan (inside an underground tunnel at an old fort) |
At the end of Bamboo's tour we stopped at Grand Anse Beach (beautiful clear blue water – supposedly one of the best beaches in the world) for lunch at a little restaurant called Umbrellas (we had delicious fish nachos).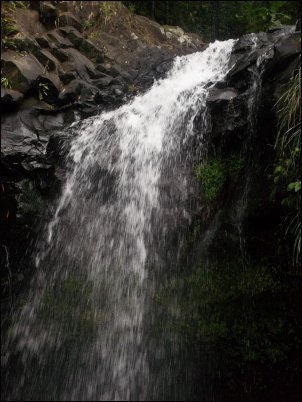 Grenada
The second half of our day with SeaFaris was spent on a speedboat eco tour. The highlight of this stretch was a snorkel stop at Grenada's underwater sculpture park designed by Jason deCaires Taylor. This was absolutely a once in a lifetime experience and something I would highly recommend to anyone who visits Grenada. Despite the fact we had unfortunate timing with a colony of tiny jellyfish passing through (more of an annoyance than a problem – their sting was very mild), this experience was awesome!
| | |
| --- | --- |
| | |
| Underwater Sculpture Park "ring of children"-one of many sculptures | Stunt Boat |
The end of the speedboat tour, which dropped us off at the base of the cruise ship, was a roller-coaster ride of boat acrobatics, The captain took sharp turns that nearly had the boat perpendicular to the water (it was an inflatable boat… not a typical speed boat).
04/22/11 - 2011 Cruise – Day 7: At Sea – I need to start off this day by pointing out something so I don't forget it in future years – This cruise had five ports of call and one day at sea. This was a ton of fun and a blast of activity; however, I think we all really prefer four ports and two days at sea (this is, of course, a vacation – despite us really enjoying full-tilt vacations).
| | |
| --- | --- |
| | |
| Buckness | Pasty White Guys |
While on the ship for the day we watch a blindfolded cake decorating competition featuring the ship's captain, the head chef, and the social director (hilarious – it really, eventually, simply developed into a food fight), took swing, salsa, and hip-hop dance classes (Susan also took a belly dance class), and we also found a bit of time to relax with our books. If you happen to be keeping score we're going to call it a tie between Carnival and RC. In the future we won't have any qualms about boarding either cruise line - it will all simply depend on the itinerary.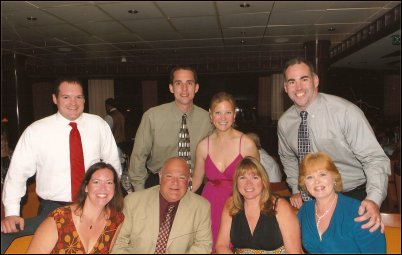 Dinner Crew
All in all this was a splendid vacation and we're pleased Dave & Anita were able to join us this year. It's always fun to share adventure with friends!