---
AUGUST 2008
---
08/02/08 - Another Year Older – My birthday wine tasting went off without a hitch on Saturday night. Lots of friends were in attendance and I know I had a splendidly wonderful time - I hope everyone else did as well. We had lots of interesting wine ranging from syrupy sweet to bone dry. We had tasty, fruity, smooth, and several that tasted like drain cleaner.
One of the more interesting experiments was two wines brought here from Italy by my boss (he took a recent trip to Europe). One bottle was a high-end red and the other was a very low-end red (less than $1 a bottle). They were both quite good, and although I preferred the high-end red (it was extremely smooth), I certainly would have sat down with a glass of the cheap stuff any day of the week. In fact, in a blind tasting, I likely would have said they were the same price.

Another highlight of the evening was all the unique wines my friends endeavored to bring so that I might come closer to completing my century club list (I'm at 91 grapes now for those interested). Joe, Chris (from Put a Cork In It), Donna, and Gary were extremely helpful in bring those unique grapes.
Most of the wine was finished off throughout the evening. I disposed of only a few extremely untasty items, but for the most part the crowd finished what was brought (or Susan and I did over the next several days - we enjoyed several "half glasses" of leftover wine).
08/06/08 - Weirdness – Front row tickets to a concert? Sounds like fun. That was pretty much the conversation Joe and I had on Tuesday afternoon. There was a Weird Al concert in town and he had looked online to see if there were any last minute tickets available. For once, Ticketmaster worked to our advantage (normally they horde all of the good seats for scalping companies). It appears some tickets on the first row, likely reserved for special people, ended up not getting used. Thus, at the last minute, Ticketmaster placed these front row seats up for sale at the basic price. It was a bargain and Joe quickly snagged the seats.
The concert was fairly entertaining with lots of songs from the eighties and current stuff too. One of the most interesting aspects was all of the costume changes Weird Al suffered through the evening. They ranged from a Sponge Bob T-shirt to a bright red leisure suit to a large fat suit making him look like he was about 5x his normal size.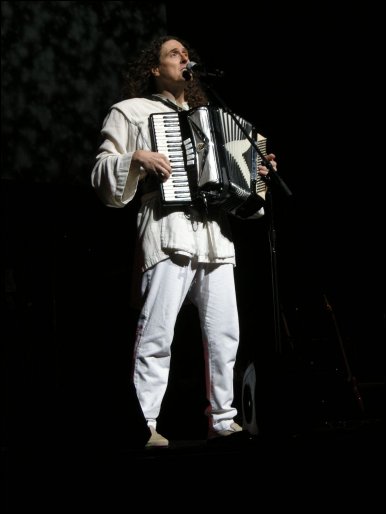 It was a really neat experience, and even though I'm not a huge fan, I thoroughly enjoyed the experience. Thanks for finding those tickets Joe!
08/07/08 - So You Think You Can Dance - Season 4 : Week 9 – It's a good thing the tour is coming soon! Susan and I are a little bummed the competition is already over. It was entertaining, a good discussion generator, and lots of fun to blog about on this site. The final show was last Thursday and Susan and I took one final shot at predicating who would place in the spots. I selected Courtney in 4th followed by Twitch, Katee, and Joshua. I was pretty close, and quite surprised, to see that Twitch actually beat out Katee and took 2nd place. Nevertheless, I certainly approved of the top 4 and I don't believe there was any final result that would have made me cry foul.
I have tickets to the show in October and I can hardly wait!
08/12/08 - Wine Wordle – I was told about a neat website today - it is called Wordle. It lets you paste a bunch of words into their website and then it generates a picture of those words. I pasted the text from my wine page (the one with all the wineries we have visited) and the below is what generated. It gives more prominence to words with the highest frequency. I thought it was kind of fun to glance through it and see some of the words it displayed - Syrah, Zins, pleasant, California, grapes, red, Cab, favorite, etc.