---
DECEMBER 2007
---
11/22/07 - Home For The Holidays – The latest symphony performance was a Christmas spectacular. Accompanying the orchestra was a full vocal choir and a bell choir (one of my favorites to listen to this time of year - I'm a "Carol of the Bells" fan). The pieces were all festive and fun - the conductor was extremely animated with his baton flailing about.
Preceding the concert was an actual trip home to Oklahoma for Thanksgiving. We departed late Tuesday evening and spent a day in Lawton with Rick, Nina, and Papa. We celebrated with wine, pizza, and a trip to the movies - it may not be traditional, but I find I enjoy the relaxed holidays better than the hectic nature of planning an extravaganza. Speaking of extravaganza (which fortunately we didn't have to play - we just merely got to enjoy) we visited my family in McCloud on Thursday. We hung out there for most of the day and then returned back to Fort Worth that evening (Susan had to work on Friday, bummer).
On Black Friday I spent most of the day relaxing; however, I did venture out to pick up a few deals. Most of the stores were very manageable, but I did walk in and straight out of Kohl's. Kohl's register lines wrapped around the entire building - it was unreal :).
12/01/07 - Neighborly Photo #4 – I've posted pictures before on some of the interesting things that pop up in our neighborhood. For a history of those pictures click here, here, and here. It has been quite some time since we've caught something interesting on camera - this month's pictures are a display of Christmas lights on our street.
Susan said it must be a trait I picked up from my Dad, but I really insist upon organized lights. They need to be straight, of similar colors, and I prefer them not to blink. If they must blink, they should all blink and not just half the lights or different strands at varying speeds. Blinking in patterns is okay (such as to music - which is very nice). Lights tossed up on trees as if the owner was casting a fishing line are not very pretty and lights hung up on a house with a maximum of 3 or 4 clips simply doesn't cut the mustard. Okay...for my neighbors who actually read my blog - I beg you not to come rip the lights off my house in revenge - I'm just being silly ;). Sarcasm aside, I like everyone's lights....we have a very pretty display on our street this year; lots of variety in design and application. In fact, here are a few pictures:
| | |
| --- | --- |
| | |
| Really, how many lights do you need on one tree? | Okay, is it too much effort to use an extension cord? |
| | |
| Pick a color - any color will do. | Can we try to use the same style lights for the whole house? |
| | |
| It just needs one more decoration | They aren't all "bad" although this one is fairly busy |
| | |
| Moose Tree Decoration | Here is a lovely example of Christmas lights ;) |
12/01/07 - Jingle Bell Run – This year was the 16th annual Jingle Bell Run in downtown Fort Worth. Most of the participants in this run were wearing a variety of festive outfits, bells, and hats. The use of costumes makes this one of the most interesting and fun runs I've participated in (yes, I joined in - I had bells tied around my ankles...I think I can still hear ringing in my ears). I ran the 5K timed race, as usual, and I think I did fairly well. The times haven't posted yet, but I think I was faster than 21 minutes (I never can remember to look at my watch until after I've already crossed the finish line by almost a minute). My fastest time on record is 20:55 and I'll certainly be pleased if I topped that mark - an average of 8.9 miles per hour.
Oh, that sounds fast, you say? Well, I like to make people think that is a really fast time, but I feel I must point out I wasn't fast enough to place in the top 3 runners of my age group (30 to 34). Their times were between 18 and 19 minutes (slightly over 10mph). I still have a way to go if I want to compete with the fast dogs ;).
UPDATE - Official results have posted. I placed 4th in my age group with a time of 20:56. I placed 29th out of 1241 runners.
12/02/07 - Mustang Wine : Day 111 – I haven't really done anything in the last 3 months to the Mustang Wine. I have racked it one additional time (to remove sediment) and tasted it (to see if for some reason it had spontaneously become drinkable). I'll discuss more on the flavor when I bottle the wine in a few days (my opinion on quality and a possible explanation for why it will probably taste so bad). In the meantime, I cracked open the containers today and added fining solution to each batch. The solution essentially bonds with the larger particles in the wine and then sinks to the bottom of each "barrel". This will obviously affect the appearance of the wine (it should make it less cloudy), but it can also affect the taste and smell (ie, we might remove some of the particles that cause bad smells and bad tastes). Finishing a wine is not required (ie, have you ever seen sediment on the bottom of a wine bottle), but for home brews it helps a lot - I don't have a lot of high tech equipment that would have prevented much of the sediment I currently have (or have had) in the wine.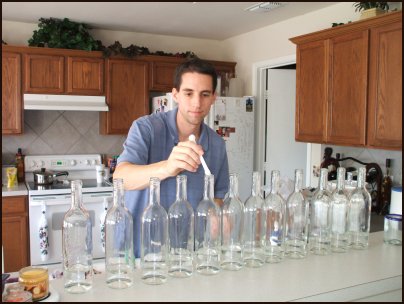 I also unpackaged the bottles today and cleaned them with the same stuff I used to kill any bacteria in the wine 3 months ago. Speaking of that, the blush no longer smells bad (like bacteria).
12/07/07 - Mustang Wine : Day 116 – Today was bottling day. I bottled 3 clear bottles of each style of wine (12 total). The four styles ended up being a "Tart & Spicy Red", "Sweet Blush", "Mellow Red", and a "Sweet & Tart Red". Out of all the styles the Sweet Blush is probably the best, but none of them are particularly good.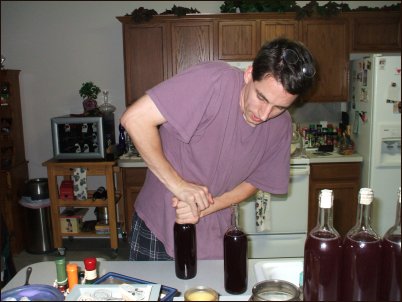 Grapevines tend to bear the best fruit in dry weather. Our spring and early summer this year was one of the wettest on record; as such, I don't believe I started out with the best quality grapes (not that Mustang grapes are good quality to begin with). The grapes were extremely acidic and tart to start with, and although I used the maximum amount allowable of acid reduction chemicals (any more and the instructions stated it would severely diminish the taste of the wine), the juice was still too tart. That being said, I have sampled many Texas wines worse than these ;). Nevertheless, I wouldn't buy a bottle of my own wine - that's for sure.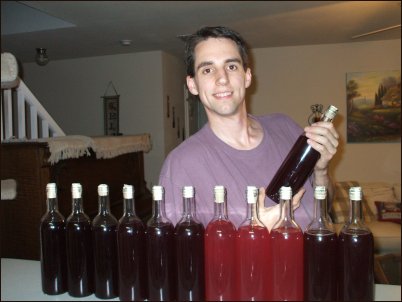 I also bottled up an extra Tart & Spice and Blush to take to a poker event this evening - I'm going to make my boss drink a glass of each since he seems to think it will taste just fine - we'll see how he feels afterwards =D. I'll take a few Alka-Seltzers just in case.
12/15/07 - Mustang Wine : Day 124 – I will say this about my friends and coworkers. They are really good at keeping a straight face while telling me they like the wine ;). Actually, several attendees of the poker party thought the wine was good - I'm sure many were just being polite, but I actually had two people request more. I also let Chris, the owner of Put a Cork In It, taste several samples. He admitted it wasn't near as bad as he was expecting and actually thought the blush was good.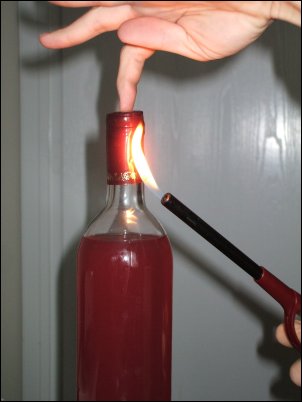 I have the label designs ready and I'm just waiting on the bottle labels to arrive (it is a fairly unique size and I had to special order them). Once they are here I'll be able to print them and paste them on the bottles in short order. As for today, I added the wrappers to the top of each bottle. It is an interesting process and they work like "shrink wrap". I simply apply the small sleeve to the top of the bottle and apply heat - the plastic instantly shrinks and conforms to the dimensions of the bottle.
Here are the bottle fronts...
And here is the back of each bottle...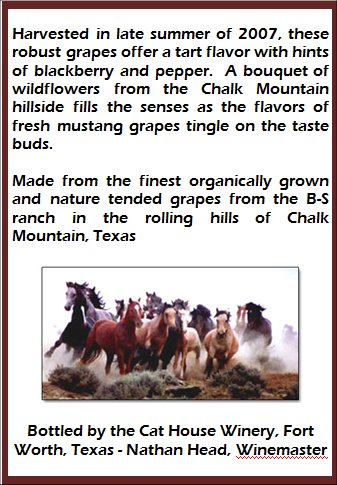 I'll post a final note in a few days after I finish bottling the wine (and one final picture before I deliver my shipment).
12/16/07 - Nutcracker Bonus – Our friend DeAnna called us this morning; she had some extra tickets to the Nutcracker Suite at Bass Hall this afternoon and wanted to know if we were interested. Tickets to Bass Hall? - Absolutely! The performance was spectacular (the last time we saw the ballet was from up in the nosebleed section), flawless, and tons of fun. It certainly added a great deal of festiveness to the Christmas season. Thanks a bundle DeAnna - you made our day! P.S. - They were superb seats.
12/20/07 - Mustang Wine : Day 129 – The wine has been bottled and it is now en route to various destinations. One bottle (the only bottle without a cork and instead a screw top) will be kept in our "cellar" and allowed to age for a year. I'll open it up next Christmas and share with anyone who is interested (the wine should improve with age...but doesn't necessarily mean it will). The remaining 13 bottles will be distributed mostly to coworkers (my boss, Gary, has an order for almost half of my production - however; he was also a 50% investor ;) and a few to family members (Sorry Rick and Nina - you're gonna get tortured with a bottle!).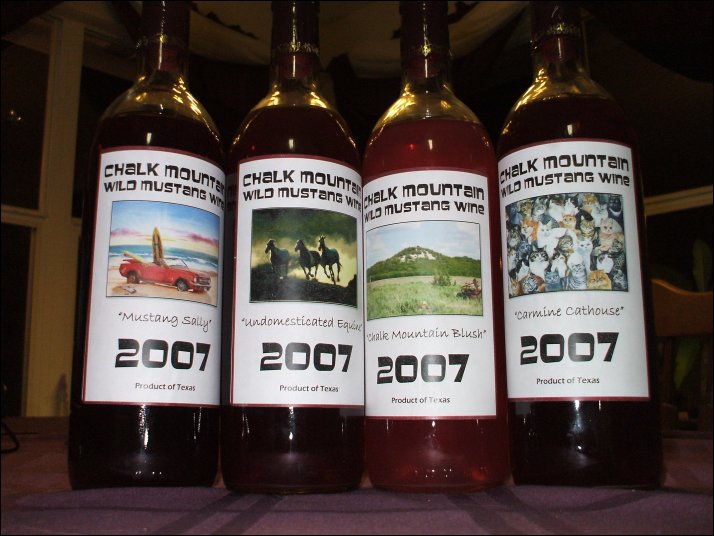 This project was a lot of fun and I will likely try it again next year - as long as Gary buys me a grape press =D. Drink up and be merry!
12/25/07 - Christmas in Claremore – It has definitely been a busy couple of weeks around here. I have a couple of employees "retiring" at work and the rest of us are having to learn lots of new tasks and take on many more responsibilities. Most of me is looking forward to the new projects I'll be handling, but part of me remains worried that I'll lose my mind during our year-end and annual statement (a massive yearly statistical/financial report for insurance companies) preparation. I suppose only time will tell, but if I get a little wacky, don't say I didn't warn you. On the flip side Susan has been swamped sick kitties. Our trip to see family over the Christmas holidays was definitely a welcome adventure.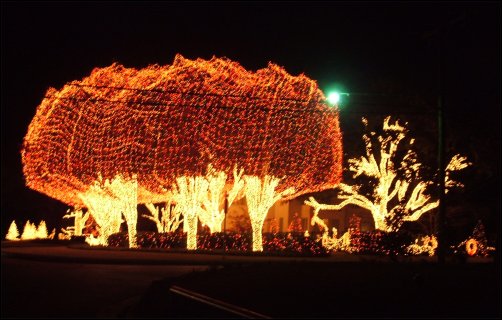 Meet the Griswalds - I took this picture near downtown Fort Worth - I believe you can see the electric meter spinning in the bottom right-hand corner
Susan and I departed Saturday night and arrived in Tulsa early enough to have dinner with Jonathan (and his kids, Jennifer & Jessica), Kahle, Daniel, and Anne. Daniel and Anne live in New Mexico so this is pretty much the only opportunity we get each year to visit. Of course, getting to see Jonathan and Kahle is always fun too and almost nearly as infrequent. We had dinner at a local Mexican joint and then continued on, through sleet and snow, to Claremore.
| | |
| --- | --- |
| | |
| A Perfect Snowball Bullseye | Cutest Present Ever |
We ended up staying two nights in Claremore and enjoyed a splendid visit with my immediate family. We played a few games with the nieces and nephews, fed birds at Lake Claremore, opened a few gifts, and ate half our weight in holiday cuisine. After hanging out in Oklahoma we drove back South to Sherman, TX, to spend a little time with Rick's extended family. We participated in a white elephant gift exchange, sampled some wine, and dined on a very traditional Polish meal (yum!). We drove back to Fort Worth late Christmas Eve, and for the first time since we moved to Texas, we awoke in our own beds on Christmas morning.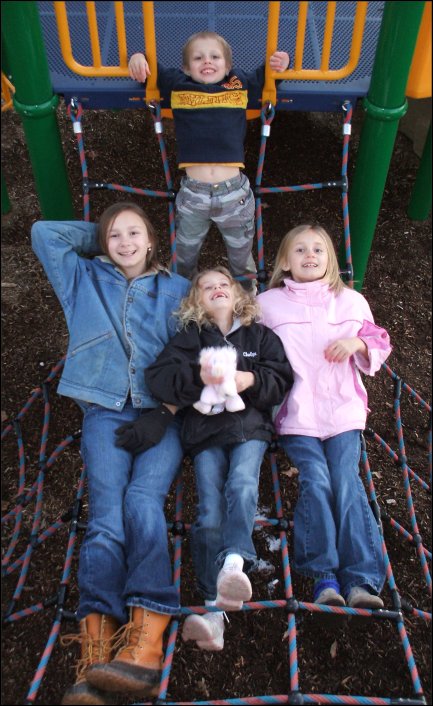 Taylor, Jared, Chalyn, and Gracy
I awoke slightly before Susan and ensured Santa filled the proper stockings with goodies and cat toys. I had a lump of coal in mine, but fortunately it was made of chocolate ;). I built a fire, brewed some hot chocolate, and then Susan and I unwrapped each other's gifts by the warm hearth. It was a very pleasant and peaceful Christmas morning.