---
FEBRUARY 2007
---
02/03/07 - Tiny Wine Tour – Susan and I stopped by Lawton this weekend for a short break from Fort Worth. While there we decided to snag the family, cram into a car, and drive around SouthWest Oklahoma for a few quick stops at some nearby wineries.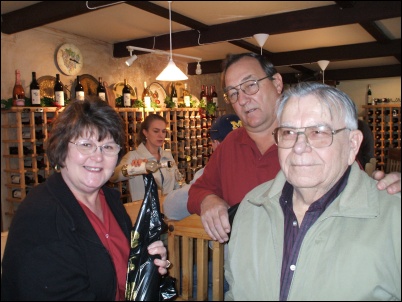 Our first winery was Woods & Waters in Anadarko. The owner here was extremely nice; offering up as many samples as our hearts desired. He had some wonderful Chardonnay wines here and Nina found a Gewürztraminer she simply had to take home. The tour was informative and generally this was a nice winery to stop and visit if you happen to be on the road between Lawton and Oklahoma City.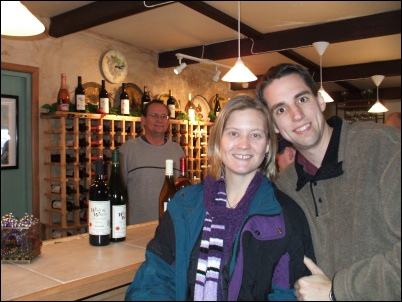 Our second and last stop was Windmill Winery in Roosevelt. There aren't many wineries we cannot find something good about, but this one is going to be really hard. Umm...the view of the Windmills was nice ;). Truth be told, this winery did offer a great Riesling; however, we're not really into the sweet wines anymore.
02/07/07 - Lost on Wheels – It has been nearly two years since our last outing to the Skating Rink. It was a smaller group this time, but equally as fun and entertaining. We danced, spun around, and had a great time getting some exercise - the only thing missing was the Hokey Pokey (guess we didn't stick around long enough for that).
Most skating pictures turn out dark but Joe was able to snag a few candids for the blog...
| | |
| --- | --- |
| | |
| Nancy, Nathan, and Joe - 3 Musketeers or Stooges? | Chris' First Time on Wheels |
| | |
| Glenda and Nancy - Disco Fever | Mary, Susan, and Nathan - Cheeze! |
Following the mad hour of racing in circles, several of us adjourned to our house to watch the winter premier of Lost.
02/14/07 - My Valentine – Susan found me a wonderful package at a local spa for Valentine's Day. It includes a massage, manicure, and a few other items. She also picked one up for herself so that I don't feel so silly going to a spa by myself :).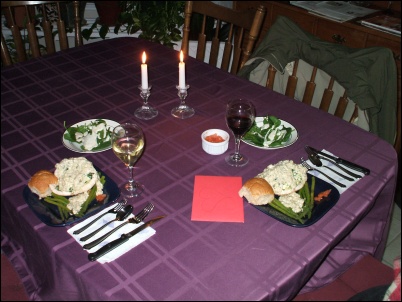 For dinner I prepared one of Susan's favorite meals. It is baked chicken breast stuffed with spinach, feta cheese, and pine nuts. The white cream sauce contains cheese, capers, garlic, and artichokes (one of my favorite sauces to make; it has all of my favorite stuff in it). The chicken was accompanied by steamed asparagus, wheat bread, and a spinach salad with my homemade Italian dressing. For dessert I picked up a single serving chocolate cheesecake from Central Market and we shared it - it was all very delicious!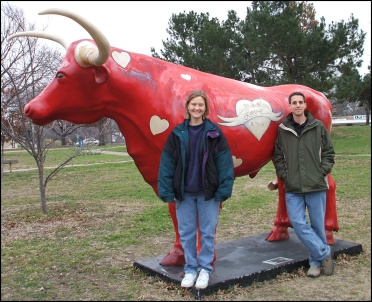 I snapped the above picture a few days ago while in Bluebonnet Circle near downtown. There are several artistic longhorns on display here and I believe they rotate them out depending on the occasion. Only one of us was originally in the picture...can you tell which one?
02/22/07 - Viva Las Vegas – It's that time of year again; Susan's annual trip to Vegas for the Western Vet Conference. I've talked about going with her for several years, but I just never made the commitment - at least until this year. We stayed at the South Point hotel about 5 miles South of the Mandalay Bay. It is sort of by itself, and as such, there is still a lot of natural desert surrounding the casino. I found my short hikes in the desert (for Geocaching) to be very interesting and peaceful - I saw lots of jackrabbits and cactus.
| | |
| --- | --- |
| | |
| Waterworks | 3D at the M&M Museum |
During the day, when Susan and Nancy were in class, I spent most of the time sightseeing and caching. I snagged every cache on the strip between Mandalay Bay and the Freemont Experience in the old downtown area. I also hiked a bit East towards the University of Nevada at Las Vegas and a little West towards The Orleans casino - in the end I had about 20 miles on my shoes (yes, my feet were tired at the end of every day). One of the neatest caches I found was at a drive-through wedding chapel near downtown. I actually had to ring the bell at the drive-through and "order" the geocache. When they presented the container I couldn't help but admire the presentation; it was a traditional ammo box, but painted silver and lined with white lace :).
| | |
| --- | --- |
| | |
| Cozy | Caesar's Garden |
During the night we would all gather and pick a spot for dinner. We found a spectacular Sushi bar on the first night - Todai. This restaurant had an "all-you-can-eat" buffet loading with at least 20 different types of fresh sushi and sashimi. It also had wonderful Japanese boiled crab and miso soup. We grabbed dinner at a couple of Italian bistros on the other evenings where the food was great and the wine was equally as delicious.
| | |
| --- | --- |
| | |
| The Year of the Pig | Paris, Las Vegas |
We really didn't have time for any evening entertainment since classes were often out after 6PM and shows typically started at 7PM (and you cannot get anywhere on the strip quickly); however, we did snag some tickets to Cirque Du Soleil on our first night. The show was Mystère, my first "real" Cirque show (We did see a "knock-off" show in Fort Worth a while back). I thought it was extremely energetic and entertaining - I definitely enjoyed the performance and would recommend visiting one of the Cirque shows on trips to Vegas (there are several on the strip).
| | |
| --- | --- |
| | |
| Street Performers at Paris Hotel | Luscious Cactus |
One of my day trips included a bus ride to the Ethyl M Chocolate Factory. The tour was free (always nice) and I even received a sweet treat at the end of the tour (yum!). I perused the store at the end and picked up an assorted box of chocolates to have with some wine at the hotel (which we opened up on our last night in Vegas). Outside of the factory was a very unique cactus garden with several varieties and sizes. Also during the day trips I visited several interesting casinos such as Hooters, Rio, Wynn, and the Bellagio (among several others). I was hoping for free hot wings at Hooters, but it turned out to be nothing special - it was more or less a Hooters restaurant with orange gambling tables. The Rio had a very interesting wine bar, but the tastings were anywhere from $20 to $100 for a sample of 3 wines (ouch!). The Wynn is one of the newest casinos and it is extremely fancy. I had visited the Bellagio before, but I returned during this trip to check out a new chocolate store with a fountain that started in the ceiling and ran all the way to the floor.
| | |
| --- | --- |
| | |
| The Wine Cellar | Rio - The Show in the Sky |
I didn't actually do very much gambling when I was there, but when I did, I seemed to have a pretty good run of luck. I netted a gain at blackjack, craps, and even roulette (but not much....about $50 in total). I also participated in a Texas Hold 'Em tournament at our hotel. The entry fee was $45 (of which the casino kept their share), and then the rest of the ±50 participants battled it out for the remainder. My time in the event lasted a little over 3 hours and I ended up placing 4th. There was a cash price awarded to the top 6 finishers so I ended up winning a little over $200 (well, less if you deduct the entry fee ;). Nevertheless, I was feeling good after that game and it certainly added a lot of positive energy to the entire week.

The Strip - From Mandalay Bay to the Stratosphere (from a distance of about 5 miles)
I had a really good time, and I wish Susan hadn't needed to be in class all day, but I was glad I was able to go.
02/24/07 - Dusty – A dust storm bowled in yesterday with winds around 60mph. I cannot say I've seen anything quite like this in my lifetime; the dust was actually as thick as light fog and limiting distance vision by about a mile.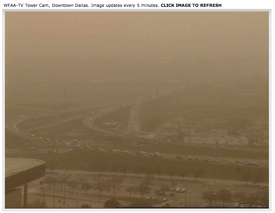 This above picture was snapped by the webcam on top of a WFAA tower in Dallas. It really was that brown outside for most of the day. On the flip side, today is one of the clearest skies you get in Fort Worth - in other words, we can actually see downtown from the top of the nearby hill. I guess the high winds and dust particles took all of the smog with it ;).
02/25/07 - The Wolf Experiments – A very good friend of ours, Carey Borgens-Hickey, just published her first book, The Wolf Experiments. Here is the excerpt from Amazon.com:
"The Cursed Child! - When recently orphaned 15 year old Alex arrives at her new home, she had no memory of who she is. Plagued by nightmares she embarks on a quest of self-discovery. With the aid of a horse, and a wolf, she must solve a murder, search for victims from a genetic experiment gone wrong, and help her friends find a way to cure the radiation sickness that plagues the world. "
Carey dropped off a copy of the book at our house while we were on vacation and I'm going to start reading it tonight. In honor of her first published book I will also jot down a few notes and submit my first book review on this diary. Don't hold your breath - I'm not a very fast reader ;).