---
FEBRUARY 2008
---
01/30/08 - Mein Shaft – At the Christmas party for Wellington (where Nathan works), we won 2 tickets to a Dallas Maverick's basketball game. (I know some of you may think we're crazy for this, but neither of us are basketball fans.) We "traded" these tickets (gave them to a friend in exchange for her buying us two tickets to something we wanted to attend). We decided to get our tickets to a murder mystery dinner theater in Grapevine at the Gaylord Texan Resort. (We had wanted to do this for a while.) We used a hotel gift card that I won at a meeting to help pay for the hotel.
The murder mystery is about a millionaire miner in the 1800s that was murdered by one of the actors (the miner's wife and daughter as well as two enemies…an acting marshal is not a suspect). While we ate supper, they acted and gave clues, and it was up to each table to try to solve the mystery…I can't give away the answer! It was very entertaining.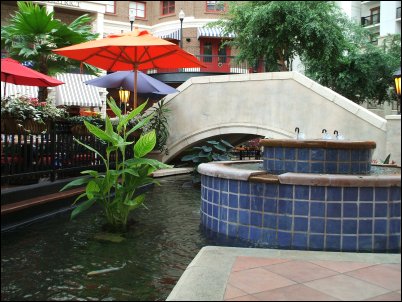 The hotel room itself was standard, but the inside of the hotel is beautiful. It is designed to mimic San Antonio's Riverwalk, so there is a river meandering inside and just tons of lush, beautiful tropical foliage.
02/01/08 - Glenda's 30th Birthday – Glenda's really been stretching out her 30th birthday and I cannot say I blame her :). She rolled over the big 3-0 mark in December, but we didn't have the wine tasting until mid-January. The wine tasting was wonderful - it was a smaller than normal crowd; however, the wine was definitely on par. We tasted Riesling, Pinot Noir, Chardonnay, Shiraz, Cabernet, and even finished off with a Port and Champagne.
Last night Susan and I were invited to Glenda's birthday celebration at Del Frisco's in downtown Fort Worth. Neither Susan nor I had ever eaten there (it is very fancy - the kind of place you visit for big celebrations). Glenda's mother-in-law was the big benefactor for this event and her gift to Glenda was a dinner with friends. We definitely celebrated, enjoyed some great wine, and dined on fabulous food. We had a wonderful time and I'm certainly glad Glenda slipped us an invitation!
02/02/08 - The Dreaded January Blues – January is finally over and I can almost breathe a sigh of relief. Normally I end up working a few Saturdays, late weekdays, and I'm completely stressed trying to finish up year-end reporting while trying to maintain a sense of order at home. That is normal for January - this last January was way beyond normal in the most miserable way. We had two employees in our department quit on January 1st; however, one of those did return a week later (what can I say, I work someplace people just cannot stay away from ;). Being down a few employees really kicked off a "running behind" feeling for most of the month. That being said, we managed quite well and eventually started to see the light. Just as we were approaching the end of the tunnel came the plethora of special projects. I won't go into the boring details, but let's just say they were one right after another and obviously presented at the inopportune time. We were all swamped and ended up working all but one Saturday and most evenings I was leaving at about 6:30 to 7:00PM - it was demoralizing. Fortunately, the light at the end of the tunnel is within reach again - just in time to kick off another month of fresh work =D. I'm definitely glad year-end is almost over. For me it means a return to a regular schedule and the addition of my sorely missed free time. It also means a return to regular diary entries (it apparently has not gone unnoticed that I skipped January - I received a few "complaints") - yippie!
02/20/08 - Full Moon Rising – Susan is in Las Vegas this week and I've just been hanging out catching up on some personal items. I replaced a bad GFI in the kitchen and installed one in the upstairs bathroom (I wanted to move the kitty fountain upstairs). I also did a little bit of pre-Spring cleaning around the house.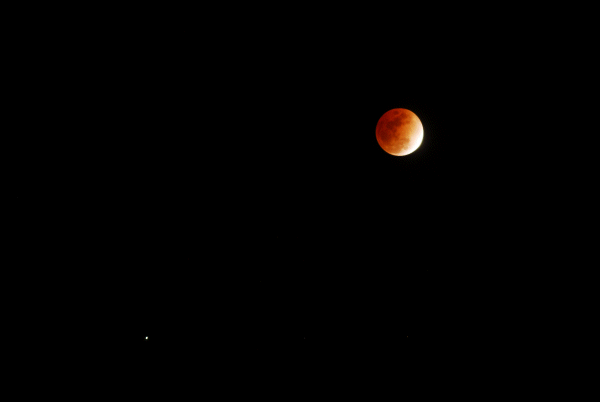 In addition to the work I did spend a little time having fun. On Wednesday I detoured over to Arlington to go roller skating with Donna. We tried to wrangle up a bigger crowed, but it appears there aren't a lot of skating fans at my work. No biggie - I still had lots of fun strapping on the old skates and doing a few twirls. After skating I was able to catch a glimpse of the lunar eclipse at my house. Although I heard clouds obstructed the view in various parts of the city (and Susan, unfortunately, wasn't able to see in Vegas), I had a clear line of sight from my house. The above picture was taken by Joe and you can see Saturn in the bottom left.
02/23/08 - Raw Poker – The most recent company poker tournament was held at our house last night. Once again I barely squeezed out a finish in the money (3rd), but overall, I didn't really have many good hands. Fortunately, the few good hands I did possess held up until the river for most of the night.
The food theme for the night was "raw" with the intent of everyone bring stuff you didn't have to cook (or at least cook yourself). We ended up with a great variety of fruits, veggies, sandwiches, and even a bit of sushi. Overall it was a good spread and we all had a good time at the poker table.