---
FEBRUARY 2009
---
02/07/09 - Century Club – Back in September I completed my quest to taste 100 different varietals of wine. It was part of the Century Club project and earlier this week I finally received my certificate. According to the accompanying letter there are currently 529 members worldwide; however, it isn't all that difficult if you have the help of your favorite local wine store - Put A Cork In It. My friend Donna, at work, is about 85% complete...and those last few do start becoming difficult to find. She'll get there this year though - that is for certain.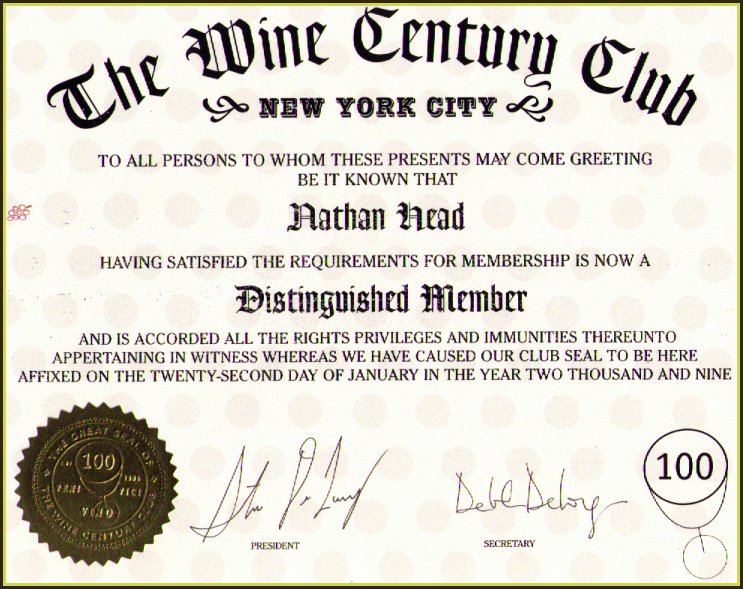 02/01/09 - Tulsa On My Mind – It had been a while since I had seen my Mom (several months but I'm sure it feels like several years) - Its not that I'm a bad son, its more along the lines of I really don't enjoy the drive to Owasso, Oklahoma. It takes about 5.5 hours to make the complete trip and my driving limit is about 3 hours before I start getting fidgety. Okay, enough excuses :).
Susan and I had a wonderful time this visit! I saw Lance and his family, my aunt Bobbi and uncle Chuck, and I really did get to spend some quality time with my Mom in her new home (she moved from Stillwater last Summer - which was the last time I visited). The new digs are very nice. She has lots of room, the feel of a newer home (the old house was built in the 70s), and her back yard connects to a public pond with ducks. Susan and I are certainly jealous of the ducks - I think there would be lots of entertainment value there. We watched a movie, enjoyed a meal of lasagna, and chatted away to keep on top of current events.
On the way back we stopped and visited with Joe in Arlington at his new apartment. It is very spacious and he was even able to convert the spare bedroom into a photo studio. We snacked on pizza and watched the first half of the superbowl before finally making our way home to pass out on the bed after a long day.
02/07/09 - Dinner with the Ayels – DeAnna and Sebastien met us for dinner at Park Hill Cafe in Fort Worth. It is a quaint little cafe just down the street from Put a Cork In It and we've been meaning to visit for quite some time. They serve dinner on the weekends and usually they always have one or two special items; however, I decided to order something of the small, but standard, menu - baked salmon. As many of you may know I don't get to eat (non-Sushi) fish very often so I enjoy the opportunity to sneak some in :). Although the salmon was good here I certainly wouldn't call it gourmet...it was a bit dry and the dill sauce could have been better. That being said, the dinner conversation was anything but dry.
The Ayels brought along a couple bottles of wine from their favorite winery during their visit to Temecula, California a few years ago. There was a cabernet and a zinfandel from Callaway Vineyards. Both wines were excellent and we thoroughly enjoyed the sharing dinner, wine, and conversation.
02/08/09 - Jellicle Cats – I miss our outings to Bass Hall. We purchased "season tickets" (you could attend 4 of 7 performances) two years ago and I had a blast going to various shows; however, this past year there really wasn't anything interesting (in my opinion, of course). I'm hoping this year will be different...the schedule should be released in the near future.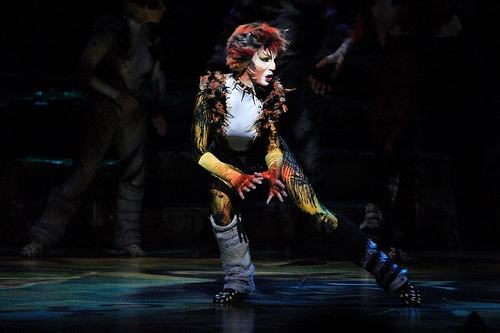 In the meantime there are various random performances and tonight was the Cats musical by Andrew Lloyd Weber. The costumes in the show were superb and the dancing was fantastic! It was great entertainment and Susan was able to score prime seats for the show - center and close to the front. We had dinner at Uno's right before the show and then rushed...almost sprinted...to the concert hall in order to make it before the first curtain - whew :). Steve and Linda spotted us during intermission and we chatted for a minute - guessing which cats onstage personality mirrored ours at home.
02/14/09 - Flamenco Valentine – Valentines is kind of an odd holiday for us - rarely do we actually hit the town on February 14th. Since we're in a "big city" all the restaurants are usually packed and you have to book entertainment waaaaay in advance. Thus, we frequently celebrate with a dinner at home (which was done on Friday the 13th this year...spooky! I prepared baked chicken with artichoke/caper covered pasta and pesto sauce) or we go to a fancy place the week before (or after, etc). This year was slightly different because I happened to run across an article in the newspaper about tickets still being available for flamenco dancing near downtown at the Rose Marine Theatre. It sounded like fun so I snagged a pair of tickets and Susan and I had a last-minute event for Valentines. The dancing was entertaining (albeit a little amateur) - I certainly had a good time. Afterwards the theatre served complimentary Champagne (although Andre Brut is far from being true Champagne) and chocolate. For a late dinner we stopped at Taco Bueno (keeping with the Spanish theme - mock me all you want but we both love Bueno! ;) for a bite before heading home. Ole!
02/17/09 - Purple Martins – Although I'm not a big bird fan like Susan I am fascinated by the purple martins. We received a purple martin house as a gift from Nancy about 5 years ago at our old house and watched, with anticipation, each year as martins arrived. They would have their babies in the early spring and it was always fun to watch the parents feeding insects to the little birds sticking their mouths out the doors of the house - they are so cute! The babies grow up quickly each year and fly away, but in theory, the same family returns year after year. We always had martins at our old house and I'd like to think it was the same family. As such, Susan and I made it a point to leave the old purple martin house at the old residence (in fact, I just put it back up last weekend).
| | |
| --- | --- |
| | |
| Now Where Did Those Instructions Go? | Tada - Look, No Leftover Parts! |
Unfortunately this meant we were without a bird house at our new residence - a problem we remedied by stopping by the Wild Bird Center and picking up a new purple martin castle. Our new martin house has a slight upgrade from the old version - it has a winch to raise and lower the house (this comes in extremely handy because a responsible purple martin house owner keeps the house clean when other birds, such as sparrows, leave junk behind).
| | |
| --- | --- |
| | |
| Darn Potholes Get Me Every Time | Now All We Need are Birds |
I still remember putting the old house together. In fact, I probably still have the scars ;). Most purple martin houses are made of sheet metal and the last one we had was very sharp around the edges...I drew blood several times. The new house was much less traumatic to build and I didn't suffer any injuries; however, it was very time consuming. I spent about 4 hours putting the house together, 3 hours digging a hole to China (2 feet 2 inches deep) and mounting the pole in concrete (if you don't know this already, mixing concrete with your hands is one of the best exfoliant available...my hands have never been so soft...and red - must remember gloves or a long stick next time), and about another 3 hours putting the house on the pole itself (yea, I thought that would go more quickly too - the winch rigging instructions weren't very clear so I had to go through a little trial and error to get it working right). That's 10 hours...for a bird house...Susan owes me big time...I definitely should get some ice cream for that!