---
JANUARY 2003
---
1/5/03 - Christmas and New Years - Christmas is always a time for family, joy, food, and lots of driving!
The holidays really snuck up on us this year. We were still shopping for gifts the weekend before and I'm sure the cards we mailed arrived on Christmas Eve. Fortunately, we can blame this on the undisputed fact December only had 15 days in the month this year (Didn't you notice your calendar was shorter?). Oh well, I tried to invent a decent excuse, but I've already used up all the good ones. Nevertheless, we finished our tasks on time, checked our lists twice, loaded up the SUV, and ventured out to "The North".
Christmas Eve in Lawton was our first stop (after Christmas in Pottsboro received a delay due to snow). The evening's festivities included visiting with family, enjoying a somewhat non-traditional meal (Taco Bell - Hey, I don't know about everyone else, but I think we should order out more often!), and finally a delightful gift exchange.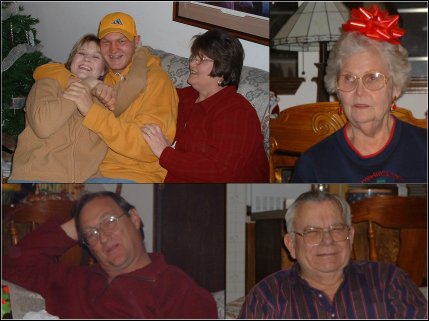 Over the next few days we watched a few movies, went geocaching and metal detecting, visited the Wichita Mountains Wildlife Refuge, and most importantly, we relaxed.
On Friday morning, Susan and I began our trip further North to visit a few relatives from my father's side of the family. We didn't stay long, but it was a nice visit. Included below is a picture of my Grandmother, Aunt Carole, and Aunt Sandra.
After the pit-stop in Shawnee, we began the final stretch of our trip towoard Stillwater. This last sixty minutes of driving was quite interesting because we finally witnessed some of the mysterious snow mentioned earlier ;). At first we viewed glimpses of snow in shaded areas followed by small patches in fields. By the time we reached my parents house, snow was completely covering any non-paved area.
While in Stillwater, we visited with Jonathan and Kahle over dinner at Chili's, went shopping for sale items, and enjoyed more Christmas festivities. All of my brothers, sisters, nieces, and nephews arrived early Saturday morning (see the picture above for the family portrait). We opened gifts, dug the goodies out of our stockings, and topped it off with a meal. Since it was also Taylor's birthday, a yummy heart-shaped chocolate cake was served (prepared by my mom and decorated by Susan). Later that evening we loaded up the SUV and began the long trip back home.
After relaxing on Sunday, Susan and I both had to return to work for a few days until New Year's arrived. Fortunately, the half-week passed quickly and we ventured out again; this time for Pottsboro. Much of Rick's family was there including Susan's Grandma and Grandpa. After playing a little football and visiting Skee & Teen's local geocache, the traditional yearly gift exchange began. For 2002, the theme was something used. Unfortunately for Jamey (we're really sorry!!), we had a difficult time finding a gift fitting the theme. Since it was also New Year's, dinner included black-eyed peas for health and green cabbage for wealth. If only it were that simple =).
Overall, the holidays were wonderful this year! While in Pottsboro we joked around about having Christmas at our new home in 2003. Joking aside, we would love to have everyone here next year!
1/22/03 - The Move - Part II - Eighteen months after our first move to Fort Worth and four months after we decided to build our next home from scratch (no, not quite the same as rubbing biscuits on the countertop), we began our second big move. Once again we enlisted help from family in Lawton (Rick, Nina, and Jeff) in order to load up and transport our junk...errr....belongings.
Overall, the move was fairly quick and the subsequent unpacking occurred over the following week. Within a few days, we had officially settled in to our new home. Unfortunately, the phone company took a little bit longer than we did to settle in :). Approximately 45 days later, we finally received telephone/Internet service and we can now update our web page and fill everyone in on the latest news from our area.