---
JULY 2003
---
7/4/03 - Kitty Cat Refuge - As you quietly approach a secluded hideaway nestled in Trinity Park, you can see several kitties scampering away. Most of these cats are feral and won't let you get closer than a few feet of them, but some of them are formerly household pets. The later are always eager for some love and attention.
Susan and I discovered this area while geocaching in Fort Worth. Apparently, this site used to be a virtual cache where the object was to feed the cats and snap a few pictures. Over the past few months, we have visited this area numerous times and donated a large amount of food to some very happy and hungry kitties.
You can see several of the cats while approaching the location, but there are many more hiding behind the tree line. This is where the heart of the refuge is located and where most of the food is deposited. At any given time, we have seen anywhere from five to twenty cats at the refuge, and although most of them are wild, they are all sweet.
Purrrr...... Purrrr...... Purrrr...... Purrrr...... Purrrr......
7/12/03 - Murder and Foul Play - It had definitely been a long time since our last murder mystery, so Susan and I decided to host the first of many mysteries in our new home.
The scene was during the late 1920s at a Chicago speakeasy. Everyone has convened to determine who murdered the mobster Hal Coppone and stole his loot. The following are the suspects:
Eddie "Socks" R. Gyle

&

Molly M. Awbsterr

"Silky" M. Adam

Ernie "Bet a Million" G. Ambler

&

Anna Maria Carlotta Sassine "Torchy"

Billy "The Kid" Thrower

S. Treighton Harrow

&

Suzie F. Loozie

Malissa F. Orrthot "Scoop"
There were many shady deals afoot. Eddie, Molly, and Ernie were bootlegging moonshine. Billy was ensuring he was on the losing team for an extra paycheck. Scoop was writing articles in the paper for whomever paid the rent, and Torchie was an assassin for hire. Harrow was a crooked attorney and Suzie was just trying to run a family restaurant. In the end, it was Silky, the manager of a discrete gentleman's club, who pulled the trigger. Nevertheless, we all had the motive, it was just a matter of finding out who had the means to accomplish the task.
7/22/03 - 6 Credit Hours Down; 21 To Go - My first semester at UTA is officially completed. Over the past eight weeks I have been attending two classes, semi-regularly, on Tuesday and Thursday evenings from 5:30PM until 10:20PM (this makes for a long day - hence the semi-regular attendance). The classes are as follows:
Economics of Money and Banking – This class focused on an analysis of the federal reserve system, bond/stock markets, interest rates, inflation/deflation, unemployment, the money supply, and monetary policy. This class was fairly interesting (hey, I'm an accountant, I'm entitled to peculiar interests) and broadened my understanding about how the economy works and how "The Fed" attempts to steer the economy in the proper direction.

Insurance and Risk – This class focused on the primary types of insurable perils (fire, auto collision, unexpected illness, weather, etc.) and how an individual can protect against catastrophic losses. The class covered a wide variety of policy types and explained them in detail. The instructor was a little dull and often read directly from the book. As such, this class was fairly boring (as if insurance was an exciting page-turner to begin with).
The fall semester begins on August 25th and ends on December 12th. I'll be attempting nine hours of classes on Monday and Wednesday evenings from 5:30PM to 9:50PM. The classes are as follows:
Intro to Web Programming – This should be a sleeper course. If I don't make an A, then I should be drug out into the street and beaten with a printout of this very website you are reading!

Investments – A course in security analysis (stocks, bonds, mutual funds, etc.), security exchanges, and investment regulations.

I'll be sure and fill everyone in on how those classes turn out at the end of this year.
7/24/03 - Cancun: Day 1 - Our vacation began, excruciatingly early, on a sleepy Thursday morning. We awoke to the sound of the alarm at approximately 4AM and began our preparation for the trip ahead of us. We loaded the car, said goodbye to the cats, and then began the dimly lit drive to the airport. At 7AM our flight lifted off and we were on our way to Mexico, sitting directly beside the engines of the airplane.....I said the engines.....the engines...what?!? I still can't hear you! :)
We arrived in Cancun at about 10AM and quickly passed through customs. Within the hour we were at the Blue Bay Getaway Hotel and Resort ready for some fun and relaxation. Unfortunately, our rooms wouldn't be ready until 3PM, so we had to wander around the hotel for a while, visit the beach, and snack a little until we could separate ourselves from our luggage.
| | |
| --- | --- |
| | |
| The Cancun Hotel District | I'm NOT a Tourist |
The room we checked into was modest. The walls, floor, and balcony were covered in the traditional Mexican tile and stone. In fact, at first touch, we were pretty sure the bed mattress was made of the same material. Nevertheless, our room was only a short walk from the soft white sand of the beach.
After settling in, we changed into our comfortable beach clothes and decided to take a trip, via ferry, to the nearby Isla de Mujeres. The island was bustling with activity including street vendors, rows of merchant stores, and hundreds of natives and tourists walking the streets. While visiting, we shopped at some of the local stores (which was interesting since many of the store owners spoke limited English and we spoke butchered Spanish), toured some of the nearby monuments (these were part of a virtual geocache), and even stopped to pet one of the local gatos (kitties). We purchased a pair of sandals for me and a pretty bracelet as a gift for Nancy (ask Susan about the great price she paid for it ;).
| | |
| --- | --- |
| | |
| Isla de Mujeres | Mexican Street Market |
After a another ferry ride back to mainland (the ride takes about 30 minutes), we hopped aboard a local bus and headed back toward the hotel district. After returning to the hotel, we feasted at a nearby restaurant, Carlos and Charlies. The dinner was good and the entertainment was provided by both live music and an extremely eccentric waiter (he cracked jokes, made funny noises, dressed up in a Hulk costume, and acted a lot like Pee Wee Herman). By the time dinner was over, it was well past our bedtime. Thus, we retired to our hotel.
7/25/03 - Cancun: Day 2 - Our second day in Cancun was filled with fish, water, sunshine, sand, archeological wonders, and long rides in busses. After snacking on a buffet breakfast at the hotel (did we mention all meals/drinks at the hotel were free?), we hopped on the first of many shuttle busses for the day. Our first stop was the ecological park of Xel-Ha about 60 miles south of Cancun. Xel-Ha is a beautifully preserved natural refuge of flora and fauna. Our visit there began with a short walk and bus ride to the top of a lagoon which flows from the highest point of the area into the nearby ocean. The entrance to the lagoon is very similar to a small river and you actually navigate the journey down the river on an innertube. The water itself is filled with a variety of fish, rocks, and plants and the river is bordered by steep rock walls, palm trees, iguanas, and crabs. Upon entering the river, you pass under a thick canopy of jungle as you paddle your way (they give you flippers for your feet) through the salty waters. After emerging from the canopy there are several spots to rest. Some of the resting points included cliffs for diving and rope bridges over the water to challenge your balance.
| | |
| --- | --- |
| | |
| Iggy's Second Cousin - Once Removed | The Local Gossip |
Upon reaching the main lagoon we discarded our innertube and traded them for the remainder of our snorkel gear. Diving back into the lagoon, in which the ocean tides are present, we began our search for a wide variety of fish. During our first session at snorkeling we saw some fish that were about two feet long, schools containing hundreds of members, and even one sting ray. After snorkeling for a few hours, enjoying a light lunch, watching the dolphins (available for people to swim with, but sold out), wild birds, and iguanas, our time at Xel-Ha was over. Unfortunately, this short trip also involved someone stealing our disposable camera (I set it down for a few minutes while we were snorkeling – I honestly didn't think someone would steal a disposable camera with no exposures remaining). Therefore, we don't have any pictures of the river ride, but we do have the pictures we took with our digital camera after discovering the other was missing.
| | |
| --- | --- |
| | |
| Xel-Ha | The Ruins of Tulum |
Our second stop for today were the archeological ruins of Tulum. The ruins of Tulum are an ancient Mayan city bordering on the Atlantic ocean. The view from the ruins is spectacular and the tour guide provided us with some fascinating stories about how the Mayans lived their daily lives. They were an intelligent people who were knowledgeable in astronomy, agriculture, and politics. Since most of the day was spent at Xel-Ha, we were only at Tulum for a few hours; however, it was long enough to trade travel bugs at a local geocache. In addition, we also explored the nearby beach which is aptly named King's Paradise.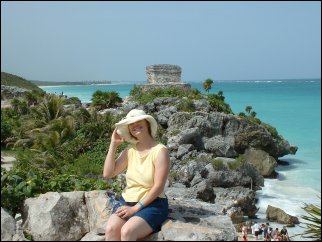 Sweet Susan and King's Paradise
Once back on the bus we began our long trip back to Cancun. During this ride we had an opportunity to converse with our tour guide, Raul. He enlightened us in on some of the cultural aspects of Mexico. We talked about a few of the Mexican social problems (poverty, medicine, etc), but also discussed how higher education is free (if you can afford the textbooks). Raul was also surprised to find out how Americans view time. Generally speaking, American culture wants things done quickly and promptness is a virtue. This was a revelation to Raul and he said it explained a lot, because for the Mexican people, time is one thing they have an abundance of.
7/26/03 - Cancun: Day 3 - On the morning of our third day in Cancun, I awoke early enough to view the Sunrise over the ocean. It was warm, peaceful, and slightly entertaining. While sitting on the beach, I was able to watch the seagulls dive into the water attempting to procure their own breakfast.
Sunrise in Cancun
Our tour for today, Playa del Maroma, was only about 45 miles South of Cancun. This area is home of Paradise Reef, part of the second largest coral reef in the world. Our trips out to the reef were made on a small sailboat and the activities concentrated on snorkeling in both shallow and deep coral areas. During this adventure, we discovered additional sting ray, squid, starfish (which we were able to watch crawl on our hands), and more tropical fish; however, the conversation piece of this tour was the underwater plant life. I couldn't identify the different species, but there were several dozen plants easily visible while snorkeling. These included sponge, sea fans, and a rainbow of algae.
| | |
| --- | --- |
| | |
| Sting Ray at Paradise Reef | Snorkeling and Fashion Do Not Mix |
Once we completed our tour of the reef, we enjoyed taking turns "parasailing" using one of the sails of our sailboat, the Spinnaker. This simply involved sitting on a small harness attached to a sail, which in turn, was attached to the sail boat. Once released, the sail would lift the occupant about 20 to 40 feet into the air and allow them a clear view of the surrounding area. Susan, by far, flew higher than any of the other attendees.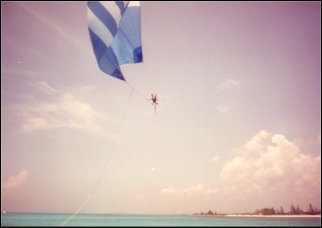 Susan Believes She Can Fly
Our trip to Paradise Reef was only about a ¾ day adventure, so we returned to the hotel early in the evening. Dinner involved a short bus ride through the hotel district to an authentic Mexican restaurant, OK Maguey. For the meal, we split an order of delicious chicken fajitas and the musical entertainment was provided by our marimba playing amigos. The musicians even taught Susan how to play La Cucaracha on the marimbas while they accompanied her (Susan was very interested in the marimbas). On a side note, I would like to point out that chips and salsa are apparently an American tradition when dining at a Mexican restaurant. We were served croissants with our meal, and when we asked about chips and salsa, we succeeded in only confusing our waiter :).
In addition to the snorkeling, parasailing, and dinner, this was really our first night to enjoy the amenities of the hotel (on previous nights we always returned late or exhausted). Some of the items available at the hotel were easy access to the white soft sands of the beach, fresh water swimming pools and hot tubs, music, and buffets. There was also a swim-up bar where we could obtain Coka (Coke), Piña Coladas, or whatever else our thirst desired. Hanging around the hotel also gave us our best opportunity to fumble with the native language. We're still having difficulties not saying Sí or Gracias when in the company of English speaking comrades.
| | |
| --- | --- |
| | |
| Blue Bay Getaway | La Cucaracha...La Cucaracha... |
Once the night was over, our time in Cancun was almost done. Nearly the entire fourth day was spent traveling to and from the airport, flying, passing through customs, and presenting our passports to the nice people with uniforms. Overall we thoroughly enjoyed our vacation and I know Susan is looking forward to the next time she can snorkel. Unfortunately, she will have to settle for beer cans and goldfish if she wants to snorkel anywhere nearby!