---
JUNE 2002
---
06/10/02 - Recent Events Summary - A lot of things have happened recently that I haven't listed on our diary. However, I would now like to take the opportunity to show some prize photos and a few quick stories about these recent events...
Last February, James and Loretta hosted the third murder mystery Susan and I have participated in. These are normally a ton of fun, and this time it was no different. Jonathan, Kahle, James, Loretta, Russell, Mei Li, Bryan, Susan, and I were dressed in costume and prying into each other's shady histories. In the end, however, it was Miles F. Latout (James) and Desiree Flambeau (Loretta) who conspired to murder Archibald Frath.
Our cousin Jenny had her 30th birthday on April 19th. Both Susan and I attended a fairly large gathering in Denton at a local Thai restaurant. As you can see from the picture below, everyone had a good time.
In early May I spent two days and sixteen hours in Oklahoma City sitting for the CPA exam. All I can say is that the exam was absurdly difficult (less than 15% of those sitting for the exam pass the first time). I think my best hope for passing is a huge curve (yes, the exam is curved), but nevertheless, I will find out how I did on August 7th.
Susan's church friends in Lawton held a bridal shower for us on May 26th (May and early June were very busy for the both of us). It was a wonderful party and we received a perfect variety of thoughtful gifts. On the following Friday, my co-workers also held a small pizza party with another batch of fantastic gifts. We would like to thank everyone again for their generosity!
On May 31st, Jonathan and Kahle arrived in Fort Worth for a quick visit before Susan and I departed for Las Vegas. The following morning, we all attended the Scarborough Faire renaissance in Waxahachie. The festival featured magic, sheep herding, trained falcons, sword fighting, jousting, juggling, and many more things medieval. On the day prior to the faire, a contest was held at my workplace for the best 16th century costume. I received second place for my appearance as a juggling court jester.
Finally, I just wanted to provide a current picture of Dakota. He is growing like a weed and becoming more adorable each day!!!
Click on the above pictures to enlarge
06/12/02 - New Web Layout - Several changes were made to the web page today in order to speed up the download of our diary. I've divided the diary up into several semi-year sections, but I may separate out a single period of time if I have a lot of information. For example, our wedding and honeymoon pictures will require its own page (which I plan to upload by this weekend). For convenience, the current page will always be the same page you have always referenced. Thus, no one will need to change their bookmarks (you did have our page bookmarked, didn't you?). To navigate the pages in chronological sequence, simply start at page 1 and enjoy!
06/16/02 - Vegas : Day 1 - The first day of our vacation was by far the longest day. When booking our flight, an 8AM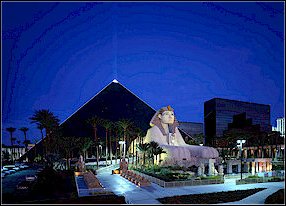 departure didn't seem unreasonable. However, we definitely reconsidered that decision when we woke up at 3:30AM, Sunday morning, on June 2nd =). After a long morning of riding on a shuttle bus to the airport, waiting in the terminal for our plane, and making the smooth flight to Nevada, we arrived ready for fun and relaxation at the Luxor. Our room was a mini-suite with all sorts of extra amenities such as a jacuzzi, mini-bar, and a separate living room. During the day we visited Mandalay Bay and Excalibur. We also lost our first few rounds of Blackjack at the Luxor. During the evening we had dinner with Rick, Nina, Ray, Julie, Heather, and little Colton at the Golden Nugget buffet. Later we all watched the Fremont Experience in downtown Las Vegas.
| | |
| --- | --- |
| | |
| The Excalibur | The Fremont Experience Light Show |
06/16/02 - Vegas : Day 2 - This was our big day! After catching breakfast at the Luxor buffet we started our way further down the strip to meet up with the rest of our group. We visited the tic-tac-toe playing chicken at Tropicana and watched the lions play at the MGM Grand.
| | |
| --- | --- |
| | |
| Here Kitty Kitty!!! | Ahhhhhhh... |
After meeting up we all toured the Coke and M&M museums. There's nothing quite like an ice-cold Coke from a glass bottle!
At a little before 6:00PM our limo driver, Derrick, picked us up at our hotel. Derrick drove us to the Las Vegas courthouse to get our marriage license and then brought us to the Candlelight Wedding Chapel. The chapel, located in the middle of the strip, was very charming. Unfortunately, the minister was not =). Both Susan and I tried really hard to keep a straight face during the lecture, I mean service. Fortunately, we will be able to hide the wedding video where it will never be found ;).
| | |
| --- | --- |
| | |
| The blissful Bride and Groom | One of the many perils of marriage - The Reception |
After the ceremony, Derrick chauffeured us to the Rainforest Cafe located in the MGM Grand. This restaurant is a "must visit" if you have one in your area. I cannot guarantee it will be as elaborate as the one in Vegas, but if it is, you will be in for an adventurous dinner. Within the cafe there are animatronic gorillas, elephants, lions, alligators, and others. The decorations make you feel as if you are in the heart of a jungle and you can even watch the stars in the sky (occasionally there will even be a shooting star). To top it off, thunderstorms occur throughout the meal and rain falls from the ceiling (the rain falls in specific areas surrounding the tables in order to prevent you from actually becoming wet). Dinner was delicious and it definitely topped off a wonderful day.
06/16/02 - Vegas : Day 3 - So what do newlyweds do on their first full day as a husband and wife? Well, they go to the Star Trek Experience, that's what =).
| | |
| --- | --- |
| | |
| Ferengi - Oo-mox! | Klingons - Qapla' |
Since the Colorado Van Nattas decided to enjoy the hotel swimming pool, we decided to make a trip across town to the Las Vegas Hilton. This was a big day for walking as we visited a wide variety of hotels including the Aladdin, Paris, New York, Monte Carlo, and Caesar's Palace. As usual, the interiors of each hotel are extremely elaborate and beautiful.
| | |
| --- | --- |
| | |
| Nathan at Monte Carlo | Rick and Janina at Caesar's Palace |
Later that evening, everyone met at the Imperial Palace for a Hawaiian Luau. While being entertained with traditional island dancing, we also dined on a delicious feast of fish and fruits.
| | |
| --- | --- |
| | |
| Susan and Nathan learning how to hula | Torch dancing |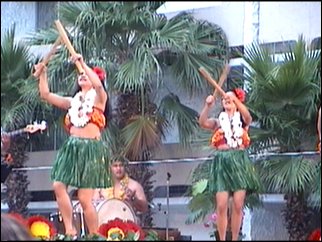 Hula dancing with sticks
06/16/02 - Vegas : Day 4 - During the fourth day of our trip, we got together again with Rick and Nina and enjoyed lunch at the Cheesecake factory inside Caesar's Palace. After that, much of the afternoon and evening was spent gambling at various casinos in downtown Las Vegas. I learned how to play a little craps, and we both lost a little more money at blackjack (does the house ever bust?!?). Surprisingly, we came out ahead on the nickel slot machines. A live band was performing and could be heard while walking back and forth among casinos.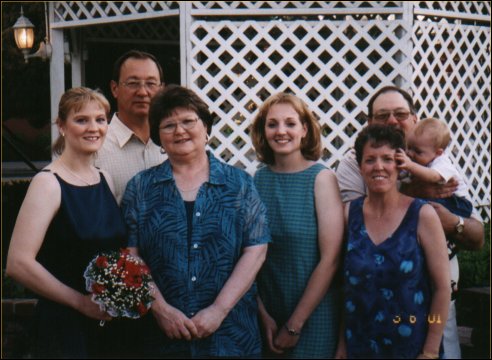 The Vegas Bunch
06/16/02 - Vegas : Day 5 - And then there was a trolley ride. Since this was my first trip to Vegas, I decided my adventure would not be complete without a ride on public transportation. In retrospect, I think I could have lived without this additional cultural experience. The trolley was hot, bumpy, and stopped at nearly every hotel on the strip. In the end, it was an hour long trip down the strip to the Stratosphere. We decided to spend our last full day in Vegas on this end of the strip for two reasons. The first reason was because we had a $10 voucher for free casino chips. The second reason was because we heard the Sahara has $1 blackjack tables!
The Stratosphere was fairly nice, but we only stuck around long enough to win a little money. While walking to the Sahara we stopped at several souvenir shops and found gifts for some of our friends and relatives. I also picked myself up a few decks of used casino cards and some pencils for my collection (if you don't know, I have a gargantuan pencil collection that I started a long long time ago).
It turns out the Sahara did indeed have $1 blackjack tables. Although most of them were full, we were able to find one free table in which Susan and I spent most of an enjoyable afternoon.
When night fell, we both returned home and got ready for dinner at the Tournament of Kings. This show, held at the Excalibur, features fine dining without any utensils =). The tomato soup was slurped straight from the bowl and the chicken was eaten with our fingers. Our section cheered for the king of Spain as he and the other knights battled against the evil Mordred and his demons. The show was spectacular with lots of jousting, sword fighting, and pyrotechnics.
| | |
| --- | --- |
| | |
| Treasure Island | The Mirage |
After the event was over, we took a taxi (not a trolley) to Treasure Island in order to watch the pirate show. This show features the British attempting to capture the pirates who have recently looted a town. With cannonballs and musket shots, the pirates defeat the British and the crowd is amazed as the British ship actually sinks. Following the pirate show, we walked down to the Mirage and watched the volcano erupt. This show also included more fire and special effects and was equally as impressive. After that, we walked a little further South and watched the dancing fountains at the Bellagio. This show was quite elegant as the numerous fountains danced in rhythm to the music. Finally we returned to our hotel room, but not before we stopped for a massage from one of the street vendors inside the Excalibur.
| | |
| --- | --- |
| | |
| The Bellagio | The Strip at Night |
06/16/02 - Vegas : Day 6 - Our last day in Vegas was spent mostly relaxing. We had seen pretty much everything we wanted to see this trip and were nearly ready to return home. We stopped by GameWorks and played a few games and had lunch at the Luxor buffet.
Our flight back was delayed slightly, but we returned safe and sound. Fortunately neither of us had to work the following weekend, so we were both able to relax a little before returning to work.
We both had a lot of fun in Vegas and we are finally, officially, happily married.