---
JUNE 2006
---
06/01/06 - Neighborly Photo #3 – We finally found another photo worthy of posting to the series. In this edition, we demonstrate how to hold a combination Memorial Day party, cookout, and camping expedition - all from the comfort of your front yard.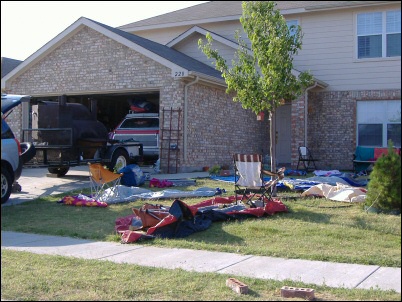 Its too bad we were out of town that weekend, we could have pitched a tent and joined 'em :).
06/03/06 - Our Fourth Anniversary – This past weekend marked our fourth anniversary! Susan purchased me a massage on Friday (which was fairly enjoyable, but not nearly as good as her shoulder rubs) and we visited the new Cheesecake Factory in Southlake on Saturday (our cheesecake of choice was an Oreo Cream version - Yummy!!).
On Sunday afternoon we headed to Arlington to attend a Scottish festival. The area was full of bagpipe players, men in kilts, and free homemade beer (sorry you missed out Rick!). There were also plenty of opportunities to research your ancient family background and purchase clothing from the time period. We watched a little bit of a Scottish strongman competition (similar to a shot put) and tried some traditional Haggis (not nearly as bad as the recipe sounds) and Shepard's Pie.
For the evening we attended our first Concert in the Gardens at the Fort Worth Botanical Gardens. The Fort Worth Symphony Orchestra puts on the show and our music for the evening was all Big Band music from the 40s and 50s. Susan and I took a picnic lunch (pizza from Pizza Hut and desserts from Central Market) and packed some wine to sip during the show. We even got up and danced for several of the songs on the makeshift dance floor they had in the middle of the garden (otherwise known as a concrete road). It was a little warm, but the breeze kept it comfortable and the music kept it nice.