---
JUNE 2007
---
06/02/07 - Petroleum Club – My employer, Wellington Insurance, has a membership at the Fort Worth Petroleum Club. When I first heard it mentioned, I had no idea what the club was about. Was it a group of oil drillers? Vaseline fanatics? Gasoline lovers anonymous? It turns out it is just an odd name assigned to an elegant dining room at the top of one of the skyscrapers in downtown Fort Worth. I presume, at some time, the club was exclusive to the oil industry; however, it is currently open to anyone.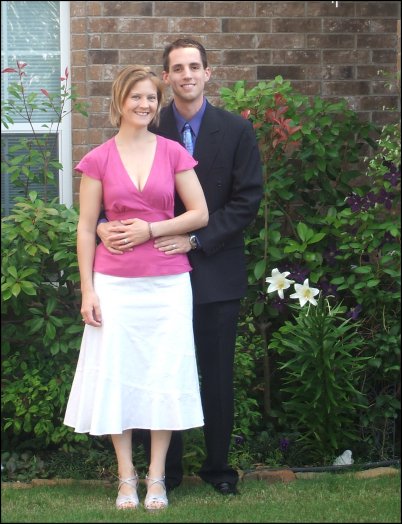 Sunday was officially our 5th anniversary, but since the club was closed we decided to celebrate our marriage a day early with dining, dancing, and music at the club. The food was delicious. I had crab-crusted salmon and Susan selected the filet mignon. We were also served salad, bread, and some mango sorbet between courses to cleanse our palate. Of course there was some wine and we even finished off the meal with some banana cheesecake.
We definitely won't be "frequent diners" at the club. Nevertheless, our one visit did offer up a romantic evening where we could watch the sun set from 40 stories high and enjoy some excellent food.
06/03/07 - Concerts in the Garden – Last year around this time we attended our first Concert in the Garden (hosted by the Fort Worth Symphony Orchestra). We picked the same genre of music this year - Big Band - and we we're certainly not disappointed with the performance.
Joe, his brother, and sister-in-law joined us for the event on the lawn. We brought two bottles of wine, pizza, and our dancing shoes :). Although we only get a chance to cut the rug about two times a year, we still try our best when the opportunities present themselves. We jived to a handful of songs, chatted with our table partners (Joe and family were at the table next to us), and generally had a great time. It was quite a bit more humid this year with plenty of bugs - fortunately, the off was working overtime.
The concert finished with a grand display of fireworks - much better (and closer) than what we usually get to see on the 4th of July.
06/05/07 - Wellington Warriors (8-2) – Go Warriors!!! With all the rain we have been receiving (seemingly always on a Tuesday night) our season has gone on a little longer than expected. We've caught up a bit by playing a few double-headers, and tonight was our one (and hopefully only) triple-header. Fortunately, it wasn't nearly as bad as that sounds.
Our first game was against Ballers Ink - the team we played a very competitive game against on our first outing. Although it was still a great match, our team was in fine form and played a nearly flawless game (which, at our skill level, generally doesn't happen - we usually make quite a few mistakes). The final score was 11 to 4 and this victory clenched our second place standing in the Tuesday league.
Our second game to Sku Patrol was forfeited. If I'm not mistaken, I'm pretty sure they forfeited all but one of their games this season by simply not showing up - that is kind of a bum deal for us, but we really weren't in the mood for three games anyway ;).
Our third game was the makeup game against the Defenders I mentioned in a previous diary entry. At the time I mentioned the game was tied 6 to 6 in the last inning played. The Defenders actually did get to play their "at bat" of the 7th inning and scored 3 runs, but right before we were allowed to play our half of the inning the game was called due to lightning. As such, the game was originally declared a tie since we didn't get a chance to bat. The tie didn't stick.
We picked up this game right where we left off...no outs, one runner on third, and a very real need to score 4 runs or we would lose the game. We scored 1 run quickly and eventually got a few players on base (one of them yours truly) with 2 outs in the process - it was a make or break moment and Chris Winter made the most of it with a high fly ball to deep center field. It was so close to the fence the outfielder was having to run backwards to try and catch the ball (which is very difficult to do), and ended up missing the catch - by that time I had already crossed home plate (it was a very HIGH fly ball). Meanwhile the other two runners were circling 3rd (Chris was hot on Leslie's tail - I believe Chris said he was officially drafting her) and they both crossed home plate within seconds of each other. The throw from outfield -> short stop -> third base -> home plate just wasn't fast enough and barely missed catching the 3rd out our opposing team needed.
Our team surged onto the field, genuinely ecstatic, about our come-from-behind victory in the final seconds of the game. What a rush =D.
Here are the final standings for our league. It is possible we may get to attend a playoff game, but we won't find out for a few more days.
| Team | W | L | T |
| --- | --- | --- | --- |
| DAMAGE INCORPORATED | 10 | 0 | 0 |
| WELLINGTON WARRIORS | 8 | 2 | 0 |
| BALLERS INK | 6 | 4 | 0 |
| DEFENDERS | 3 | 7 | 0 |
| AMC MASTERPIECES | 2 | 8 | 0 |
| SKU PATROL | 0 | 10 | 0 |
06/14/07 - The Playoffs – Our season is over and I must admit the playoffs were fairly anti-climatic. We advanced only one round in the playoffs (against the Master Batters) before being dominated by another team on the field (the Nightmares; another poor-sportsmanship squad) who sent us to the bottom bracket. We lost our third game (to the "T"), but this was our first loss of the year where we didn't feel bullied/mocked by the opposing team. The "T" was pleasant, good natured, and it was genuinely a great game (even though the final score was 12 to 10). Overall I enjoyed this season; however, I'm glad it is finally over (it seemed to drag on forever due to rainouts).
Update - I found out recently the Nightmares and the "T" placed 2nd and 3rd in the tournament. We placed about 7th or 8th (out of 20 or so teams)...so in our defense, it appears our line-up was pretty rough for this tournament ;).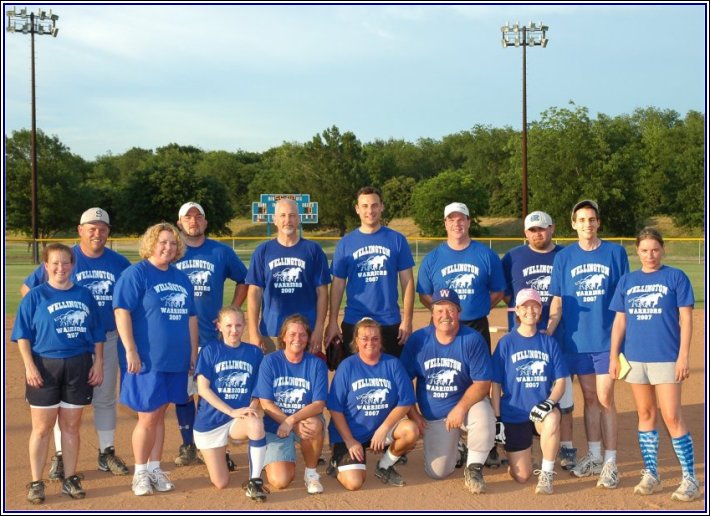 Joe came out to our final "triple-header" night and snapped a couple of team photographs. From left to right (standing): Reba, Chris, Melinda, Chris, Robert, Paul, Robert, Brian, Nathan, and Mary. From left to right (kneeling): Melinda, Kiona, Leslie, Gary, and Susan.
06/22/07 - Flickr – I recently signed up for a new service that seems to be fairly interesting - Flickr. Flickr allows me to upload pictures and then allows anyone (with a Flickr account - it's free) to post comments on each picture. I have uploaded a few sample pictures from the past year and added a few comments here and there. I'll let the rest of you play around with it and see if it adds some additional interactivity to this diary (which is supposedly the "in thing" to do). Unfortunately my "blog" is programmed by hand and I have a hard time adding most of the Web 2.0 functionality many other websites incorporate so easily - one of those being comments for individual diary entries (which I would love to have, but I haven't found a way to do it). Thus, any comments are more or less made externally on other websites such as Flickr (there is a direct link in the toolbar below) and MyBlogLog (which didn't go over so well ;) - both of which are also available from the Community dropdown link. Personally I've had fun adding little squares around picture items on Rana's website (with cheesy little comments) =D.