---
MARCH 2006
---
03/20/06 - Neighborly Photo #2 – This is a follow up entry to the first photo I posted in January. It isn't nearly as cluttered as #1, but I felt the need to post something since I implied it was a frequent occurrence. Of course, the fact I started posting these was probably why I haven't noticed any new "clutterings". Murphy's Law...or are the neighbors reading our diary? *Gasp!*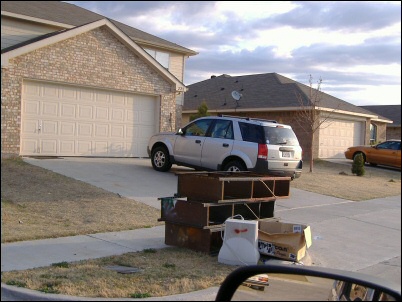 Apparently a decision was made. That decision was to eliminate the library.
03/21/06 - Ski Trip – I'm slightly behind on postings - so no this wasn't a spring break trip; we actually departed for Colorado during the last week of February.
The Colorado Vans were kind enough to let us shack up during the week, so in addition to the abundance of relaxation, we also had some great times catching up with family. We arrived mid-day Friday and spent the afternoon catching a few sights, a few bites, and a few caches. I will admit that Geocaching is probably a summer sport for Colorado. Although I loved seeing real snow for a change, it was a little difficult to dig through several feet of snow to find a container under a rock you couldn't see to begin with ;).
| | |
| --- | --- |
| | |
| Sunlight - Top of the Mountain | Snow Angel Devil |
We spent the night with Tony, Helen, and Brinley on the first night and they took us to Sunlight the following morning. Tony and Helen were the avid snowboarders of the bunch, Susan was the talented skier, and I was the joker on two sticks moving at about 5mph. I'm still amazed by the physics applied on the slopes...for example, how steep must a slope be for you to not be able to see the bottom? In addition, what is the fastest rate of acceleration you can achieve and still be able to turn without learning how far your poles can fly? These and many more questions were answered by yours truly.
| | |
| --- | --- |
| | |
| Hanging Lake Valley near Gypsum | Rocky Mountains South of Glenwood |
After a full day of skiing we spent the evening at the hot springs pool in Glenwood. It's really a pretty fascinating place. Other than freezing when going from 100+° pool to the lockers, it was charming to relax in a hot "tub" while snow was sitting on the ground just a few feet away. It took a little searching but I was able to find one of the spots where the hot mineral water seeped into the pool....cozy.
| | |
| --- | --- |
| | |
| Julie and Ray | Helen, Tony and Brinley |
The second day was more or less a repeat of the first, but instead of the springs we relaxed in Ray and Julie's hot tub. We also caught the middle of a mini-ski-jump competition. On the third day we traded in our skis and decided to visit the sights. We shopped for a bit in downtown Glenwood, visited a local sampling store for a nearby winery (it was also a chocolate shop - yum!), took a tour along the highway and snapped some pictures of the beautiful mountains and even made a quick detour to Aspen (quaint little town, but really nothing special - although the snowboarding course with half-pipes and jumps was huge). We had lunch at the Glenwood Brewery and enjoyed some of the best onion rings I've had in quite a while. Delicious!
| | |
| --- | --- |
| | |
| Bookcliff Winery | Beer and Cheese |
We squeezed in a lot of fun into this short trip. Nevertheless, I'm already looking forward to our next vacation in June (the big cruise!).