---
MARCH 2007
---
03/07/07 - Hot Springs: Day 1 – Susan doesn't really get many consecutive days off. Normally, if there is a holiday, she ends up working the nearby Saturday and the "long weekend" is essentially non-existent. Every now and then there is an exception to that rule and this week is it. Susan had Saturday and Wednesday off, and by a semi-chance rescheduling with the relief-vet, she happened to have Friday off as well. One day of vacation for Thursday and voila; a long weekend! Beth, a co-worker of mine, has a sister who runs a bed & breakfast in Hot Springs, so we decided to head to Arkansas for some rest and relaxation.
| | |
| --- | --- |
| | |
| Downtown Hot Springs | Hot Springs National Park |
The drive isn't as long as I initially expected; about five and a half hours. It is slightly longer than what we normally want to spend on a road trip, but we really wanted to go somewhere new. We departed Wednesday morning, snagged a few obligatory caches on the way up, and rolled into town early in the afternoon. Our first stop? Well, the Hot Springs Winery, of course :D. Arkansas wine country is actually located a few hours North, but fortunately, they set up a winery in the resort town to make it easier on the tourists. One interesting tidbit about this winery is their usage of Cynthiana and Muscadine grapes. These varietals are not common for wine, but they are common in the South - as such, the wineries in this area make frequent use of them. To be honest I didn't really care for the Muscadine (unless it was mixed with another fruit such as Strawberry or Peach), but the Cynthiana produces a nice dry red similar to a Merlot.
| | |
| --- | --- |
| | |
| Wildwood 1884 | Our King David Room |
Following the winery we checked into our room at the beautiful Wildwood 1884 Victorian home. The current residents of this home, Rebecca and David, have done an excellent job of restoring this old home. I was amazed and intrigued with all of the history the home offered. In addition to the stunning decor, Rebecca offered up an outstanding gourmet breakfast every morning. Each four-course meal consisted of some type of homemade muffin, a fresh fruit cup, and then two entrees. During our three-day stay we had banana French toast, strawberry pancakes, omelets, and sausage & gravy pastries (among several other items). Typically we either skipped lunch or had a very light lunch ;).
| | |
| --- | --- |
| | |
| Foyer Entrance | Hand Carved Staircase |
We dined at a wonderful Cuban restaurant, Rolando's, on our first night. For the appetizer we had queso flamada (literally on fire) and our chicken quesadilla (with goat cheese and special Cuban sauces) presentation was gorgeous.
One interesting tidbit about Hot Springs is the town shuts down at about 5PM (except for the restaurants) . As such, there isn't much to do after dark except to walk through the National Park, geocache, or just relax at the B&B with a cup of hot cocoa, a brownie (there were always warm brownies and cookies waiting on us), and a good book. We did a little of all three (probably a little more on the brownie side) while we were there.
03/08/07 - Hot Springs: Day 2 – Relaxation is the number one activity while in Hot Springs, so after our hearty breakfast and historical tour of the home we headed downtown for our afternoon couples massage. The massage was an hour long and included mood music, aromatherapy, warm towels wrapped around our feet, and the traditional "Swedish" style massage. It was very similar to the kinds of massages Susan will occasionally give as a gift for my birthday and as always, enjoyable.
| | |
| --- | --- |
| | |
| Daffodil Hill | She's Such a Tree Hugger |
After the massage we visited Garvan Woodland Gardens. The gardens are located on 44 acres of beautiful mountain land just outside of Hot Springs National Park. The daffodils, camellias, hyacinths, and a few tulips were in bloom. We can only imagine how beautiful the gardens will be in just a few weeks. In addition to the fields of flowers there were several walking trails meandering through the gardens lined with waterfalls and ponds (with koi fish).
| | |
| --- | --- |
| | |
| Koi Pond - Garvin Gardens | Waterfall - Garvin Gardens |
We stopped at the Fordyce bathhouse during the afternoon and learned about some of the unusual history behind the "medicinal" properties of the springs. In the early 1900s, before penicillin, many ill visitors would come to Hot Springs in order to find a miracle cure. I think this might be why Hot Springs also appears to have an abundance of cemeteries =P. The bathhouses had a variety of treatments they could provide such as hot soaks in the mineral water, steam rooms, and even intravenous mercury injections (see earlier comment about cemeteries).
For dinner we stopped at a small Italian cafe, Belle Arti, and enjoyed a glass of wine, some bread, and gnocchi.
03/09/07 - Hot Springs: Day 3 – We awoke early on the third day in order to beat the rush to the bathhouse. There is only one operating facility on bathhouse row, Buckstaff Baths. This was definitely a worthwhile experience; something unique I think everyone should try if they ever go to Hot Springs. Nevertheless, as my boss Gary would say, I made two visits that day - my first and last. The whirlpool soak in the hot mineral water was nice and it was followed by a short trip to a sauna and a unusual shower (imagine a hundred pincushion water spouts working simultaneously). I could have done without being physically bathed by another man and the walking around naked with a washcloth the size of a matchbook to cover your "privates" ;). That being said, the workers were very professional about the whole experience, and even though I consider myself a modest person, I wasn't mortified.
| | |
| --- | --- |
| | |
| Buckstaff Baths | Steamy |
After breakfast we visited several shops on Central Avenue and found several goodies to bring home. We picked up a fragrant grape candle, a catnip mouse for the kitties, and five large canvas oil paintings. I just thought I would try and slide that one in ;). Susan and I have been looking for some paintings to hang on our bare walls for a very long time; however, I'm usually disturbed by the high price of such artwork. Apparently the starving artists live in Hot Springs because the price of art here is nearly unbelievable - almost worth the visit just for the art. I'll take some photographs and post them in a later log entry for everyone to see.
| | |
| --- | --- |
| | |
| Hot Pool - 140ºF | Belle Riverboat on Lake Hamilton |
A cruise on Lake Hamilton via Belle was our adventure for the afternoon. The hour-long cruise was relaxing stroll around the lake and a good opportunity to check out some of the extravagant homes in the area. For dinner we stopped at a little spot called Cafe Santa Clare. The cuisine was a mixture of Italian and Mexican, but we stuck to the Mexican side of the menu.
03/10/07 - Hot Springs: Day 4 – Day four wasn't really a day in Hot Springs (except for another wonderful breakfast), but more of a long journey back to Fort Worth. We detoured down a few old county roads and stopped at four wineries on the way home before finally meandering in at midnight (thoroughly exhausted).
| | |
| --- | --- |
| | |
| Spring is on its Way | Second Cousin to McReynolds? |
I'll have to admit the wineries in North-East Texas cannot hold a candle to the ones in Hill Country; however, they were still lots of fun and we had a blast on our mini-tour. There was also a chance encounter with a newspaper photographer while we were sampling wine at Lou Viney. We also visited Guerra, Lone Star Wine Cellars (which is actually a front for three wineries), and Los Pinos.
03/12/07 - Artistic Touch – I wanted to write a quick blog to share the paintings we currently have on display in our house. I apologize for the lighting on these pictures...it was nighttime and the pictures required a flash (which drowns out the center of some of these pictures).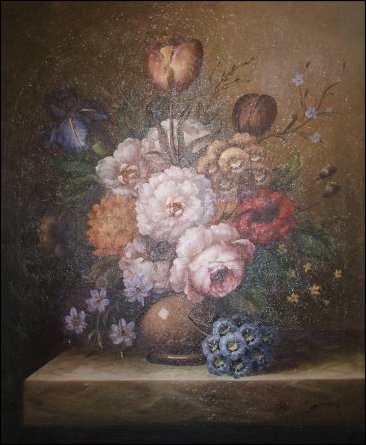 Flowers in the Powder Room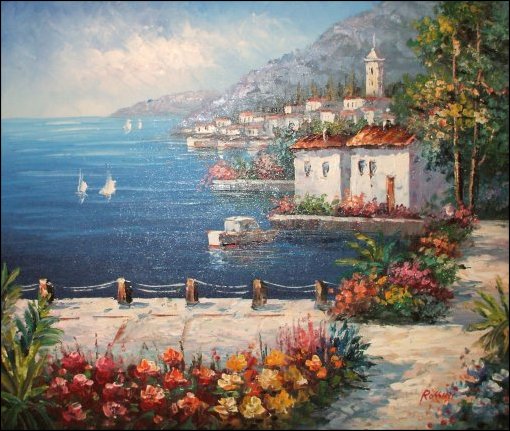 Greece in the Greek Room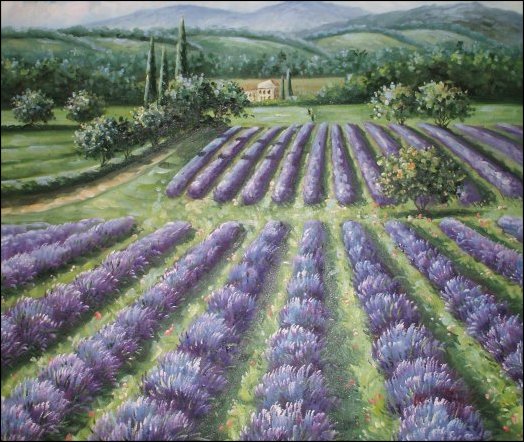 Lavender Meadows in Master Bath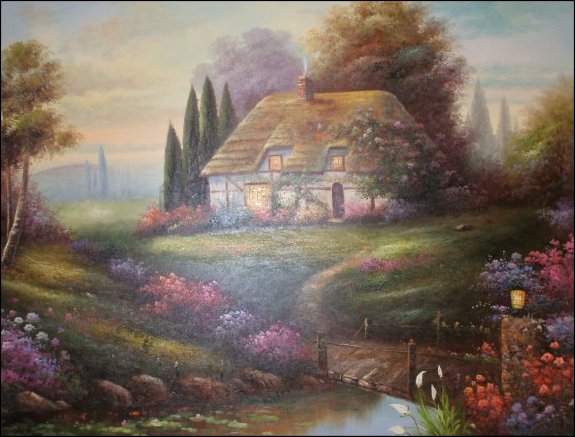 Cottage in the Living Room
Santorini in the Greek Room (Greek Festival)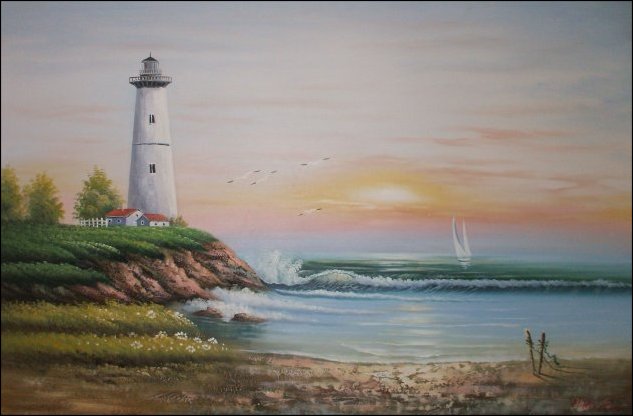 Lighthouse in Master Bath
03/20/07 - Wellington Warriors (1-0) – Susan has been pushing Gary (my boss) to enroll our company in a Softball league for several months. With some inside pressure from Mary, they were able to talk him into making a go at it. Mary did most of the legwork on getting the team started, and a vote of the players determined the name.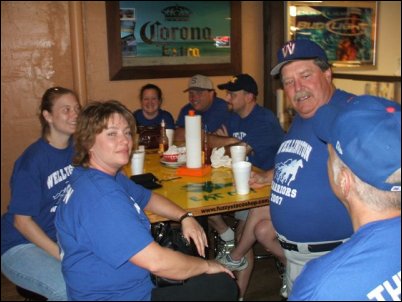 Our first game was on Tuesday against the AMC Masterpieces. We sprang forward with a quick lead of 5 to 0 after 2 innings, but they did catch up a little later. The final score was 7 to 5 with our team claiming our first (of hopefully many) victory.
03/22/07 - Easy Money – I was at a garage sale a week ago and picked up a piece of used computer hardware (a Cisco switch for those wanting to know) for $2. At the time I knew it was worth a bit more than that, but I was definitely surprised to find out I could fetch $300 for it on Ebay. However, I didn't have to go that far. Our IT department at work was willing to match the Ebay numbers and I ended up with a nice little profit for a quick garage sale buy :D.
03/27/07 - Wellington Warriors (2-0) – We played our second game against Ballers, Inc. The game started off well with a 3 point lead by the Warriors, but Ballers rallied in the early innings to take a 6-3 lead. Things were starting to look pretty bleak for the Warriors but we finally turned things around late in the game and rallied to a final score of 13 to 7. We can officially call this a winning streak now ;).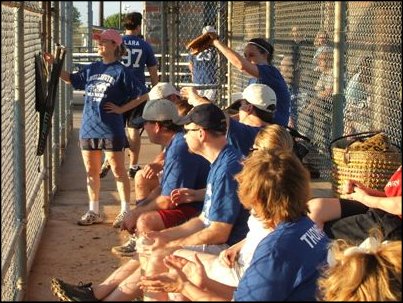 After the game Gary treated us to burgers at the nearby Krystal burger joint. It is kind of like a McDonalds, but all of the burgers are tiny - it is kind of a novelty dining experience.
03/30/07 - Guy's Poker – Our friend Tony (a poker regular) suggested several months ago we should hold a "Guy's Only" poker night. I wasn't sure what that would mean...perhaps lots of burping, beer, and wild conversation. Well, honestly, we were just shooting for something a little more serious than our regular monthly poker games (which are fun and easy-going games). We raised the buy-in and eliminated re-buys for this tournament - which encourages more "realistic" poker playing and slightly more conservatism (for example, you don't have players calling an all-in with nothing simply hoping to hit something on the turn/river....just because they know they can buy-back in for only a few dollars if they lose). The end result was exactly what we were looking for - a fun night with some slightly more serious poker. All-ins were taken seriously, raises actually eliminated weak hands from the pot, and you could get away with a bit of bluffing here and there.
In the end I was able to prevail over 15 other players and took home $160 in winnings for a few hours of poker (woohoo!!).
03/31/07 - Gallery Night – Well, we were supposed to go to a Ranger's baseball game this evening, but we had a toss-up. We could stare at a ball game, eat $10 hot dogs, and pay $12 for parking - OR - We could stare at overpriced art, drink free wine, and park for free. Free Wine...Baseball...Free Wine...Baseball....well duh!
Gallery Night is an annual event held throughout Fort Worth where the art stores stay open late and invite the public to tour their selections. Typically wine, cheese, and other appetizers are served and many of the locations also have live music. This is our second year, and we learned from our first year that the best bet is to park near downtown on Camp Bowie boulevard where there are about 5 to 10 galleries in walking distance.
The art is always obscene priced; anywhere from $500 to $10,000. What is wildly peculiar is that what I consider to be the best (ie, very realistic and obviously very time consuming) is usually on the lower end of the spectrum. Artwork where it appears the artist painted with a blindfold (impressionism), while drunk with paint-filled water-guns (surrealism), or stuff I think a 3-year old could do a better job on (modern/abstract) is well into the upper range of pricing. It absolutely makes no logical sense to me =D.
Nevertheless it is a fun experience even if you have no intention of purchasing anything.