---
MARCH 2008
---
03/08/08 - Big Bad Voodoo Daddy – We attended a concert at Bass Hall featuring a Big Band we like to swing dance to performing with the Fort Worth Symphony Orchestra. Each performed some pieces alone, and they played some together. It was very entertaining and made you want to dance, dance!
This was definitely a jumping and jiving performance. BBVD was decked out in period pin-stripe suits and Fedora hats while each performed fantastically. We've really enjoyed the variety of performances this year at Bass Hall and there are still a couple to go. From Star Wars to Big Band; from classical to Celtic - this season has really had a huge variety. I'd like to anticipate having this much fun next year, but I just got the flyer in the mail today and it appears 08-09 is quite toned down compared to 07-08. Instead of investing in an entire season I think we might just end up picking a few select performances.
03/12/08 - Butterflies – My friends Rana and Rilda invited me to go the exhibit "Butterflies in the Garden" at the Fort Worth Botanical Garden. The humid glass terrarium was filled with all sorts of beautiful tropical plants and flowers and a waterfall. There were 12,000 live butterflies from Asia, Africa, Central, South, and North America. We took many pictures and then indulged in a cold smoothie afterward (complete with frizzy, curly hair from the humidity). Rana has a better camera than I do and is a great photographer. To see some of her pictures, visit her Flicker site.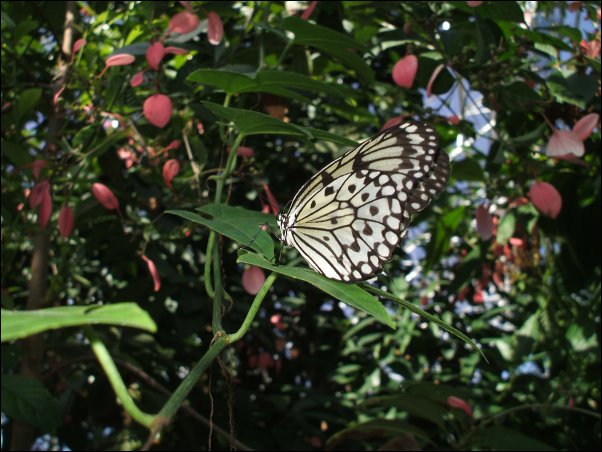 03/14/08 - Birthdays – We celebrated my 32nd and my brother, Jeff's, 24th birthday this weekend with my family in Lawton. Saturday morning included going to garage sales (one of my favorite activities that I do not get to do often b/c I have to work most Saturdays). Of course, Nathan steps it up a notch by loading all the addresses into the GPS, so it is quick and easy to navigate between them. Later, a trip to the new Olive Garden ensued. We ordered a bottle of wine, some beer, a few meals, and shared it all. We opened gifts and ate from 2 chocolate cakes and ice cream. The next day we had a big yummy lunch with roast, lots of veggies, and rolls. It was a fun, relaxing weekend.
03/22/08 - Indoor Camping – Well this weekend didn't really turn out as planned. In fact, it was so far off it was nearly in another time zone. Susan and I had intended to drive out to Lake Mineral Wells and camp with several fellow Geocachers. There were a couple of events over the weekend including a Saturday morning competition, a Saturday evening dance, and a Sunday morning breakfast; however, we were not going to be able to make it to the competition (The Texas Challenge - an event that pits 4 regions of Texas against each other and flexes everyone's caching ability). We arrived just a tad before the evening dance and quickly found out most everyone was tuckered out from the events of the day. Out of all the cachers only a select few were left remaining, and most of them were from San Antonio. It appears most of the DFW crew headed home or decided to stay in various hotels. On top of that, the party of the evening was going to be heavily diminished due to several park ordinances that apparently the party designers were not aware of. So, rather than potentially get a ticket for disturbing the peace, Susan and I decided to cut our losses and head back home (fortunately, the lake is just barely 30 miles from Fort Worth - not a terribly long detour).
Instead of goodies over a campfire we had dinner at a Mexican restaurant in Weatherford. Instead of camping under the stars I pitched our tent in the living room and we gazed at the ceiling fan lights from within. Instead of various nocturnal wildlife we were visited by various nocturnal kitties. All in all it was still fun, but the air mattress still just isn't as comfortable as a bed. I ended up waking at the wee hours of the morning and sleeping off my cramps on my regular mattress. Susan slept in to a paltry 11:30 ;). No campfire cooking that morning since I didn't want to set off the smoke alarms.
03/26/08 - Fort Worth Zoo – Susan and I had been discussing going to the zoo for about a month. Fort Worth has had on-again off-again Spring weather with temperatures in the eighties one day and then freezing the next. As such, we cancelled several trips at the last minute because we didn't want to be walking around in the chilly breeze.
| | |
| --- | --- |
| | |
| Sleeping Beauty | White Tiger |
| | |
| As High as She Can Go | Cobalt Blue |
Today turned out the be the perfect day for a zoo visit. It was bright, sunny, and I was also able to get the afternoon off. Thus, there wasn't a complete horde of visitors herding through the sidewalks between exhibits. We were able to take our time and enjoy the animals, who coincidentally, appeared to be enjoying the day as well.
| | |
| --- | --- |
| | |
| A Different Kind of Kat | Prairie Dog and Bird Dog?!? |
We saw the new baby giraffe (I didn't include the picture because the baby would never turn to look at the camera - and giraffe backsides aren't that flattering), lots of cats, and numerous cute critters (meerkats, foxes, groundhogs, oh my!). Susan even was able to hold a couple of small birds on a stick (well, the stick did have seeds stuck to it, but still).
| | |
| --- | --- |
| | |
| Gone to the Birds | Happy Susan |
| | |
| What Are You Lookin' At? | The Obligatory Squirrel Picture for Nina |
We had a wonderful time, and with tired legs, we headed home for the evening.
03/27/08 - Purple Martins – They are finally here! Susan saw some scouts earlier this year so we quickly put up the purple martin house; however, the scouts moved on and we didn't see any additional activity until today. I came home from work and heard the familiar sound of the birds, and saw a familiar shape poking their heads in and out of the holes looking for the perfect apartment.
I wasn't 100% sure I had identified the birds correctly so I snapped a few pictures for Susan to verify when she got home. Her exact words were something like "Wheeeeeeeeeee!!!".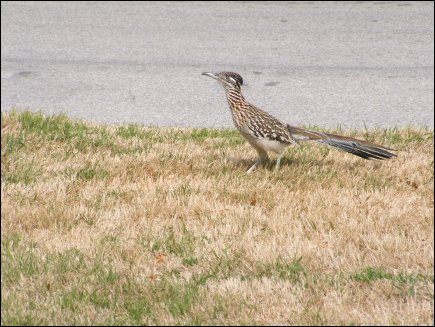 The above picture has nothing to do with purple martins, but I did snap this photograph outside of my office at work. This roadrunner hung around for a few days and we would occasionally see him/her scamper across the parking lot. He/she was very cute - especially when the head feathers poked up into the air.
03/30/08 - Makayla's Birthday – On Sunday we celebrated a pair of birthdays. The second was Susan's extended birthday celebration/game night Sunday evening. We played a bit of Flux and a lot of Taboo. There were lots of "bad for you" snack foods and plenty of people to chat with.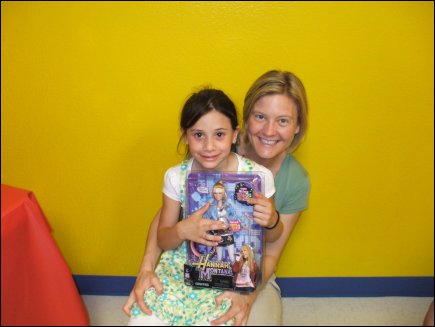 The first was Makayla's eighth birthday bash (Susan is exactly 4x Makalya's age - Shhhhh ;). Makayla (Mary's daughter) held her party at a place called Jumping Party. Essentially it was a large warehouse filled with inflatable bouncing gyms, slides, and obstacle courses. In other words, the perfect place to let kids burn off all that extra energy.