---
MARCH 2010
---
03/20/10 - Cruise Day 1 : Cape Canaveral, Florida – I need to start this story…with another story – that of our friends, Dave & Anita Luce. D&A have been following our escapades on TheHeads.org for many years – in fact, they have followed it a bit more closely than the average couple. I have a habit of minutely detailing each of our vacations. I mostly do this so I can remember, exactly, what we have done in prior years and so I can more easily make recommendations to friends. That being said, it appears it also makes it fairly simple for unknown third parties to duplicate our vacations. D&A followed our travels through Napa, Sonoma, and San Francisco. They visited some of the same wineries, stayed at the same hotels, and generally followed our lead (which can certainly be dangerous since I frequently leave out the bad bits – such as there being two ways to reach a hotel – one through the beautiful mountains and the second through the scummy side of the hood – sorry about that Dave!) When they found out we were planning a Central American cruise they asked if they could skip the middleman and join us – sounded like a blast to Susan and me! Thus began the planning…of which D&A gave us free reign – fortunately I believe everyone had a splendid time – or at least I thought so while I was sipping wine by the ocean with friends.
Our flight out of DFW was a semi-early 8AM. I sort of dislike the early flights but they do have the advantage of having less traffic on the road. Of course, the down side is waking up at the butt-crack of dawn. Fortunately D&A invited us to camp out at their house the night before – and – they live only a few miles from the airport (which cut almost 45 minutes off of our morning commute). We thought the flight out was a bit turbulent (in retrospect, it was a kiddie carnival ride compared to the flight back) but we eventually made it to the cruise ship safe and sound. Boarding was a breeze and in no time we were all sipping cocktails on the upper deck of the boat and snacking on chips and queso (yum!) We all relaxed on the Carnival Dream while a bit of live music sent us away in style.
| | |
| --- | --- |
| | |
| Little Umbrella | Group Photo at Sail Away Party |
The first night didn't include much in terms of activities, but it was our first of many delicious meals in the main dining room. I know many people who zealously prefer the unlimited buffet; however, I'm a huge fan of the elegant meal in the dining room – the food is always delish! The four of us shared a single table and we were expertly served by our hosts Cesar and Hector throughout the week. They rarely missed a beat and often brought extra food (especially when Susan begged them to stop stuffing us like wild turkeys).
03/21/10 - Cruise Day 2 : At Sea – Earlier I mentioned I like to leave out the bad stuff; however, I feel I need to mention something about Susan (some of you are going to notice a lack of her in Cozumel pictures anyway). Susan rarely gets sick – maybe one day a year (and that is likely an overestimation). On this trip she was ill for several days. The details are unimportant, but no, it wasn't simply motion sickness. She slept for about 36 hours and missed the first day at sea and most of the day at Cozumel. Fortunately, those were definitely the two best days to miss (assuming there are good days of a cruise to miss – which I argue there are not any). Thus, Susan is down for the count and I'll bring her back into the story late on Day 3 (bye Sweetie – see ya soon!).
Back to the first day at sea on the ship: I met the Luces for a wine and food pairing around lunchtime and this was definitely an unusual pairing. Generally speaking there is a certain variety of wine followed by certain styles of food. Our sommelier decided to waver from the normal and served five very light wines (Pinot Gris, a very light Chardonnay, Gamay, Pinot Noir, and a sweet Muscat – for our wine friends not the lack of anything darker than a Strawberry in color and anything weightier than skim milk). The tasting was definitely geared for a white wine drinker, but nevertheless, it was thoroughly enjoyable. The sommelier paired our wines with food which perfectly complemented each style. Then, at the end, he had us all pair items which completely destroyed the wine (well, not so bad I couldn't still consume it – but it is difficult for me to reach that point). I thought the last part of the tasting was particularly interesting since bad pairings aren't very commonly displayed during a tasting. For those who are wondering, apples coated in sugar do not pair well with pinot noir whereas baked salmon does pair well with chardonnay.
| | |
| --- | --- |
| | |
| Blue Ocean | At the Beach in Cozumel |
After downing a few glasses of wine Dave and I headed down a few floors and learned how to dance The Hustle line dance (to the song, "The Hustle", no less). I was surprised how close the Hustle is to the Electric Slide (in fact, I was told the Electric Slide was based off of the 70's Hustle). This was the first of many times I embarrassed myself attempting to dance during the week (thankfully D&A were sworn to secrecy, and the rest of the guests we likely won't see again). I attended the Captain's reception, gambled a bit (my first time gambling on a cruise ship – usually I never have time – but I did win $5), and eventually joined D&A for one of many subsequent comedy shows on the ship. The comedian was A+ hilarious!
After dinner we attended the evening show (each night there was a performance in the theatre at the front of the ship) which consisted of several 70's disco hits, lots of dancing, and plenty of singing. It turns out this was the final performance of several dancers on the ship – who were being replaced by more interesting dancers (in my opinion – and I'll touch more on that later).
03/22/10 - Cruise Day 3 : Cozumel, Mexico – There is a running joke that every cruise ship stops at Cozumel. I'm not sure how close to the truth that comment might be; however, Susan and I have been here several times. As such, it wasn't a big deal for Susan to miss out on this trip (especially since the only thing planned was the usual circuit of the island). While Susan was sleeping, Dave, Anita, and I hopped off the ship, walked the quarter mile to the port, and rented scooters. The island is fairly small and it is a little over 60 miles to drive around the perimeter. There are lots of places to stop along the way for shopping, sightseeing, drinking, and eating.
| | |
| --- | --- |
| | |
| Cozumel Tunnel | Nachos - They Should Have Come With a Damage Waiver |
Our first stop was Playa Palancar where we walked along the beach and picked up conch shells, relaxed a bit on the beach chairs, and took lots of photos of the neighboring wildlife. We spotted iguanas, chickens, peacocks, and even one crocodile. In fact, we weren't entirely sure the crocodile was real until we finally saw it move (it stayed still for several minutes while we dared each other to go poke it with a stick – no, nobody volunteered).
| | |
| --- | --- |
| | |
| Dave & Anita | Yes, I'm Real - Come Closer and I'll Proove It |
For lunch we stopped at a little hut on Playa Bonita where we dined on burgers (D&A) and nachos (Nathan). My nachos were delicious and drenched in jalapeños and cheese – I devoured the entire plate. After lunch we visited the San Gervasio Mayan ruins on the North side of the island. There are about 10 or so structures which can be explored and most were littered with iguanas. It was a nice hike and definitely interesting to see; however, they weren't large ruins (i.e., Chichen Itza). We did a bit of shopping on the return visit to the port (I found a new Hawaiian, err, Caribbean shirt – woohoo!) and eventually made our way back to the boat with some time to spare (unlike the several people we watched sprinting to the boat about 30 minutes later).
| | |
| --- | --- |
| | |
| Pretty Peacock | San Gervasio |
We all gathered (Susan included this time) for another evening comedy show, had dinner, and then enjoyed a comedic juggling show in the main theatre. The juggler was amazing with the Diabolo.
03/23/10 - Cruise Day 4 : Roatán, Honduras – Finally, warm and exotic Central America! Our second stop was the tiny island of Roatán off the coast of Honduras. It is a tropical rainforest with a small amount of beach – very similar to Dominica or Jamaica in style and climate. The inhabitants were extremely friendly but it was obvious this was a very poor country. We booked our private tour, in advance, through Bodden Tours. Our guide throughout the day was a thoroughly pleasant and talkative Zethro Ebanks – he made absolutely certain we saw all the best sights and photo opportunities Roatán has to offer.
| | |
| --- | --- |
| | |
| One of Many Iguana Pictures | Gobble Gobble |
Our first stop was Sherman Arch's iguana preserve where we walked beside, and often underneath (they live in the trees when it is cooler and then sun on the ground when it is warm), several iguanas during our visit. In fact, a couple of them even let us pet them! In addition to the abundance of reptiles there were also turkeys and chickens roaming the grounds. The "wild" turkeys were cute – any time one of us approached them they would "huff and puff" and rustle their feathers in order to look bigger (all they really did was look silly). There was also a coatimundi, several extremely gentle primates (they loved to eat fresh banana straight from our hands), and there was also a large section of ocean where we spotted sea turtles, barracuda, lobster, and a variety of other fish. This was really a superb stop and probably the highlight of the trip (for me).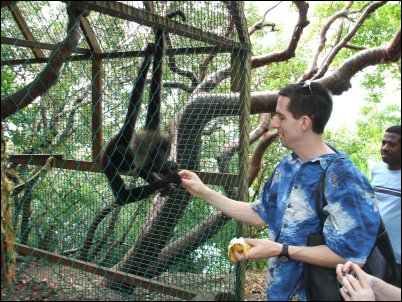 Monkey Business
Carambola Gardens was our second location where we hiked through the tropical jungle in search of an elusive photo opportunity. The trek went up, down, around, left, right, and just about any other direction you can imagine before we finally reached the top of the mountain. Even our tour guide, Zethro, said he had not made this journey before. We spotted cocoa trees, lots of palm, and also a few coffee trees. I picked a fresh banana off of one plant; however, it wasn't even close to being ripe (in fact, it was very chalky and hard). I cannot emphasize enough the greenness of this jungle…it was about the only color visible for miles (except for a stray Hawaiian shirt here and there).
| | |
| --- | --- |
| | |
| Jungle View | Toucan Sam |
The third spot on our tour was the Roatán Butterfly Gardens and bird preserve. In addition to dozens of moths and butterflies in the primary exhibit (we watched), there were lots of parrots (we held), and even a few deer (we petted). It was a very interactive stop and I must admit having a bird on Susan's head never gets old. There were also lots of tropical and colorful plants at the gardens (quite different compared to the previous green jungle excursion).
Toward the end of our day Zethro took us to the West End Village where there are several tourist stops and dining establishments. We asked him to take us to a restaurant with "local flavor" so we ended up at Barefeet Bar – right next to the beach. Our meal included a delicious assortment of fresh fish, shrimp, and calamari. We were even treated to a local favorite, conch soup. The soup had a rich flavor and the texture of the conch was very similar to calamari. Iguana, an island specialty, was off the menu due to it being illegal; however, our guide offered to set us up (I just don't live dangerously enough - that being said, I certainly would have tried it otherwise). For those wondering, eating iguana is illegal because they have become endangered on that island from the locals eating them all!
| | |
| --- | --- |
| | |
| Going to the Birds | Lunch at Barefeet |
By the end of our day in Roatán we were definitely ready for a bit of relaxation back on the Carnival Dream. Susan and I lounged on Deck 12 – the adults only spa deck – in a covered cabana chair built for two while we caught up on our current books (for me that happens to be a wine tasting book – big surprise). After dinner we watched an incredible and amazing dance show with the new dance crew. The new crew was skilled in breaking, popping, locking – essentially the hip-hop trifecta. This show was as good, if not better, than some of the performances we have seen at Bass Hall in Fort Worth. Top notch dancing!
03/24/10 - Cruise Day 5 : Belize – Cave tubing was the only item on our agenda for Belize. We booked ahead of time for this all-day adventure which started out with a less than spectacular bus ride to the Caves Branch River near Belize City. I say "less than spectacular" because our bus broke down about 30 miles outside of town. Fortunately, our tour guides noticed a problem about 15 miles out and called for reinforcements. We ended up only spending about 5 minutes on the side of the road (in which we were served cashew wine – very odd flavor) before we were back on our journey to the caves (it's always nice when the bad unplanned circumstances are handled with professionalism).
| | |
| --- | --- |
| | |
| Cheers! | Hibiscus in Bloom |
Once at the caves we had about a one mile hike through the jungle in which our tour guide, Ashton, described the local flora. He pointed out several interesting plants and explained how to survive by eating termites. They aren't as disgusting as you might imagine – they actually kind of taste like mint. They key is to chew them first before swallowing (I'll let you figure that one out for yourselves). Once we made it to the top of the caves we entered the water (HOLY CRAP THE RIVER WAS COL…errr….REFRESHING) and started our lazy journey down in our tubes. Each of us had a flashlight on our head (kind of like a miner's lamp) and were able to see stalagtites and bats during our trip. The trip through the caves was about an hour and then we enjoyed another half hour or so drifting down the river under the wonderful warm rays of the sun through the jungle.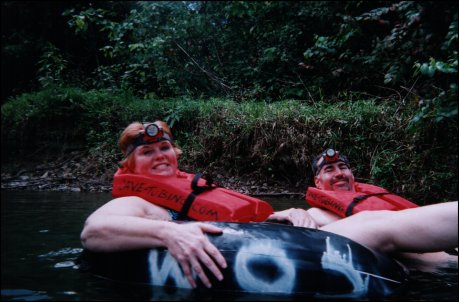 A Couple of Floaters
The bus eventually delivered our group to a private reception area where we enjoyed a lunch of jerk-style chicken and the largest ratio of alcohol to beverage drinks I've ever seen (think 50% rum and 50% Coke – no, that is not an exaggeration). I think several of us slept on the remainder of the bus ride back to the cruise ship.
03/25/10 - Cruise Day 6 : Costa Maya, Mexico – Costa Maya isn't much of a tourist destination as it is a very large pier on the beach. When we were researching this location the only main options were to sit and drink on the beach or take a trip to see Mayan ruins. Eventually we found and were able to arrange for a local to take us out on his catamaran. It was a small sailboat – really just barely large enough to hold the four of us and two crew (who spoke very little English – nevertheless, they were quite friendly). It was an extremely windy day so the crew was unable to take us past the reef; however, there was plenty of aquatic life inside the reef for us to view. Our group snorkeled for a little over an hour and we held starfish, sea urchin, clams, and spotted several beautiful fish (one was bright blue with green dots and another was rainbow – unfortunately, the underwater camera never does them justice).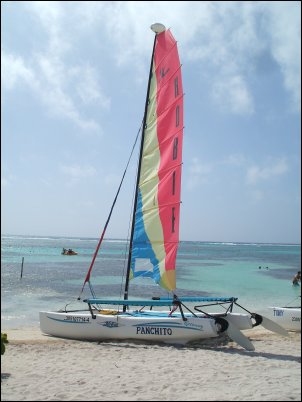 The Panchito; Our Private Catamaran
After returning to shore we relaxed on a private beach while a waiter brought us drinks (wine for me, fruity cocktails for Susan) and eventually yummy fish tacos (hopefully not the same fish we were swimming with). The tacos were savory and left me wanting more (Susan and I will have to try out some of the fish taco places in Fort Worth and see if they compare). Shortly after lunch, and on our way back to the cruise ship, we found several places to get a massage on the beach for $20/hour. What a bargain! Susan and I each enjoyed a long beach massage (they were by no means professional therapists, but it was still thoroughly enjoyable).
| | |
| --- | --- |
| | |
| Sunny Flowers | Sunny Susan |
Back on the boat we bumped into Beau from the Carnival Fun Force Dance Crew (the one who was the main popper and locker). He was enthusiastic and even took time out of his day to teach me how to pop (once again, I'm not allowed to demonstrate). Afterwards was the long awaited return guest party (free liquor and appetizers) – woohoo!
03/26/10 - Cruise Day 7 : At Sea – Finally – we were able to sleep in – yippie! I think we awoke a little before noon – just in time to visit the chocolate buffet. The buffet had regular cake, cheese cake, candies, puddings, custards, and the list goes on and on. That being said, my favorite was probably the simple dish of chocolate ice cream I savored with fudge and caramel toppings (I'm such a dessert waster). Susan and I read a bit here and there throughout the day, napped a bit, and attended a few small events. One event was a "Liar Liar" game (kind of like Balderdash) in which we attempted to guess who was lying. I attended a short art auction but I must admit it was mainly for the free champagne ;).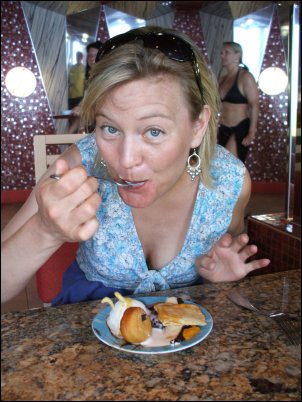 Chocolate Buffet
One of the highlights of the day was a hip-hop class where we learned a basic routine. Everyone in the class was a newbie; thus, it was also fairly entertaining to watch in addition to the joy of participation. Nevertheless, even though I have been officially trained in hip-hop I have been requested to never display my moves in public – and the world may never know. After hip-hop Susan and I enjoyed a bit of afternoon tea. I'm not sure what I was thinking - I still don't like tea; however, the mini-sandwiches and scones were delicious.
| | |
| --- | --- |
| | |
| Copa Cabana Chair | "Fruity" Beverages |
In the evening, in addition to our meal (I knew I was forgetting something during the week – it turns out I forgot to record what we ate each evening), we watched two comedy shows. One was R and the other PG – I liked the PG much better – considerably fewer vulgarities (seriously, most comedians are funnier with innuendo than they are with pointless cussing – in my opinion).
03/27/10 - Cruise Day 8 : Cape Canaveral, Florida – Today was our last day on the boat…and it was a fairly short day on the boat. The last day mainly consisted of our usual breakfast with the Luces and then a bit of standing in line while waiting to exit the ship. On our trip to the boat we merely took a Carnival shuttle; however, we rented a car for the return ride to the airport. Why, you might ask? It was so we could take a detour to Cocoa Beach to visit with the wildlife :). Cocoa Beach, or more specifically, the Thousand Islands area is a natural habitat for a variety of Florida fauna. We hitched a ride with our informative tour guide Tim, of Fin Expeditions, on a series of kayaks for a tour of the islands (but only a few of the "thousand"). Tim introduced us to the local manatee with tender expertise. Before long our kayaks, and us inside them, were merely part of the herd. The manatee would brush against our kayaks, swim under them, and they would also occasionally stick their noses above water to take a quick breath. They were magnificent. In addition to the manatee Tim showed us several birds and pelicans (which would dive head first into the water, mere feet away, to catch fish) and eventually took us on a meandering tour of the mangrove. At several points the mangrove created a complete canopy above our kayak. I would highly recommend this excursion to anyone who is in the Cocoa Beach area!
| | |
| --- | --- |
| | |
| Looking for Fish | Kayaking in the Mangrove |
After a less-than-rough day of paddling we hunted down local fare at a Cuban diner (Rubio's Cuban Cafe). The food was excellent and just what we needed to wrap up our travels before heading back to the airport. I would say the trip home was uneventful; however, that would be a lie (and not just a white lie but a huge bold faced falsehood). Our flight was delayed because of heavy winds in DFW, and after we landed in DFW, it was decided they maybe should have been delayed a bit longer. I can't remember the last time I actually saw a plane land sideways – it was impressive.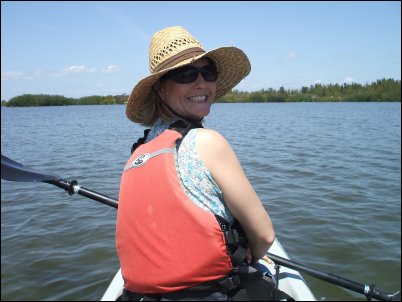 Manatee Lover

All in all this was a splendid vacation with the Luces. I sincerely hope they had as much fun as we did! Perhaps, just maybe, there might be a joint vineyard vacation in the future.