---
MAY 2006
---
05/02/06 - Granny Turner – Nowadays, Nathan usually writes the entries for our diary. This came about over time mostly because I'm lazy and don't have nearly the amount of free time he does. I procrastinate long enough that he just ends up doing it. When he told me he had done April's entries, I asked about the funeral. I was told that I needed to be the one to write that entry. His way of getting me back in the diary. Another way to help me heal. Here goes…
On April 19, my sweet Granny did not wake up. She had been fighting widespread cancer and was on hospice care. After the hospice nurse placed a pain patch on her the previous morning, she slept well all day and felt comfortable enough to pass during the night. My family said she looked very peaceful, with no evidence of pain or terror.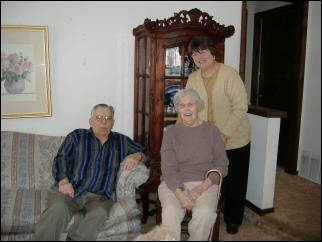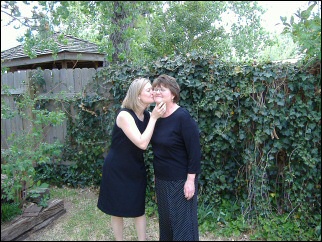 I am sad that she will no longer be with us yet glad that she does not have to suffer or be scared. She had a relatively quick illness; she was only diagnosed 2 months previously with lung cancer found incidentally on an x-ray taken for a sore shoulder (turned out to be malignant and spread throughout her body). I am grateful that she did not have many, many months of pain and treatment to no avail.
Ironically (and so common with people), what I will miss most will be some of the things that annoyed me the most! During family get-togethers, we would eat a big meal and she would comment (no less than 10 times) how nice everything looked and how much work was put into it and how my mom "shouldn't have." She would always say (no less than 10 times) that she wasn't being very helpful and should be in the kitchen helping, although everyone else knew that she would be more in the way than helping, so we guided her to sit and rest. She would ask EVERYone at the table (no less than 10 times) what they wanted more of, what she could pass them, isn't this so nice and delicious, and didn't they all just love everything. She would reach over with her wrinkled, sweet hands and pat me 3 times on the mid-thigh.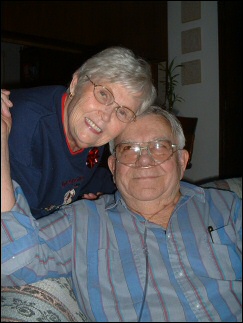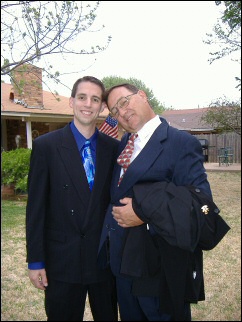 When we would banter, she'd tell me that I was getting too big for my britches. Which was, of course, inherited from her; she was every bit as feisty as I. At Christmas, she would just rave about how many gifts there were and that we had spent too much and there were too many gifts and that we couldn't do this next year (she said this EVERY year). She would give you her opinion, whether you wanted it or not (of course, I inherited that as well), and she generally had an opinion for just about everything (which, I…also…inherited). She did all the talking for both her and Papa (we never REALLY knew his opinion on much of anything; just his according to her).
Of course, I will "hear" all of this (in my head) during each visit, holiday, and meal for a long time. I will be sad that she will not really be saying it. If I'm not choked up, I'll maybe say it out of tradition for everyone else.
She was a very thoughtful, generous, loving person; the kind of grandmother everyone wants. At her burial service, a hummingbird was flying around us during a prayer. I think it was attracted to all the beautiful flowers on and near her casket. She would have loved that. I will have a hard time not buying gifts with birds or angels (her 2 favorite gift items from me). Granny loved nature and life and lived it to the fullest. May the beauty of birds and nature bring out happiness and love in each of us. May the joy and peace of her memory help us to live life to the fullest. May we realize how special and important family and friends are and that life is shorter than we realize.
05/07/06 - Mayfest 2006 – Mayfest is always a fun event each year. It is usually warm, there are crafts and shows to watch, and there is lots of good street vendor food to chow down on (one of my favorites). I partook of some fried pickles and an Indian taco - yumm!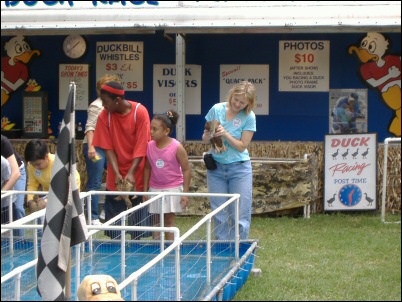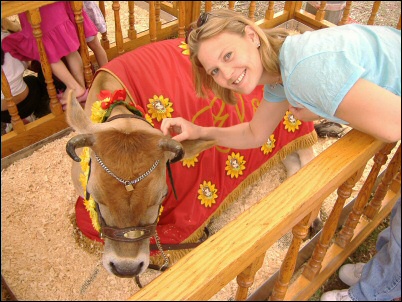 Susan picked up two free trees from the Arbor Society, raced a duck, and was able to spend some time with Elsie, the Borden cow.

05/14/06 - Mother's Day Out – Nina, Rick, and Papa dropped by for a visit this weekend! It was a fairly busy weekend filled with all sorts of mini-excursions. We introduced them to our favorite local stop to buy wine, Put a Cork In It - they give away free samples every weekend for winos like us ;). After sampling the local spirits we took a quick drive up the street to the Log Cabin Village. Although we have been here for years now, this was a particular stop we had failed to visit. It was interesting to see how the early pioneers lived, but I know for sure that I still prefer the brick and mortar (and AC) of today's homes.
| | |
| --- | --- |
| | |
| Log Cabin Village | Who Took This Picture? |
For dinner we ate at Fort Worth's newest brewery, The Covey. We were hoping it was going to be more like the fun brewery we visited in Colorado, but instead it was a fairly pretentious restaurant where the service was slow and the food was mediocre. I don't think Susan and I will ever drop by again unless we give it another shot at lunch instead of dinner.
| | |
| --- | --- |
| | |
| Blue Angels - Flying High | Blue Angels - Formation |
On Sunday we packed up the card table, a picnic basket, and headed up to the third floor of where I work. Our break room on the top floor of the building has a door that leads to a covered patio that wraps around the North side of the building. It is rarely used, but on occasion it does provide a spectacular vantage point of the nearby military airstrip. Combine that with the Blue Angels performing this weekend and it turned out to be a fun afternoon of plane watching, poker, eating, and having good times with family. I think Susan and I will have to venture up here again for the Fourth of July!
05/20/06 - Weekend Off – Today was Susan's day off for the month of May - it has also turned out to be a fairly busy weekend! On Friday night we attended a Fort Worth Cats baseball game with some of the folks I work with. The Cats lost 4-0 this year, but we still had a blast sitting on the patio and watching the game.
| | |
| --- | --- |
| | |
| The Perfect Sloth | All Dressed Up |
On Saturday morning Susan and I got up bright and early and drove to North Richland Hills for a 20-home garage sale. This is definitely the way to go! It was a small lock of homes that spanned about a half mile in distance. Normally we have trouble finding anything worth buying at Texas garage sales, but at this even we found several useful items.
| | |
| --- | --- |
| | |
| Ocean View | Turtle Belly |
After shopping we drove North to Grapevine and met up with Bob and Deb in order to walk through the Grapevine Main Street Festival. We visited the street vendors, stopped by the Su Vino Winery (our favorite Winery in Grapevine), and listened to several live bands. Lots of places were handing out free goodies and we also sampled some fried eggplant (a first for me). Susan and I both walked 5 minutes on a treadmill as part of a donation to help rescue cats and dogs and we also picked up a couple of geoaches hidden along main street. Towards the end Bob and I participated in a snowball fight with a group of other people (yes, real snow - manufactured just for this event!). Grapevine definitely puts on a good show each year!
| | |
| --- | --- |
| | |
| Tropical Waterfall | Is That Dogfood? |
After getting our fill of Main Street we hopped in the car and took a trip to downtown Dallas to visit the Dallas World Aquarium. It had been a few years since our last visit and they had added on quite a bit of new exhibits since the last time we were there. In addition to the regular tropical rainforest they have also added more jungle and a shark tank. The rainforest is still my favorite part - you can stand in the middle section, look down at Manatee swimming in the water; look across at ducks playing in the waterfall; and look up to see spoon-bills flying through the canopy - it is very serene. We spotted several avian, monkeys, and the new flamingos are absolutely vibrant in color!
| | |
| --- | --- |
| | |
| Ugly Eel | Seabiscuit |
For dinner we headed to the Magic Time Machine for dinner. This was a place Susan had visited in the past, but I had personally never heard of. Instead of traditional wait staff, the servers here are actors playing the role of mostly fictional characters. It is mainly a kids place to visit, but I certainly had a lot of fun watching all of the actors play their parts. Our server was the Big Bad Wolf, but since we were seated next to the salad bar, we got to see just about every other server in the maze of a building (each eating area was unique jumbled together with the other areas).
| | |
| --- | --- |
| | |
| Bob, Deb, & Supergirl | Magic Time Machine - Big Bad Wolf |
It was a fun weekend, but we're both pretty exhausted today (Sunday as I'm writing this). Just a few more weeks till our cruise!
05/21/06 - George Washington – Susan recently transplanted a cherry tree from Oklahoma to our home in Fort Worth. This tree is doing so well it has already produced a couple of cherries!