---
MAY 2008
---
05/31/08 - Dallas Derby Devils – I read an article in the newspaper about a month ago which discussed a relatively new roller derby league in North Fort Worth. It sounded interesting, so Susan and I snagged some tickets for an event and Anita and Dave joined us for an evening of skating mayhem. It was the Dallas Derby Devils vs. Duke City Derby on a flat track, going in a fairly small circle (slightly smaller than a basketball court). I had watched derby as a teenager during the eighties (back when I was a huge roller skating fan), but I cannot say I really ever understood the scoring until tonight (and it still took me almost an hour to figure that out).
The game play is fairly simple. Each team has 5 members. One of these is a jammer/scorer. The other 4 are blockers (and the lead blocker is called the pivot). Since there are 2 teams on the track there are a total of 8 blockers grouped together. These blockers must stay in a pack and their job, well, is to block the jammers. They can do this by simply skating in front of the jammer, nudging the jammer, or even slamming into the jammer (or other blockers). The only thing they cannot do is grab, shove, trip, or basically use their direct hands and feet. Thus, the pack is where all the action is. The jammers start from behind the pack and attempt to work their way through. Once a jammer makes it through the pack then they are declared the lead jammer (the lead jammer has special privileges, but I'll mention that later). Once a jammer makes it through the pack once they must try to make it through the pack again - for each opposing team member they pass the jammer scores 1 point. Thus, assuming the two jammers stay close together (which they usually do), a jammer gets 4 points every time they make it through the pack. If, for some reason, a jammer happens to lap the other jammer, then she can score 5 points (called a grand slam). Even though one jammer is the lead jammer, both jammers continue to try and score points; however, the lead jammer has the privilege of immediately stopping the round (jam) at any point in time. For example, if the lead jammer gets knocked off her feet and she fears the opposing jammer is going to score 5 points quickly, the lead jammer can stop the jam as part of their strategy. Jams last a maximum of 2 minutes each and a game is about 40 minutes.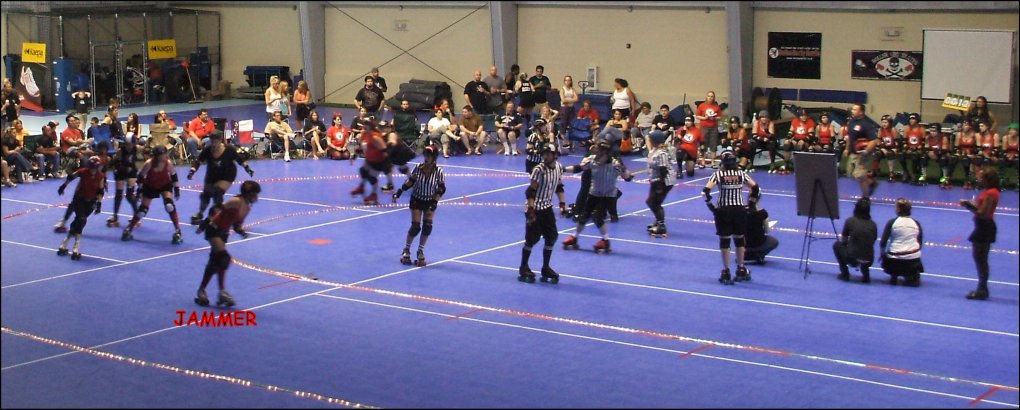 The players all have very colorful names and jersey numbers. The following is a short list of several derby girls:
Skater

Hot For Teacher

Heike DeSkirt

Desi Deck 'Em

Vodka Martini

Cherry Pop Tart

Jackie O Niceass

Roll'er Over

Made N Texas

Hot Apple Cry

Jersey Number

A+

36-24-36

5 Finger Discount

97% Alcohol By Volume

2 Cents

94

180

1836

350°
I took several pictures while we were there, but none of them really turned out very well. As such, I added one picture I downloaded off of Flickr
05/11/08 - Scarborough Faire – It had been a few years since we've gone down to Waxahachie for Scarborough Faire. The faire only runs for a few months out of the year, and usually it is terribly hot; however, we were fortunate to attend on a very mild weekend. Bob and Deb met us at the faire and we hung out, amongst many renaissance men and women, until closing time (we were quite surprised we were able to stick around all day without getting overly tired).
| | |
| --- | --- |
| | |
| I won 4 to 0 - Having Balance Helps :) | Bald Eagle |
We stopped in numerous shops and picked up a few trinkets and candles. I tried several old games of skill - most of which it appears I have no skill (such as axe throwing and archery). We watched the falconers and their birds, a jousting competition, and several other humorous shows.
| | |
| --- | --- |
| | |
| Bob & Deb - A Pirate's Life | Which One is the Joker? |
| | |
| Jousting Competition | Bob & Nathan - Nice Parry Bob! |
I learned how to "hand juggle" with a large softball size globe, Bob and I had a fencing match, and Susan hung out with the beer wine wenches.
| | |
| --- | --- |
| | |
| Dragon Kiss | Susan & Twig |
Overall we had a great time and it was lots of fun seeing Deb and Bob again.
05/10/08 - Wine Century Club - 40% – I've been meaning to fill everyone in on a new project of mine - The Wine Century Club. This is a free club in which its members attempt to taste or sample over 100 different varietals of grapes. Chris, from Put a Cork In It, introduced me to this club (of which he is one of only a handful of Texas members and less than 400 members total). It sounded like lots of fun and it is definitely going to be a challenge.
I decided to start from scratch on this journey. In other words I didn't count any of the wines I had tasted previously. Mostly this was because I knew I couldn't remember some of the wine labels (the club requests you provide some specific info about each wine such as vintage and region) and partly because it would be more fun :). After a little over a month I have tasted 40 from the list of approximately 200 grapes (although, there are many more than 200 varietals - if you happen to taste one not on the list then you can simply add it to the bottom).
Thus far I've re-tasted some of the most common varieties; however, I always have a spark of excitement when I found out I have found something truly exotic. Some of the odd reds I have sampled recently include Touriga Nacional, Tinto Căo, Gamay, Cinsaut, and Alicante Bouchet. Some of the whites include Palomino, Garganega, Ugni Blanc, Grüner Veltliner, and Ribolla Gialla. I'll keep you updated as I approach 100% (which may take quite a while now that I've knocked down nearly all of the common grapes).
05/08/08 - A Night at the Races – Last year I was invited to Lone Star Park for a night of free drinks, free food, and free gambling at Lone Star Park. It was a ton of fun and I was excited to discover I would be going again this year. Everything was pretty much the same as last year and I had equally as much fun. The horses were in fine form and I actually made a little money this time (keeping in mind I limited myself to one $2 wager on each race - how much could I really win or lose?).
This year, instead of picking the ponies I thought would win I instead picked the horses with a name that called out to me. The following is a summary of my wagers, victories, and losses:
| | | | | |
| --- | --- | --- | --- | --- |
| Race | My Pick | Odds | Result | Winnings (Losses) |
| 1 - 1 & 1/16 Miles Dirt | Burrito Bandit to Win | 7/2 | 11th | ($2.00) |
| 2 - 1 Mile Dirt | Peaceful Prospect to Show | 12/1 | 2nd | $2.00 |
| 3 - 6 Furlongs Dirt | Anita Xanax to Win | 8/5 | 1st | $2.00 |
| 4 - 1 Mile Turf | De Ice Cat to Place | 10/1 | 7th | ($2.00) |
| 5 - 4 & 1/2 Furlongs Dirt | Border Cuvee to Win | 2/1 | 1st | $2.20 |
| 6 - 1 Mile Turf | Meggiebigbucks to Place | 8/1 | 6th | ($2.00) |
| 7 - 6 Furlongs Dirt | One Sleet Deal to Place | 5/1 | 2nd | $4.00 |
| 8 - 7 & 1/2 Furlongs Turf | King of Speed to Win | 8/5 | 1st | $1.40 |
| 9 - 1 Mile Dirt | Spill the Wine to Show | 7/2 | 2nd | $0.10 |
| Total Winnings | | | | $5.70 |
05/03/08 - Mayfest – It is festival season in Texas. Nearly every weekend we have the option of attending one of many different festivals. We were at the prairie fest a few weeks ago (it features "green" products) and this weekend we attended Mayfest along the Trinity River. Mayfest normally features lots of artists, some carnival food, and lots of live shows and music; however, this year was a little lame. There was still lots of artists and Susan definitely found some good buys on jewelry. That being said, their shows and vendors seemed fewer and they were instead replaced by carnival rides (which we really have no interest in riding). One highlight was a "wine lodge", Redwood Creek, serving free samples from a location in California - it is a good thing they were free because the wine was revolting. I'm sure Rick would have assigned maybe a half-grape to these wines and barely choke down the whole glass. We'll be going to Waxahachie in a week for Scarborough faire and that should be much more interesting.
04/12/08 - Cruise: Day 0 - Houston Pit Stop – Finally - our vacation could finally begin. We had been looking forward to this cruise since we booked it last October. That was certainly a long wait, but fortunately, the wait was over. Our suitcases were packed - several days earlier - the gas tank was full, and our party shirts were on (well, at least I had mine on).
The first thing we did after Susan got off work on Saturday was head to the salon for a spa manicure and pedicure. I guess, since we have done this a few years in a row, this has become somewhat of a tradition. I must admit I enjoy sitting in the massage chair while someone rubs my hands and feet - it's a nice relaxing start to any vacation. After the spa we hopped back in the car, Susan with little flowers and gems on her toes, and began the long drive to Houston. We decided a while back it would be nice to spend some time with the McElhoe family before boarding the boat (especially since we were going to be in the neighborhood).
The McElhoes
We didn't arrive until late that evening - barely in time to see Sydney and Alyssa before they skedaddled off to bed. We shared some stories with George and Deb before finally turning in ourselves - we had a big week starting on Sunday.
04/13/08 - Cruise: Day 1 - Galveston Departure – Our boat, the Carnival Conquest, wasn't scheduled to leave until after 4PM. Thus, we had plenty of time to snag breakfast at a quaint little cafe, Le Peep, near downtown Houston. After the meal we stopped by a park and enjoyed a few rays of sunshine while George kept an eye out for alligators. You see, it turns out the park was actually more of a swamp - and apparently it isn't unheard of for gators to swagger in. We didn't spot any reptiles, but we did watch the kids play on the swings like monkeys.
After leaving Houston we only made one short detour on the way to Galveston - Haak Winery. I always thought it was pronounced like "hawk", but it turns out it is actually "hack" - much like the sound you make after drinking their wine. That being said our host was very nice and the estate was beautiful; however, we were pleased to have the excuse of "we cannot buy a bottle because we're leaving on a cruise today". Our host indicated that we should instead stop by on our return trip - we conveniently forgot ;).
| | |
| --- | --- |
| | |
| Just Relaxing on the Lower Decks | We Had a New Towel Animal Every Day |
It took us a long time to get on the boat, but not nearly as long as we expected. When we arrived at the pier we were told there had been a delay in the previous departure. As such, the boat had just recently started letting everyone board. This meant, when we arrived, there was a line about a mile long - no exaggeration - it wrapped through the building and all the way down the pier. Surprisingly, we were on the boat in a little over an hour. The first thing we did was reacquaint ourselves with the layout of a Carnival cruise liner. I was pleased to discover this ship was nearly identical to our last - thus, we didn't have to spend much time at all figuring out where everything was located.
We watched the boat depart Galveston, made a few final phone calls while we still had reception, and then eventually sat down for a nice dinner. I enjoyed a wonderful tilapia (and yes, I had seafood nearly every night - woohoo!!) and Susan spotted a nice juicy steak. For the appetizer we had a scrumptious cream of asparagus soup and for dessert our taste buds melted with a divine molten chocolate cake. Words really cannot do this cake justice, but I will attempt by stating it was warm, gooey, rich, and served in a ramekin because is was practically liquid. With much pleasure we discovered this cake was on the menu every night. We met part of our dinner companions this first night, but I will touch more on that later. After dinner we attended the first show - a little comedy, dancing, and ventriloquism.
04/14/08 - Cruise: Day 2 - At Sea – Susan and I "slept in" until about 9AM and then headed down for breakfast in the dining room. Although the dining room was a good place for breakfast, we ended up at the breakfast buffet most mornings simply for access to the variety. We read for a bit on deck 4 (our favorite place to relax - away from the hustle and bustle of the upper decks) and listened to the ocean and birds.
At noon we attended a wine tasting on the upper deck. There was an assortment of cheese, fruit, and breads to accompany our selection of four new world wines - two whites and two reds. It was a nice way to spend part of our lunch, and after the post-wine buffet of French cuisine, we attended a battle of the sexes show in the theatre. It was a typical pitting of men vs. women by asking women a variety of sports questions and subsequently asking the men about personal hygiene. There were also a few oddball physical challenges - one of which I scored points for the men's team by luring an innocent gentleman (someone completely outside the theatre) into donning lip stick (which I also had to find outside the theatre). I suppose there are lots of trusting people on a cruise ship because I didn't have much trouble finding my victim.
| | |
| --- | --- |
| | |
| Flying Fish - They Really Do Fly! | More Daily Towel Animals |
During the afternoon, and shortly before an evening of free cocktails and appetizers at the Captain's reception, we spotted flying fish leaping out of the water. This was an incredible sight and something we saw throughout the cruise on our days at sea. For dinner Susan sampled the duck and I dined on fresh lobster (for all I know they had a net hanging off the back of the boat). Our appetizer of choice for the evening was a delicate pumpkin soup and, of course, molten cake for dessert.
For some reason we were exhausted (it is hard work relaxing all day by the ocean) and instead of attending the show we went to bed at about 10PM (I know, we're such party animals).
04/15/08 - Cruise: Day 3 - At Sea – Once again we had another wonderful opportunity to sleep in. We had the semi-regular buffet breakfast and then hopped around various decks (the lower decks and top decks) finding lots of good places to read while staying within walking distance of the ice cream machine. Well, not just the ice cream, but also within listening distance of the calypso music playing on the top deck. There was also another wine tasting at noon (the last "formal" tasting) in which we sampled old world wines (old world being European as opposed to everything else being labeled new world). I must admit I am consistently a fan of new world over old world any day - I prefer the crisp, clean, and fruity taste of California and Australia wines vs the rustic and earthy style of old world.
| | |
| --- | --- |
| | |
| Ya Mon! - Calypso Music | On the Upper Deck |
The lunch choice of today was Indian food, in which we sampled an assortment, and we followed up our meal with a nap on the lower deck. We watched the ship's version of the newlywed game in the theatre and then attended a repeat customer party where we thoroughly enjoyed more free cocktails and appetizers. Our evening dinner guests were starting to wonder about us because we always showed up to dinner immediately after these free cocktail parties ;). Nevertheless, they took it all in stride and I hope everyone enjoyed Susan's sometimes playful and blunt banter. Speaking of our guests we were always joined by Matt and Brady from the Dallas area. They are both engineers and were lots of fun during the cruise. Carol and Rick were also there for each dinner and they were celebrating Carol's birthday with this cruise - I'll leave the age undisclosed for my own protection. Finally, towards the end of the cruise, we were eventually joined by Cathy and Izzy (Isabella). They were originally sitting at the table next to us, but we had a huge table with lots of extra seats and they looked like (and were) lots of fun - thus, it was only natural to invite them over. We had wonderful dinner guests this cruise - they were all super nice and lovely to hang out with.
| | |
| --- | --- |
| | |
| Brady & Matt | Carol & Rick |
After dinner we attended a Motown song and dance show in the theatre. It was an extremely interactive show and Susan was practically jumping at the chance to dance in front of everyone - which we did. I guess there is some truth in the fact "you will never see any of these people again".
04/16/08 - Cruise: Day 4 - Jamaica – With the tradition of every Caribbean island being unique we were definitely looking forward to experiencing this island. Jamaica is an extremely poor country and it certainly isn't a spot you would want to tour on your own. Fortunately, we had a wonderful tour guide, Chester (Barrett Adventures) , who drove us around on a private tour of this tropical island. The island reminded us of a tropical rainforest with all of its lush vegetation and abundant wildlife. There were lots of bougainvillea, oleander, Mexican petunia, palm, banana, roses, ixora, crotons, bird of paradise, hibiscus, and many other tropical plants all over Jamaica.
| | |
| --- | --- |
| | |
| Conquest in the Distance | Jamaican Cab |
Our first stop was a rafting (not white water, but instead a gentle float) voyage down the Martha Brae river. Chris (our captain, ya mon!) was the best tour guide you could ask for. The trip took a little under two hours and we loved every single minute of it. Chris stopped at various places on the river to point out birds and plants (breadfruit and ackee were of particular appeal). He would also disappear into the jungle and come back with all sorts of interesting things to show us. This included a type of Venus fly trap (not like the ones you normally think of - this one was a beautiful flower with a tiny trap in the middle), papyrus, cocoa (very intriguing - you break open the fruit and the beans are covered by an extremely sweet and slimy substance - the beans themselves are very bitter), sensitive mimosa (touching the plant caused the leaves to curl up), and mamon (kind of like sweet, firm, Malt-O-Meal on the inside). There were also goats and chickens roaming freely along the countryside.
| | |
| --- | --- |
| | |
| Limestone Foot Massage | Relaxing on the River |
In addition to all of the fruits and plants Chris also told us the limestone bed of the river was useful as a natural exfoliant, mosquito repellant, and as an anti-itch cream. He personally demonstrated the first part by giving us each a leg message using wet limestone rocks straight from the river - it actually worked extremely well.
| | |
| --- | --- |
| | |
| Cocoa Beans - Yum! | Jungle Fever |
After the river ride Chester took us to the Rocklands Bird Sanctuary. This was a small area outside of Montego Bay where you could sit and relax in what used to be a private garden. When relaxing you could see lots of birds flying around including woodpeckers, orioles, finches, and, of course, hummingbirds! Two two main types of hummingbirds were the mango and doctor (national bird of Jamaica). By sitting patiently, and quietly, on a chair while holding one finger extended and bottle of sugar water in the other hand, we could get the hummingbirds to land our our fingers and feed from the bottles - it was wonderful! Susan also had a few small birds land on her legs and eat birdseed - she was quite the bird lady at Rocklands.
| | |
| --- | --- |
| | |
| Little Birdie on her Knee | Hummingbird Feeding Time |
After the bird sanctuary we stopped at a little roadside restaurant and sampled a small platter of Jamaican jerk chicken. It was very tender (did I mention the chickens wandering freely everywhere?) and delicious. We finished up our excursion with a bit of shopping and then finally got back on the ship. Susan followed up with a dip in the hot tub while I stood on the upper deck and watched the boat depart for Grand Cayman and listened to more calypso music. Later, for dinner, I devoured a seafood medley and Susan munched on pork chops. For appetizers we had fried cheese (I know, kinda "plain" for a gourmet meal but I had to try) and tomato soup. Susan went to bed shortly after dinner and I attended the magic show which was actually quite good and very entertaining - definitely better than most magic shows I see.
04/17/08 - Cruise: Day 5 - Grand Cayman – Grand Cayman is the only port of call where the cruise liner cannot actually moor at a pier. Instead, everyone must tender to shore on a smaller boat. The process didn't take long at all and before we knew it we were on our way to Stingray City (Native Way Tours). Swimming with the stingrays was one of the most memorable and enjoyable things we did on the entire cruise - it was definitely one of the highlights we had been looking forward to for months. The stingrays were soft, slimy, and would brush up against and in between your legs. They were eager to snatch the cod fish straight from our hands and Susan was even able to hold one in her arms for a short period of time - the rays didn't seem to mind at all. The rays would let you touch, pet, and kiss them to your heart's content - as long as you rewarded them with a piece of fish.
After the stingrays we took a short detour to snorkel at some nearby coral. The water was clear (you could see all the way to the bottom - about 20 feet), but due to a storm on the previous day, it wasn't as clear as the water normally is. Nevertheless we spotted a dozen different species of fish anywhere from a few inches long to a few feet in length. There was also some bright purple coral - pretty purple!
| | |
| --- | --- |
| | |
| Underwater Stingray | Diving for Starfish |
Our third stop on the boat was Starfish City. The bottom of the ocean was littered with starfish from the diameter of a softball up to about the size of a basketball. I dove down to the bottom and retrieved several so that everyone in our tour group (about 15 people) could hold a starfish - they had a very hard shell, were spiny on top, and had a smooth belly. The boat then took us back to shore after having plenty of time to snorkel and swim (you can only drink so much seawater before you need to find a tequila chaser).
| | |
| --- | --- |
| | |
| Lotus Blossom | Beautiful Susan |
Our fourth stop was at 7-mile beach, and despite the name, is actually less than 6 miles long. It is a gorgeous beach and we sat nearby the ocean and snacked on a chicken salad sandwich and fries while watching hundreds of tourists play in the ocean and bake on the sand (some baked more than others - think EXTRA crispy with a side of carcinoma). We sat under a nice large umbrella since we had enjoyed plenty of sun already while snorkeling (I ended up with a slightly darker complexion and Susan only burned on a few odd locations - we were very fortunate that neither of us had to deal with any nasty burns - sunscreen is a very good thing!). We walked around on the beach for a bit and then decided to make a quick detour to a nearby butterfly farm (within walking distance). We had spotted it on the way to Stingray City and though it would be a wonderful place to spend a few minutes before we needed to return to the ship. The butterfly tour was ultra informative and Susan learned lots of new stuff - we had so much fun that I had to drag Susan away in fear that we would miss the last tender back to the cruise ship. Fortunately we made it on time (with maybe a minute to spare), or perhaps, that is unfortunate (we wouldn't have minded being stuck in Grand Cayman for a few days...months...years). Grand Cayman was definitely a full day for us.
| | |
| --- | --- |
| | |
| Mariposa Bonita | Formal Night |
Once we returned to the ship we exercised a bit (actually, we ended up exercising nearly every day for about 30 minutes - we tried to be good in light of all the bad food we were eating). Dinner was our second and final formal night of the cruise - our entire dinner party was very nicely dressed. I selected grouper for my meal and Susan had a vegetarian pot pie. After dinner I attended a Broadway-style musical called "Point and Click" - it was an internet love story. After the musical I dropped by the midnight food gallery and ice sculpture display. It was very similar to the one on the last cruise - lots of artistic food presentations.
04/18/08 - Cruise: Day 6 - Cozumel – We were both a little tired from our previous day, and since we had no official tours in Cozumel, we slept in until about 8AM. We enjoyed a quick breakfast and then walked off the ship shortly thereafter. The first thing we noticed when stepping off the ship was how much Cozumel had changed since our list visit about five years ago. It used to be a bunch of small shops and a few big hotels; however, it is now a huge tourist attraction with lots of upscale and fancy stores next to the pier. Near one of the shops was a young gentleman showing off several types of locally rescued wildlife. He let Susan and me hold a variety of parrots, a macaw, Burmese python, boa snake, tarantula, scorpion, iguana, and a tiny monkey. All the animals/creatures were friendly (no, there wasn't another snake incident) and it was a very pleasant distraction.
| | |
| --- | --- |
| | |
| Bird Brain | These Aren't Venomous, Right? Right?!? |
We found a place nearby to rent a scooter (same thing we did on our last trip to Cozumel and what we planned on doing this time) for our journey around the perimeter of the island. We planned on stopping at beaches, grabbing a few drinks, and simply admiring the view. We didn't end up getting any drinks, but we did certainly enjoy this relaxing excursion. We thoroughly enjoyed our 30-minute massage on Playa Palancar where we could hear waves lapping on the beach, wind rustling the palm tree leaves, various birds and peacocks, and mellow Mexican music playing in the background. The massage was every bit as good, if not better, than the massages we occasionally get in Fort Worth.
| | |
| --- | --- |
| | |
| Monkey Business | Moto Opportunity |
| | |
| East Shore of Cozumel | Massage Parlor |
We snagged a few Geocaches in Cozumel (even bumped into another Geocacher). We picked up lots of souvenirs, grabbed some authentic nachos at Playa Bonita, attempted to pet a coatimundi (he really just wanted to bite) and simply enjoyed our day on "Mexican Time" (basically, nobody keeps time and everything is slow). When we got back to port we spent every last dollar we had (fortunately we didn't need anything but a credit card on the boat) on a few more souvenirs and some pretty blue earrings for Susan.
| | |
| --- | --- |
| | |
| Coatimundi | Can You Get any Closer to the Beach? |
| | |
| Susan Self-Portrait | Lunch by the Beach |
After returning to the boat we partook in a bath robe sail away party. There was lots of dancing (Susan and I won a medal for being the first two, in bath robes, on the dance floor - the cruise personnel handed out lots of medals over the week as various silly prizes) and we also spent some time hanging out in the hot tub (no bath robes there - just regular bathing suits). I was even randomly roped into participating in a lip syncing contest. Who knew I had an inner Michael Jackson?
| | |
| --- | --- |
| | |
| Coconuts | Bathrobe Dancers |
For the first and only dinner meal I had something other than seafood - a vegetarian lasagna (lasagna trumps seafood). Susan enjoyed a tender filet mignon (and I enjoyed a bit of it too). For starters we had a lovely cream of broccoli soup and some fried shrimp. After dinner I attended a comedy show and an amazing juggling performance (how did he not drop anything while the boat was occasionally rocking?).
04/19/08 - Cruise: Day 7 - At Sea – Oh it was wonderful to sleep in again! We enthusiastically enjoyed our island excursions, but it was nice to sit back and truly relax. This includes the simple pleasures of not having to wake up to an alarm, not having to be anywhere at any particular time, and being able to hear and see the ocean whenever you desire. We had a very light breakfast (eventually you get to the point where you are still full from the previous night - you know, so much food - so little time). We pretty much lounged around all day. We read a lot (I finished two books in this cruise), napped some, watched the birds and flying fish from the lower deck, and lounged some more.
| | |
| --- | --- |
| | |
| Our Dinner Host; The Waiters Sometimes Danced on the Tables | Double-Fisted |
During the afternoon, while Susan was napping in our cabin, I stopped by and grabbed one of each from the "buffet of the day". Normally it is a particular cuisine such as French, Indian, or Italian. Today it was simply chocolate - everything was sweet. We had frozen fudge, milkshakes, chocolate covered oranges, chocolate sushi (really a misnomer; it was watermelon, rice, and chocolate), chocolate rum cake, chocolate cheesecake, espresso biscotti, banana fritter, apple fritter, sugar covered Jell-O (they called them jujubes), chocolate covered marshmallows, chocolate covered almonds....I think you get the picture ;). I grabbed the smallest of samples of each item and then we shared those samples (it would have been way too easy to get too much chocolate). It was a neat treat and a sweet idea.
| | |
| --- | --- |
| | |
| Chocolate Buffet | By the Ocean |
For dinner I had wonderfully prepared salmon and Susan partook of the chicken. We both had the cream of mushroom soup for the appetizer, and of course, chocolate molten cake for dessert. No show after dinner this evening - we turned in early since we had to be up by 6AM in order to disembark with the early crowd.
04/20/08 - Cruise: Day 8 - Galveston Arrival – Our departure from the ship was uneventful and we were able to get on our way shortly after snagging a quick final breakfast on the ship. Once we made it through customs we hopped in the car and began the long trip back home; however, it wasn't a straight shot. Instead of taking the direct route we decided to stop at a few more wineries.
The first of two on our trip was Purple Possum Winery. By definition I suppose this can be called a winery; however, their wine isn't made from grapes. All of the "wine" here is made from a honey base - thus, it is actually mead. Mead, if you haven't had it, is usually very sweet and normally very thick. Purple Possum's mead is actually considerably thinner than regular mead and the winemaster compensated for only one base (honey) by adding lots of other flavors. He had cinnamon, mint, spice, cranberry, vanilla, apple, and even jalapeńo. All of the mead was fairly drinkable (if you like that kind of stuff); however, it wasn't our cup of tea....or honey. Our second wine stop was much more impressive - Messina Hof Winery. The estate was very pleasant and the staff was ultra friendly. For a Texas winery, their reds were not watered down at all. Instead, they actually had a very full body and were very tasty. This is definitely one of my top 5 Texas wineries; however, most of the "good stuff" was way overpriced. We usually enjoy a very comparable wine for around $20 a bottle (there is better stuff, yes, but why pay more when you can get excellent quality for a reasonable price). Much of Messina Hoff's wine we liked was priced around $60 a bottle. I'm sure there is a little of the winery inflation (wines purchased direct from the winery can frequently be twice as much as the store price) in that price, but still. Nevertheless, we really enjoyed the stop and would highly recommend it to anybody planning to visit the West Houston area.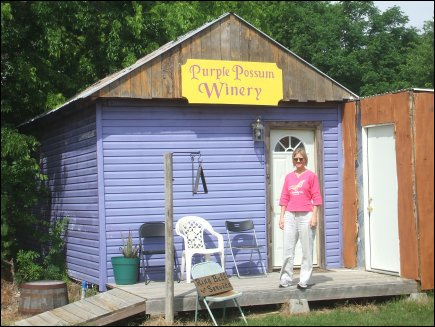 Purple Possum Winery - Kind of Reminds Us of McReynolds
From that point forward it was a straight shot to Fort Worth. Susan slept most of the way and I was definitely ready to crash when we got home after a long day of driving. It was a superb vacation.