---
MAY 2012
---
05/10/12 - Europe Day One : Chicago - The Fiasco – As usual, the first day of travel is usually the worst part of the vacation. I'm stressed about getting to the airport on time, stressed about the flight being delayed; stressed about losing luggage; stressed about being stressed – you get the picture. Normally everything works out; however, this time was very abnormal.
The short flight to Chicago was uneventful (we chose to fly into Chicago, as opposed to NY, so that we could meet our new cruise buddies, Sally and Max, and fly to Europe together). D,A,S, and N (Dave, Anita, Susan, and me) relaxed on the plane, read a little, and enjoyed a glass of wine. We were all excited to meet up with Sally & Max (I've been told it is rude to abbreviate their names as S&M) in Chicago. We were a bit surprised to see Max in what appeared to be a large boot due to a hockey injury; however, Max proved to be quite nimble in his apparatus.
Everything pretty much went downhill from there. Apparently we made the "obvious" mistake (according to an American Airlines rep) of only allowing a half day between our arrival in Rome and our departure on the Celebrity Equinox. I mean, really, how often do flights get delayed 12 hours? Well, I know personally of at least one now. American Airlines started off with rolling 30 minute delays – the plane had arrived on the tarmac, but there was a "tiny" leak. A few hours later the entire right engine was dismantled before our eyes and two monkeys with sledgehammers were making repairs. It certainly did not inspire confidence in the airworthiness of the aircraft. Two hours turned into four, and four hours turned into eventually big trouble for our group.
What should we do? We were approaching the point of no return on the trip. Even if the plane departed, there was a reasonable chance we would still miss the cruise ship in Rome (navigating an airport, retrieving luggage, and catching a taxi in a foreign country might not be the smoothest experience). Thus, we made a judgment call and abandoned Rome and stayed the night in Chicago – our group was devastated and melancholy. We took our frustrations out on the American Airlines rep and it earned us a free stay in a Chicago hotel and a few meal vouchers (*circling my finger in the air* - Whop de doo).
Discouraged, our group originally planned to cancel the entire trip – mainly because our first option looked bleak. We could catch a later flight to Rome and then transfer from Rome to Sicily (the second cruise port of call). The downside was the airport was about 200 miles from the pier – we weren't even sure we could hire a taxi driver to take us that far. In addition, based on the time, there was a good chance we would miss the ship in Sicily too. With so much uncertainty we all decided to sleep on such a monumental decision and discuss it again the following morning. None of us slept well.
05/11/12 - Europe Day Two : Chicago – The Phoenix Plan – In the morning we took a deep breath, stepped back and analyzed the situation, and then took a calculated risk. We booked a flight to Athens (with a connection in London). This was the second port of call for the boat and likely our best shot at catching up with the cruise. It took 2+ hours on the phone with American Airlines to seal the deal. It then took a bit more time to locate a hotel, sight unseen, near the cruise terminal (turns out we could see the boat from Sally & Max's room). There were some frantic phone calls to unknown parties (eventually we met the port agent, Minolas, in Athens – he was very nice) in Greece to book additional transfers from the airport to the hotel. The good news is everyone we spoke with wanted to help us! Although we knew our travel insurance should cover the additional expenses, there was also a risk of non-reimbursement (the claim has been filed and I haven't heard the final word yet). Let me tell you, last minute flight changes are not always cheap! American Airlines originally wanted to gouge us with fees, high rates, and penalties (even though it was their fault the plane sprung a leak); however, after hearing the full story, they changed their tune. In the end they were very reasonable, and less than 6 hours after we started our phone call marathon, we were all successfully on a flight to Athens. Yes, our fingers and toes were crossed.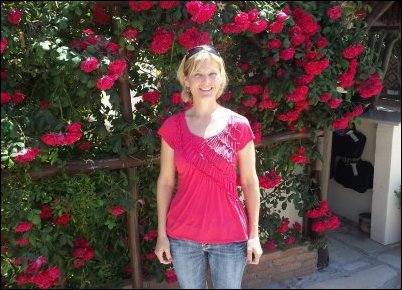 Pretty in Pink
The international flight was fantastic! American Airlines served two delicious meals, provided all the free wine you could drink (woot!), and there was plenty of entertainment options on the plane such as movies, games, and music (personal touch screens at each seat). Some of us even received bulkhead seats – those special seats with extra leg room. The flight attendants were also extremely friendly. The flight, and connection in London, went off without a hitch. Before we knew it we were at our hotel – Theoxenia Palace – in Piraeus, Greece, where we all breathed a "half sigh" of relief (we weren't out of the woods until we officially set foot on the ship – ships have been known to cancel ports of call at the last minute).
That evening we toured Piraeus and enjoyed gyros from a corner street vendor. We had a relaxing glass of wine at the hotel bar – a surprisingly tasty Greek red. Don't ask me to pronounce the name of the wine – it was Greek to me ;). Eventually, and deservingly after the long flight, we all crashed early that evening.
05/12/12 - Europe Day Three : Athens, Greece – Touring the Ruins – After a very nice breakfast we started our full day tour in Athens (originally scheduled for the following day, but the tour company was happy to acquiesce to our change of schedule). Nikolas, our driver and guide, was extremely friendly and accommodating.
| | |
| --- | --- |
| | |
| Akropolis | Athens |
Our first stop was the Akropolis (which simply means "high city") near the center of Athens. We visited the Parthenon, the Erechtheum, and also saw the grand theatre. For our second stop we watched the changing of the guards at the parliament building – in my opinion this was kind of dull.
| | |
| --- | --- |
| | |
| We Ruined This Picture | Nathan Forgot to Bring His Guns to the Show |
The next destination was a small street market. The roads were narrow and made of marble – they really were only suitable for pedestrian traffic. We shopped for a few souvenirs; however, the highlight was an afternoon meal at Taverna Plaka. The waiters were zealous in their actions to provide us with ultimate service (and all at a very fair price). We devoured Spanakopita, Moussaka, Pasticcio, Avgolemono soup, Greek Salad (with a huge slice of feta cheese on top), Gyros, and also a fresh fruit dessert. It was truly the best Moussaka I've ever had and it was a thoroughly enjoyable meal. For a more filling dessert we found a small shop with fresh Baklava and Galaktoboureko.
| | |
| --- | --- |
| | |
| Yummy Yummy Galaktoboureko | The Best Moussaka We've Ever Had |
After lunch we toured the Temple of Zeus. There are only about ten columns left standing, but originally there were about a hundred. There really wasn't much to see here, but there was a nice view of the Akropolis.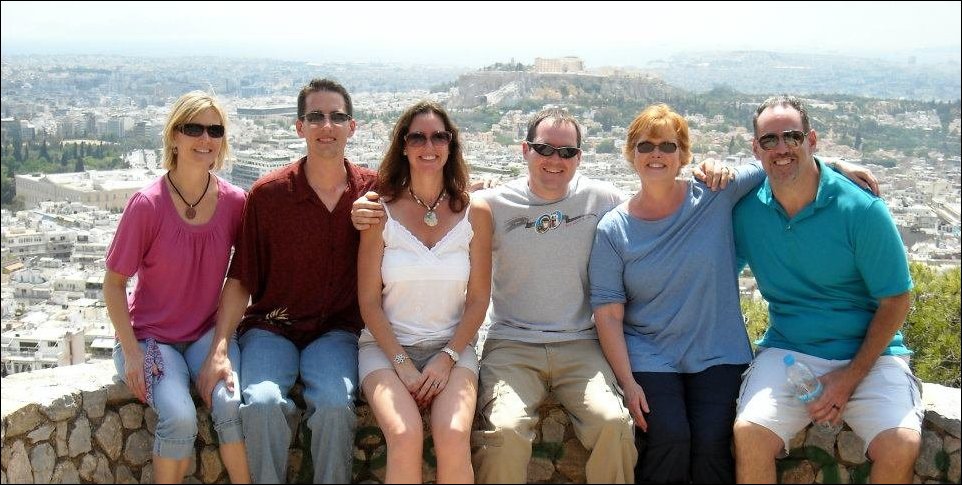 We Came, We Saw, We Finally Made it to Europe
We eventually drove by the presidential house, the original Olympic stadium (where the original marathon ended), and we visited a small beach by the Mediterranean Sea where we admired the clear blue water (the beach itself was quite rocky – similar to California). Overall it was an excellent excursion.
Nikolas dropped us off at the hotel and most of our party rested before regrouping later to catch a taxi to the nearby pier. Nikolas had recommended a local hot spot, Vosporos, and it was delicious! This was one of many of the Greek restaurants we dined where wine wasn't purchased by the glass, but instead by the carafe (usually 1 liter) – and it was inexpensive to boot. We dined on Hummus, Saganaki, Shish Kabob, Souvlaki, salad, and Alinazik Doner (which kind of looked like dog food…well, tasty dog food). This was a fun place to eat because the local cats could sneak into the restaurant and grab a bite themselves. Once dinner was complete we headed back to the hotel for a good night's rest and we all made sure to dream happy thoughts of successfully boarding the ship.
05/13/12 - Europe Day Four : Athens , Greece – Faux Day at Sea – We heard "gunshots" and yelling in the middle of the night and thought for sure Greece was having a revolution spurred by the recent debt crisis (we were in Greece during the time the country was threatening to pull out of the Euro Zone). Of course, such a situation would obviously prevent our ship from docking. Fortunately it was probably just a wedding celebration and the gunshots we heard where simply firecrackers. As such, the Celebrity Equinox arrived on schedule and we could see it clearly from Sally and Max's hotel room. Our goal was almost within reach!
| | |
| --- | --- |
| | |
| On the Celebrity Equinox | 80's Night |
After a quick breakfast we hopped in a taxi and made the last leg of our extracurricular vacation to the cruise terminal. We were scrutinized at the port, but they let us pass after a thorough security check. We were scrutinized at the ship after a second security scan, but they also let us pass – Victory! We finally made it on the ship… whew!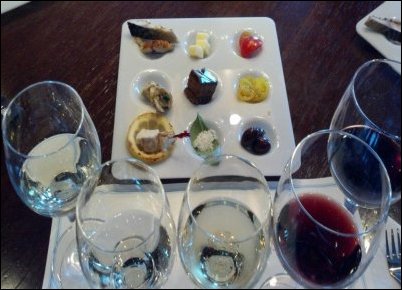 Food & Wine Pairing
For the rest of the afternoon we exercised, soaked up a little sun, had a glass of champagne, and toured the ship. We treated the day as if we were "at sea" while the rest of the passengers were ashore in Athens. Eventually we all regrouped at our first ship dinner where our waiter had been wondering where we had been all cruise. There were several toasts toward the success of reviving the vacation.
After dinner the girls enjoyed an evening massage while the boys attended the nightly entertainment – a magician/illusionist. Afterwards the guys watched a 60's dance show – overall it was a great first night on the ship.
05/14/12 - Europe Day Five : Ephesus, Turkey – Hey, There are Ruins Here Too – Things to remember about Turkey… (1) It is in Asia, or "Asia Minor". Thus, we had the advantage of visiting two continents on this trip. (2) The countryside is beautiful. (3) There are tons of friendly cats here! (4) They prefer to use American tourists in their slave labor carpet weaving work force. (5) When travelling abroad to far away foreign countries it is always important to book a private tour – it guarantees the most excitement. Actually, it was all fine…well, fine with a side of awkward discomfort (we'll get to that later).
| | |
| --- | --- |
| | |
| Ephesus Theature | The Goddess Nike - Swoosh! |
Our tour of Turkey began at Ephesus – a city over 4,000 years old. It was incredible to be able to walk through the streets of this ancient city. Although it was a mere shadow of its former glory, the primary structure of the city was easily distinguishable. Walls, pillars, streets, and fountains remained to remind all of us of how brilliant the ancient world was at construction despite the lack of technology.
| | |
| --- | --- |
| | |
| Civilian Homes in Ephesus | Library Celsus |
We were pretty much allowed free reign at these ruins (unlike Athens where we had to admire from a modest distance). We could walk on the roads, touch the marble walls, and climb the still very sturdy stairs. The city remains were massive and it took us about 4 hours to cover the entire area. This was definitely a highlight for our group.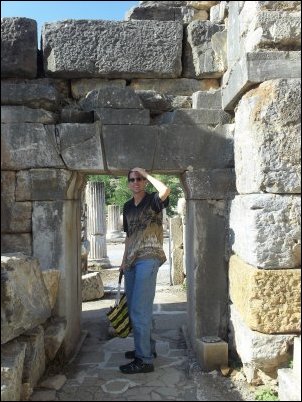 People Must Have Been Shorter Back in the Day
After the ruins we quickly stopped at a museum and also visited the remains of one of the Seven Wonders of the World; the Temple of Artemis. Shortly following the museum we all enjoyed an authentic Turkish meal at an outdoor restaurant. The cuisine was quite similar to Greek with lots of vegetables and a few shish-ka-bob type meats. Once lunch was complete the tour did turn a bit sour. Next to the restaurant was a rug "factory" (really just a small shop). Inside were several ladies creating magnificent Turkish rugs – they showed us how individual strands are woven into rugs – they were quite speedy at the procedure. The sales pitch was obvious, they wanted us to buy rugs, but they hadn't directly asked yet. We were shown how natural dyes were made from local plants and how the yarn was made from the stands of silkworm – it was all quite interesting.
| | |
| --- | --- |
| | |
| Massive Ephesus | Cozy Kitten |
Eventually we were ushered into a small place where carpets were displayed throughout the room. They offered us wine, water, and coffee – and then, slowly and methodically, they laid out carpet after carpet before our feet. The patterns of rugs were laid out in such a way that they created a blockade between us and the exit. Then, when we tried to leave more Turkish men showed up in the room and "assured" us we should remain and look at more rugs. It was quite uncomfortable. Nevertheless we eventually stood up and left – with a small bit of uncertainty about whether they might actually prevent us from leaving; however, nothing further bad happened and we safely returned to the ship. Whew!
| | |
| --- | --- |
| | |
| A Turkish Feast | Inside the Homes of Ephesus |
Later, after dinner, we attended a variety show in the main theatre. It was mostly singing with a little bit of dancing and music. Later we participated in an 80's music trivia contest – which Dave ushered us swiftly to victory. The 80's was more or less the theme of the night and Sally, Max, Susan, and I learned a line dance which was later put to use at an 80's dance party where we rocked the night away (Susan in leg warmers no less). We also met JoAnn at this party – a fellow Geocacher. She was so enamored with our dancing prowess she bought us all drinks. Personally, I think it was to make us stop dancing ;).
05/15/12 - Europe Day Six : Rhodes, Greece – Yea, Medieval Ruins – Our return to Greece delivered more ruins to tour as we toured the ancient city of Kamiros; however, this site paled in comparison to Athens and Ephesus. Fortunately, the tour of the port city was extremely enjoyable.
| | |
| --- | --- |
| | |
| The Castles of Rhodes | Sally Ruined this Picture |
The old port city of Rhodes was built in the style of a medieval city, complete with an entire castle full of food, wine, and inexpensive shopping. Susan and I both found our bargains here – her with jewelry and me with art. In fact, we shopped for several hours – likely more than any port we have ever visited on any cruise (possibly even combined – just kiddin!). Interesting fact – Rhodes is home to another Wonder of the World – the Colossus of Rhodes (woot - two Wonders in one trip). Although most pictures depict the statue at the entrance of the Mandraki harbor, it turns out the statue was actually located more inland. Nothing remains of the original statue (it was made of bronze) as it eventually collapsed during an earthquake. The material from the collapsed statue was sold to Syria.
| | |
| --- | --- |
| | |
| Kitty Double-Take | Susan in Blue |
Our group thoroughly enjoyed another superb Greek lunch in Rhodes. There were cats here too, but the restaurant owners made sure to put bamboo sticks in all of the potted plants so that our lunch wasn't paired with any cat aromas.
After walking down our fair share of cobblestone paths we returned to the ship and attended a festive happy hour at the bow of the ship where we could watch the waves, and Rhodes, slowly move by. Afterwards we watched a great dance show at the theatre.
05/16/12 - Europe Day Seven : Santorini, Greece – Beautiful Cobalt Blue… and no Ruins – Santorini, especially Oia, is exactly like the postcards, the pictures, and the paintings. It is a wonderfully beautiful island and it was what both of us were most looking forward to visiting. Our tour began with a short drive to the city of Oia (pronounced E-Ah) located on the Northern tip of the crescent moon shaped island.
| | |
| --- | --- |
| | |
| Santorini Blue | The Islands of Santorini |
The town of Oia was filled with hundreds of white washed buildings, many with a uniquely painted door to differentiate themselves from their neighbors. The churches had vibrant cobalt blue domed roofs and there were many traditional tiered bell towers. The only thing Santorini was missing was an abundance of kitties. Fortunately, we had seen plenty of felines in Ephesus and Rhodes. We're guessing they were napping the day we visited.
| | |
| --- | --- |
| | |
| Cobalt Doors & Windows | Church Bells |
We could have spent all day in Oia, but we only had limited time as our second stop was a Greek winery. One interesting thing about the Greek islands is how they grow their grapes. Instead of the traditional telephone style vine used in France, Italy, and California (really, just about anywhere), the Greek islands grow their vines into intertwined baskets close to the ground. These baskets protect the grapes from the severe winds that occasionally sweep across the island (and they were sweeping in force while we were there).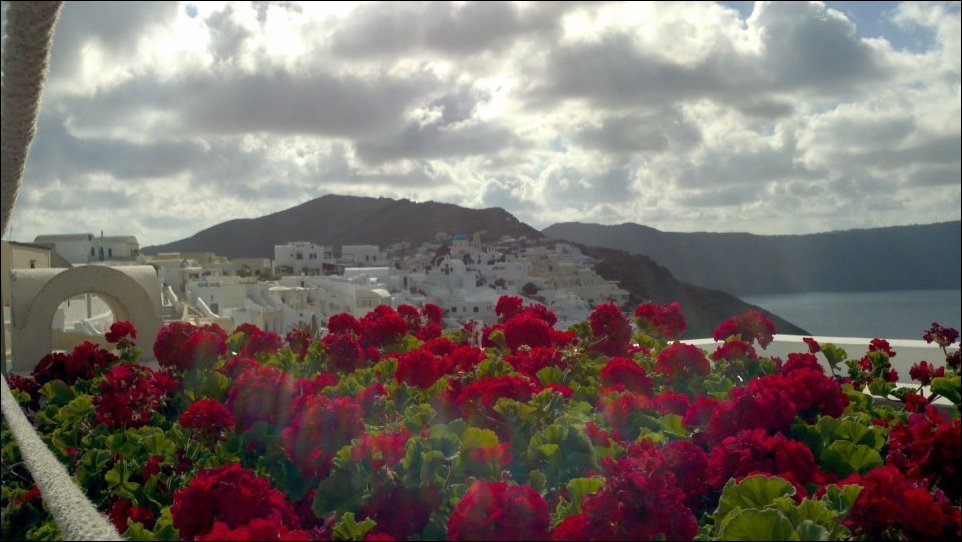 Santorini
At Santo Winery we sampled three wines and they were decent (I think most of the table wines we had at the individual restaurants were better than this winery; however, that might have also been because they were consumed with food). The winery was located at the top of a hill…where the wind attempted to blow us back to the boat.
| | |
| --- | --- |
| | |
| Three Ladies | Picturesque Oia |
Afterwards we visited the town of Fira where we had yet another stupendous (I'm running out of adjectives to describe the food) meal. This was our first opportunity to try dolmas – which were devoured behind the protection of a wind shield. We also shopped for a little in Fira and we found the perfect souvenir for ourselves – a painting of Santorini, painted in Santorini, and purchased in Santorini. I already have it hanging on the wall at home.
| | |
| --- | --- |
| | |
| Church Bells in Oia | More Oia |
The return to the ship was via a cable car (we didn't ride the donkeys down the hill because that just seemed cruel) and a boat tender (the waters were fairly rough when we were there and getting onto the tender occasionally required a little bit of a jump/step). Once we were back on the boat we enjoyed the regular festivities; however, on this night Dave and I visited the casino. Dave was interested in learning how to play craps and I was delighted to quickly spend all of my money showing him; however, the opposite was true – I ended up walking away with a gain of about $75 in a short period of time. I shared my winnings with my good luck charm (Dave) and called it a night.
05/17/12 - Europe Day Eight : Mykonos, Greece – The Windmill Island – Our tour today wasn't until the afternoon so our group was able to sleep in a bit (yea!). Once we were up and around Sally, Max, Susan, and I decided to take the tender ashore and tour the port. It was sprinkling a bit; however, it eventually turned into a complete downpour. The tiny, winding, streets (we were told it was designed to confound pirates) of Mykonos became rivers and our group quickly became soaked. This certainly didn't stop us from taking a few snapshots of the iconic island windmills, the island pelican mascots Petros & Irene, and several wet kitties. Eventually we returned to the ship to change into some dry clothes.
| | |
| --- | --- |
| | |
| Mykonos Kitty | The Winding Streets of Mykonos |
The official tour began with a short break at a small beach (Mykonos is supposedly famous for its beaches – which are nicer than most of the beaches we saw in Europe, but they pale in comparison to the Caribbean). It was cloudy and damp; however, we were able to walk along the pebbled beach and watch the waves crash against the shore.
| | |
| --- | --- |
| | |
| The Windmills of Mykonos | Pretty Girl |
The second stop was for a quick afternoon snack. It was a Greek "Metza" with meatballs, cheese bread, olives, tzatziki, and ouzo (a licorice tasting liquor – which pretty much only Dave liked – he finished off almost everyone else's ouzo). Susan fed a few small pieces of meatball to a local kitty. After the metza we walked across the courtyard to a monastery and toured the interior. The decorations were overly gaudy and lavish. Nearly everything was laced in silver and gold. While we were there the monastery rang the extremely loud bells for about fifteen minutes to announce the death of a local inhabitant on the island. This is apparently a tradition repeated every hour for about a day in order to alert the entire island (I guess monks are still shunning text messages).
| | |
| --- | --- |
| | |
| Pelican Cheese | Sally & Max |
Upon departing the monastery we drove a bit more around the island and admired the architecture. It was similar to Santorini with lots of white washed buildings; however, many of the roofs here were concave. Water was collected on the roofs and funneled down to the home. On almost each roof was also a solar panel which was used for heating water. This island was very concerned with conserving their resources.
| | |
| --- | --- |
| | |
| This is Really Santorini, but I Ran out of Picture Room | No No No... you need MORE Ouzo! |
Toward the end of our stay on Mykonos the sky, finally, partially cleared and Apollo showed us a bit of sunlight. We took the opportunity to visit the windmills again and grab a few additional pictures.
The evening show was a talented violinist who played local folk songs and also a few well known, but upbeat, classical pieces (Barber of Seville, Saber Dance, Hava Nagila, etc). We also watched a "Dancing with the Guests" show where several professional ship dancers waltzed and sambaed with selected guests. There were also a few professional only dances – they were quite good and it was fun to watch them up close (we were probably about 15 feet away).
05/18/12 - Europe Day Nine : At Sea – On the Mediterranean Sea – Our day at sea included a spectacular Cirque du Soleil style show and a fantastic lobster dinner; however, there were lots of activities prior to those events. We attended a morning brunch where we enjoyed a variety of delicacies (my favorite were the eggs Florentine). Afterwards we attended a food and wine pairing (I know – more food – apparently food was the theme of the day). After chowing down, yet again, we thought it would be a good idea to get some exercise so we joined a Cha Cha class (Sally, Susan, and me). After all the dancing we still had just enough time for a bit of trivia (we didn't do so good there) before it was time for the lobster and Cirque show.
05/19/12 - Europe Day Ten : Naples & Sorrento, Italy – More Ruins? Seriously?? – Day ten was an extremely long day. It started with a short drive along the Amalfi coast from Napes to Sorrento where we visited a local farm. This farm specialized in a handful of products including mozzarella (which we sampled some that was made that very morning – it was awesome!), Limoncello (which we also sampled), and red table wine (which we… well, you get the picture).
| | |
| --- | --- |
| | |
| Dave & Anita | The Daily Grind |
After watching a brief demo on how to make mozzarella we all enjoyed a light brunch of bruschetta, olives, Limoncello sponge cake. This was definitely a great start to an Italian excursion!
| | |
| --- | --- |
| | |
| 1.5 Liters of Wine - Check! | Silly Pose |
Our second stop was at a nearby market where we were able to shop a bit and even grab a few slices of pizza margherita (yum #2 for the day). Margherita pizza was invented in Naples to honor the Queen Margherita (cheese, tomato, and basil to represent the white, red, and green flag of Italy). We also found a great shop to taste Italian gelato.
| | |
| --- | --- |
| | |
| Cheese! | An Italian Lady |
After the full tummies we visited Pompeii – the ruins of an ancient city near Mt Vesuvius. The city was covered by a volcanic eruption almost two thousand years ago. The city wasn't quite as impressive as Ephesus, but it was certainly fascinating in its own way. We were able to walk along the streets and identify specific buildings. There were theatres, snack bars (or the equivalent of what we call a snack bar – located right outside the theatre), bakeries, bathing rooms, and… ahem… adult entertainment "hotels". By the end of this tour pretty much our entire group had decided they had seen enough ruins for one lifetime.
| | |
| --- | --- |
| | |
| Pompeii Bakery | Pompeii Concession Stand |
Once the Pompeii tour was over we stopped at a small cameo factors before finally returning to the ship for our final evening on board the Celebrity Equinox. I suppose this is as good of a time as any to comment on the cruise line itself. We're kind of a fan of both Carnival and Royal Caribbean; however, based on what we saw from Celebrity, I'm definitely interested in taking one of their Caribbean cruises for a spin.
05/20/12 - Europe Day Eleven : Rome, Italy – The Voyage Home – We finally made it to Rome! Unfortunately, we weren't going to have any time to see any sights BOOO!!! We had originally planned a full day excursion at Rome before our travel plans were interrupted. We were going to see the Coliseum and Trevi fountain, but alas, it was not meant to be. We also missed Sicily because of the change; however, we're all still glad we were able to continue on with the rest of our trip.
| | |
| --- | --- |
| | |
| Sorrento & the Amalfi Coast | Another Italian Lady |
We did see a few vineyards on the drive to the airport and we discovered some "cheap" (6.5 Euros) wine at the airport during our 2 hour delay (seriously, can we not catch a break on the flights?). By the way, Rome was, by far based on my memory, the most disorganized airport and slowest airport we've ever been through. We showed up about 3 hours early for our flight and probably would have missed the plane if it hadn't been delayed – it was bad. Nevertheless, all was good when we made the wine discovery. We all chilled in the cafeteria and sipped wine from plastic cups while waiting for our flight to arrive.
The flight home was smooth and we were definitely glad to get home and see our kitties (they, on the other hand, were indifferent to our return). It was a wonderful trip – and we finally made it over to Europe to see Greece (something we have wanted to do almost since we first met).