---
MAY 2013
---
04/20/13 - Day 0: Fort Lauderdale – We learned from our debacle last year to fly in the night before the cruise sets sail.  It might be considered overkill on shorter flights but I think we'd like to be better safe than sorry from this point forward.  It definitely reduced the stress of worrying about flight delays – and lower stress before the start of a vacation is always a good thing. 
We flew into Florida and stayed at the Seville Motel about a half block from the beach.  Our "condo" was a quaint little room with an attached kitchen.  It might have been small, but it was perfect for a one night stay.  Besides, it was massive compared to the awaiting cruise ship cabin. 
We hung out at a little café down the street while a few thunderstorms passed (they followed us from Texas after delaying our flight).  In fact, we stopped at the H2O café twice on our visit – they had a great view of the ocean.   After the storms we dipped our toes in the water and took a stroll on the beach.  We also snagged a few Geocaches – the only ones on this trip.
04/21/13 - Day 1: Fort Lauderdale/Ruby Princess – One other nice thing about arriving a day early is the opportunity to sleep in!  Once we meandered out of bed we still had plenty of time for breakfast before boarding the ship.   We have had good and bad embarkations on various cruise lines and I would say Princess was middle of the road.  We had to wait in a terribly long line; however, the line didn't take more than an hour to complete.  One interesting thing to point out is we kept seeing Santa Claus in the line.  I thought it was simply an oddity at first until later we learned a union of naturally bearded Santa Clauses were on the same ship – estimates were anywhere from 20 to 30 (I never heard an official count).  We saw many of them throughout the cruise and they were always jolly and well dressed.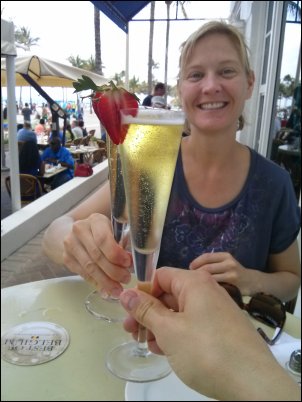 Cheers to the Start of a New Adventure!
The ship itself was very similar to the other cruises we have been on – perhaps a bit larger.  Princess definitely seemed to cater to a much older crowd (compared to Royal Caribbean, Celebrity, etc… and definitely compared to Carnival); however, it wasn't an issue.
04/22/13 - Day 2: Princess Key/Eleuthera, Bahamas – Our first port of call was the Bahamian island of Eleuthera.  The island is long and thin (about 100 miles long but less than a mile wide).  We can sort of call this our "Greek" stop in the Caribbean since Eleuthera is from the Greek for "free" - and we certainly felt free from all our stress and worries while here.
| | |
| --- | --- |
| | |
| Lighthouse Beach | Glub Gurgle.. Glub... Gurgle Glub Glub |
The ship actually docks at Princess Key, a small private beach on the island; however, we didn't spend any time there (which is good because many of the guests we spoke with hated the beach – it was too rocky and crowded).  Instead we booked a semi-private excursion through Eleuthera Tours.  The tour we booked was the secluded Discover Lighthouse Beach tour.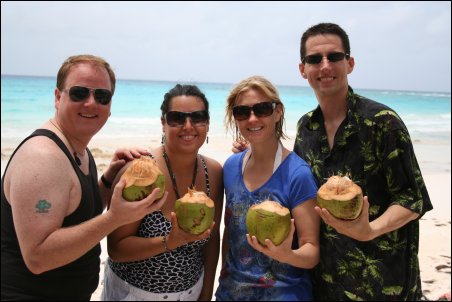 Put the Lime Rum in the Coconut (with Jason and Vivian)
The excursion started with a quick visit to a derelict church (destroyed by a hurricane) and then a short trip down a rugged road to the beach.  Upon arriving we visited a small deserted lighthouse sitting atop one of the most beautiful beaches we've ever had the pleasure of setting foot upon.  With the exception of our two tour guides, and another friendly couple from the ship (Hi Vivian & Jason – hope you enjoyed your honeymoon!), this pristine and untouched beach was ours for the day.
| | |
| --- | --- |
| | |
| Got Crabs? | Picnic on the Beach |
We snorkeled (saw four barracuda and some interesting coral), hiked, explored, and generally had a splendid time on the beach.  Once we were ready our hosts ushered us to a section of the beach where they had prepared a delicious grilled lunch of conch, rice, and beans – a Bahamian delicacy.  Our hosts also served us island coconuts from which we drank the coconut water (and then later filled it with rum punch – don't tell anyone!). 
We chased a few crabs on the beach (they run sideways – it's funny looking) before finally returning to the ship.  Awesome day!
04/23/13 - Day 3: At Sea – On our first day at sea we spent plenty of time relaxing.  We were fortunate to have an adult-only deck/pool/bar about two doors down from our cabin.  We could commute back and forth with ease.  As such, this was a great place for catching up on a good book.
| | |
| --- | --- |
| | |
| Formal Night on the Ruby Princess | Our Dinner Party - With Susan/Dennis (Left) and Joyce/Yvette (Right) |
We played paddle tennis in the afternoon (tennis with ping pong paddles – kind of weird), learned a few Salsa dance steps, and attended two separate wine tastings.
04/24/13 - Day 4: St. Martin (Sint Maarten) – Saint Martin is a half Dutch and half French island in the Caribbean.   Having two distinct cultures on the island is what makes this such an interesting location.  Just driving from one side to another shows the changes in architecture and style.  For this island we booked the Island Beach Tour through Twin Island Excursions.  This was a bus tour across the island with various pit stops at interesting and scenic locations – our host was the charismatic Jose "Pacman", who had a Jamaican accent until he learned we were from Texas – then he showed his true accent (he is from Houston).
| | |
| --- | --- |
| | |
| Lunch at Rosemary's - An Anthony Bourdain "Must Eat" | Orient Beach |
The first scenic stop was near a look-out point on the Dutch side where we could see the local salt ponds, the harbor, and the ruins of Fort Amsterdam.  Our next stop was at the Sunset Beach Bar at the end of Princess Juliana International Airport.  While sitting at the bar you could almost touch the jets as they came in for landings at the airport.  It was definitely a unique experience (which this island was full of, ahem – to be discussed later).  Susan and I shared a tasty Pina Colada.
| | |
| --- | --- |
| | |
| Creole Delight | Sunset/Maho Beach |
The third stop was after a quick crossing over the island border (which doesn't really exist – it is more of a fence post sign) to the French side.  We visited a small market in Marigot (the capital of the French side) and dined on authentic French Creole cuisine.  After lunch we were escorted to Orient Beach were we spent the afternoon relaxing on one of the Caribbean's top beaches.   The interesting thing about Orient beach is that half of it is clothing optional (clearly marked with a sign – no cameras beyond this point).  Well, as they say, when in Rome…we stripped down to our "bathing suits" and ventured into the great unknown.  All I will say is that there are some things you simply cannot unsee – they are burned into your skull.  That and most people on the nude side neglected to iron their "bathing suits".
04/25/13 - Day 5: St. Thomas – Saint Thomas always has some of the most beautiful and crystal clear snorkeling waters and this trip did not disappoint.  While on our semi-private excursion through Morningstar Charters we spotted several fish we had never seen before.  We were even able to school with some of the larger groups of fish – it was fantastic!  We had pretty much the entire sail boat, the Winifred, to ourselves for the entire day (there was one other couple on the boat along with a 2-person crew).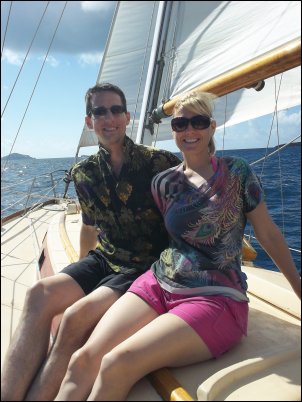 Sailing Away
The voyage started at St. Thomas where our sailing vessel carried us across the ocean to St. John for the before mentioned snorkeling.   After over an hour of snorkeling we rejoined the sailboat for a wonderful grilled chicken and vegetable lunch (including corn on the cob).  There was an open bar the entire day and I certainly had my fill of champagne and Susan enjoyed a few painkiller beverages.
| | |
| --- | --- |
| | |
| French Grunts | Trunkfish |
| | |
| Blue Tang - We Found Dory! | Squirrel Fish |
On the return journey the captain let me take my turn at the helm.  I was allowed to drive for nearly an hour while the captain gave me tips on how to make sure the sails were always in the wind and what to do if they weren't.  It was both an educational and enjoyable afternoon.  Fortunately, there aren't a lot of other boats out in the middle of the ocean ;).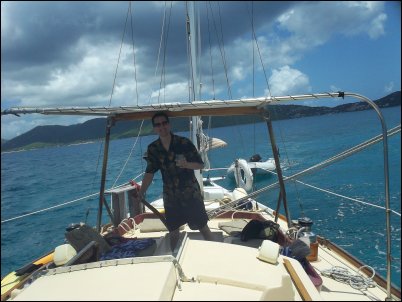 Captain Nathan - Ahoy! (With Champagne in Hand, of Course)
04/26/13 - Day 6: At Sea – On our second day at sea we pretty much repeated our first day.  There were more wine tastings, more dance classes (waltz, line dancing, and Zumba), and more tasting of the rum beverage of the day (I discovered mudslides – YUM!).  The evening show was spectacular and one of the best (if not the best) Broadway-type experiences we've ever had on a cruise ship.  Susan was enthralled at the dream-like set of dance sequences and costumes.
04/27/13 - Day 7: Nassau, Bahamas – Originally our cruise was not scheduled to stop at Nassau.  Instead, we were supposed to visit Grand Turk; however, due to an outbreak of disease, our ship dutifully detoured.  For this reason (and because there are not many things to do in Nassau if you don't want to visit Atlantis), we booked an excursion through Princess.   This excursion was hosted by Seaworld Tours and involved a semi-submarine tour of the ocean floor.  The submarine was about 95% submerged with only the entrance to the ship above water.   Although the view below deck wasn't nearly as clear as snorkeling, it did offer a completely different experience (probably a little more similar to scuba).  We saw much bigger fish, larger schools, and even a few sharks.  It was definitely a worthwhile experience.
| | |
| --- | --- |
| | |
| Here There Be Pirates | Inside the Submarine |
Once we disembarked the submarine and returned to port Susan and I did a little hiking to find a local beach.  We were hoping to find massages on the beach and we lucked out by stumbling across a couples massage area on Junkanoo beach.  The massage group, Angel's Massage, isn't listed online, but if you are in the area be sure to check them out.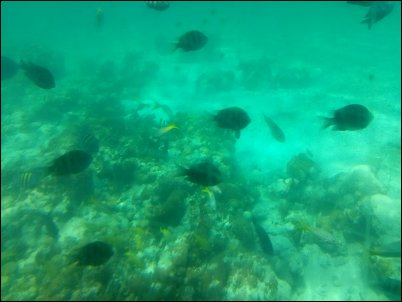 Submarine View