---
OCTOBER 2004
---
9/19/04 - Cozumel Day 1 – The Arrival – Most of the first day is relatively uninteresting. We had lunch at my favorite Italian restaurant, Italiannis, where everything is delicious (especially the Artichoke Cheese Manicotti). We drove to the airport. We flew. We checked into our hotel. We went to bed early.
Two things to remember about Mexico; in addition to "Mexican time" (as long as you arrive or depart within 30 minutes of the specified time, you are "on time"), there is also "Mexican A/C". Their idea of A/C is to design a building with no exterior walls. As such, a breeze from the ocean and a roof above will allow the interior to remain at a brisk 80 to 85 degrees….which is plenty cool for most natives. Our hotel, the Allegro, was a little nicer than last year's establishment mainly because the individual rooms actually had a working A/C unit on the inside (an obvious luxury on the island).
| | |
| --- | --- |
| | |
| Lazy, Lazy, Lazy | The Allegro |
The island itself is located about 12 miles off the Eastern shore of Mexico (far enough away that you cannot see the mainland while standing on the West coast of the island). The average temperature is about 80°F (although it was closer to 85°F when we were there) and never gets any cooler than the mid 70's during the winter. The island measures about 48 km (30 miles) from North to South and 16 km (10 miles) from East to West. Our hotel was on the West side of the island.
9/20/04 - Cozumel Day 2 – Island Tour – Our second day in Cozumel was highlighted by a unique tour of the island. After an early breakfast, we stopped by the scooter rental portion of the hotel and acquired a 24-hour lease of a "moto". This little two-seater claimed to be able to achieve 120 kilometers (75 miles) per hour, but I wouldn't have dared risk it! Fortunately, the posted speed limit of 60kmph (about 37 mph) kept us well under any Evil Knievel velocities. It only sprinkled on us a few times during the trip, so overall we had bright and sunny weather for our tour.
| | |
| --- | --- |
| | |
| Not Exactly a "Hog" | Market at El Cedral |
We began by heading further South on the island but made an unexpected pit-stop less than a km away from the hotel. There was a stranded turtle on the road! Not only was it our civic duty to help this reptile in distress, but it is also a valid locationless geocache ;) (Rack up another find for Lotus – woohoo!). Of course, this wasn't our only geocache for the day. There were five regular caches on the island and we made sure to stop at each one. Before reaching the first of those caches, however, we stopped at the ruins of El Cedral. These ruins were not very spectacular and consisted of only one small building. There were a few shops nearby, but nothing that we wanted to buy; nevertheless, Susan was able to pet the second animal of the day – a donkey. After the ruins we continued on to the Southern most point of the island, Punta Celarain. This area contains a few lagoons, a lighthouse, some wildlife, and another small ruin.
| | |
| --- | --- |
| | |
| The Happy Couple | Lighthouse View |
The Punta Celarain lighthouse offered a beautiful view of the lagoon and ocean at the top of the 171 steps. At the bottom of the lighthouse was a small museum of things nautical, and, of course, a gift shop (they are everywhere down here). Following the lighthouse was a quick tour of the El Caracol ruins. Just as small as the previous, but they actually had an interesting piece of history with them. The main building contains several conch shells that were used for measuring wind speed, direction, and barometric pressure. Between these ruins and Tulum (last year), you can easily say the Mayans were a very ingenuitive race. Near the ruins was a short pier that jetted out into the lagoon. We were able to see several crocodiles under this pier (yes, well out of reach). There were also some trails that lead towards the lagoon, but after taking about ten steps on the trail we were quickly deterred by a plague of mosquitoes (I think they breed those things down here); however, Susan did get a sneek peek at a couple of crabs before retreating.
El Caracol

Put the Lime in The Coconut...

The roof of Coconut's bar is lined with international t-shirts
From the Southern point we worked our way back North on the East side of the island. This stretch of the island was quite peaceful with a sandy beach and crashing waves always within view. About halfway through our trip, we stopped at a local restaurant, Coconuts. I use the term restaurant lightly here since it was actually more like a beach hut with lawn chairs (the entire East coast of Cozumel is littered with these little restaurants/bars – we stopped at a couple along the way). In addition to dining on some great chicken quesadillas, Susan was also able to pet the bar's mascots, a red parrot and a friendly dog, who begged at each table. To the immediate North and South of the bar were two geocaches (less than 175 feet from each other). We traded a travel bug at one of these and enjoyed a view of the ocean from one of the highest land points on the island (a cliff a whopping 40 feet above sea level). We also stopped at Punta Morena (another one of those bar/restaurants) for a quick drink and to pet an extremely cute Mexican raccoon).
Smooth Sand

Here Kitty Kitty?!?

She liked her belly rubbed and her chin and ears scratched
The Northern most point of our trip were the ruins of San Gervasio. These were the most impressive ruins on our tour of Cozumel. There were about twenty structures here and some interesting rock "roads" (I can't imagine anyone traveling on these – the nearby dirt is much easier to walk on). After San Gervasio, we continued West towards the town of San Miguel. San Miguel is the main (and only) city on the island of Cozumel. It is where the airport is located and where cruise ships dock (those ships are HUGE!) for excursions. This is always where you could catch a Ferry to Playa del Carmen (a port of access to the rest of Mexico). There are several shops and places to see in town, but our best experience was at a little shop called "Crazy Parrot"...also a geocache. In the back of the shop was a little garden with two cute bunnies and a parrot that loved to dig in your hair and/or steal your sunglasses ;). All that was left after petting the rabbits was a quick ride South back to our hotel.
| | |
| --- | --- |
| | |
| One of Many Cruise Ships | Crazy Parrot |
After a buffet dinner and a few Piña Coladas, Susan and I spent the rest of the evening, until sunset, relaxing on the beach. We picked up a few seashells, watched the fish swim around us (and even a few nibble at Susan's toes), and even saw two baby sting rays.
| | |
| --- | --- |
| | |
| The Beach at Sunset | Susan's Buddies |
After sunset we decided to check out the evening show (the hotel provided nightly entertainment at about 9PM); however, the evening performance was less of a show and more like Bingo :). It seemed a little odd to be playing Bingo in Mexico, but we were having fun and participated nonetheless. Fortunately, the playing paid off since I was able to score a win on the second round. My prize was a bottle of Mexican honey liquor. I'm not sure what it tastes like, but we'll probably open it up and find out the next time we have a large group of guests at our house. (UPDATE - It is nasty!)
9/21/04 - Cozumel Day 3 – Reef Hopping – Our third day was a thorough exploration of what lives under the ocean near Cozumel. Before I break into a list of all the life we saw in the water, I want to point out some of the interesting life we saw just outside our hotel room door. Usually during the morning or evening, we could watch a variety of iguanas and other lizards moseying near our room. We even had one lizard that liked to hang out with us by the hammock on the front porch.
| | |
| --- | --- |
| | |
| Our Neighbor | Where's Nemo? This is at Xcaret (see below); not outside our door |
At about 10 AM we walked down the beach to a nearby dock in order to board the Zorro, a catamaran (a type of boat with two hulls). From the dock we set out towards three reefs on the West side of Cozumel. I'm not sure what order we visitedthe reefs in, but I'm pretty sure we stopped at Columbia, Palancar, and Cielo (sky) Reef (named for all of the starfish at the reef). During the snorkeling we saw a plethora of colorful fish. I'm not very talented at identifying them, but I'm pretty sure we saw angelfish, snappers, groupers, trumpet fish, and tangs. We also saw multiple sea turtles, a gigantic lobster, several stingrays, and starfish. In addition to all the preceding tropical marine life, our guide dove down and brought up a baby sea turtle for us to touch. It was sooooooo cute!
Among the reefs we visited, the water depth ranged from about 20 feet to 80 feet. We could really start to feel the ocean currents at these depths; fortunately, a pair a fins on your feet goes a long way to keeping you stationary! While sailing between reefs, our extremely hospitable crew served us fruit and beverages with party music playing in the background (along with the occasional dancing). After all the reefs had been visited, a yeoman began serving Tequila shots to the passengers (the bottle was even large enough to ensure everyone got a "two for one" special ;). Overall this ended up being one of the shortest four hours we spent in Cozumel.
Upon returning to the hotel we took a nap (It's good to be on vacation where the most pressing event on your calendar is a nice nap after swimming for several hours) and later rested by the beach. While walking along the beach (and in the shallow water), we noticed Susan's "little buddies" were still hanging around – eager to nibble at her toenail polish. We found out if you stand still in shallow water and spread your legs far enough apart, some of the larger fish would swim between them and occasionally run against the legs. Since nearly all of the fish normally darted at the first sign of a protruding hand, this was the best would could manage on trying to touch the fish.
| | |
| --- | --- |
| | |
| Stingray | The Required Cat Petting Picture (notice the two daiquiris in hand) |
During each evening there was always a buffet meal. The type of cuisine offered rotated among Mexican, Spanish, Italian, and a few others. For this evening, the hotel was serving Chinese. Susan and I both found this a little objectionable, but we tried it anyway. All in all, I have to admit this was the worst Chinese food I had ever tasted :). I even took a stab at the Octopus (it's an adventure, right?), but I don't think it settled well on my stomach either. After dinner we attended the evening show – a competition to select "Mr. Allegro". There were four contestants chosen from the audience (thankfully, I was not one of them) and they each had to participate in five events. These events included push-ups with your wife on your back, dancing (while striking body building poses), singing (without taking a breath), and a provocative balloon popping contest. The balloon popping was hilarious and by far the most interesting of the events.
9/22/04 - Cozumel Day 4 – Xcaret – This was by far the longest day of our trip. It started bright and early before dawn as we got ready and headed to the main pier in San Miguel. From the pier we obtained transport to Playa del Carmen. The boat ride was about 45 minutes and bordered on being a mini-cruise ship. It had multiple levels, air conditioning, television, and even a bar.
| | |
| --- | --- |
| | |
| She's Gone to the Birds | This Looks Like a Good Spot to Hide a Cache |
Once arriving at Playa del Carmen we caught a bus to Xcaret, an ecological park featuring Mayan ruins, hundreds of animals, and a wide array of flora. It was kind of like a zoo (with very few walls –you can walk right up to many of the animals), water park, and botanical garden mixed into one. We started our journey though Xcaret at about 9AM and didn't finish until about 9PM. The sights here were utterly amazing! Some of our activities included the following:
| | |
| --- | --- |
| | |
| 'Shrooms | 'Flies |
Afterwards we watched a huge Mexican extravaganza of music and dance! After the sun set, over two hundred performers took the stage and provided a dazzling show about the history and culture of Mexico. It started with the Mayans and ended with the current day Mariachi bands. They also played a game of fireball (kind of like hockey, except the puck is on fire).
| | |
| --- | --- |
| | |
| Mayan Village | The Grand Finale |
On the way back to the hotel we did a little shopping at Playa del Carmen and even enjoyed a Mexican malt. They are slightly different here (or at least at this restaurant). The milk is partially frozen, and as such, there are bunches of little slivers of "ice" in the malt). After a very bumpy boat and taxi ride back, we were exhausted and ready for bed.
9/23/04 - Cozumel Day 5 – The Voyage Home – Did I mention it was nice to have the most pressing event on your calendar as a nap? It is equally as nice to sleep in as well! Due to the previous late night, neither Susan nor I woke up until about 10AM. Like the first day, this day was also fairly uneventful. We spent some more time resting on the beach under the palm trees while a waiter brought us drinks. There was also a little bit of time spent relaxing by the pool and watching a water volleyball game. The return flight was a little bumpy with flashes of lightning illuminating the night sky as seen from our tiny airplane windows. One shuttle and car ride later and we were back at home…and the cats were happy to see us.
10/29/04 - Hot Wings Anyone? – We have a costume party at work each year before Halloween. After a little bit of joking at work about dressing up as a Hooter's girl, I decided to go for it. Partially because everyone thought it was a great idea, but mainly because I wanted to see how many flabbergasted looks I could get in one day ;).
The costume consisted of some orange OSU shorts I purchased in Stillwater, a Hooter's T-Shirt from Fort Worth, a blond wig, blinking earrings, some hose, and a bra (for holding the three pairs of socks). Susan had the "honor" of painting my nails and applying makeup - everyone thought she did a wonderful job.
The first place of $75 definitely wasn't a drag. Now what can I dress up as next year?
10/29/04 - Hangman's House of Horror – Susan and I got together with Katrina and Ty this evening to visit a haunted house. This was our first haunted house since we moved for Fort Worth. I must admit, the house we visited was far better than any I had previously visited.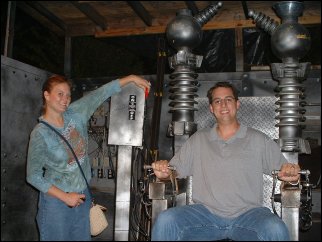 Hangman's House of Horror, located in Fort Worth, is actually four separate haunted houses in one area. The main house, which was themed with fairy tale stores, took about 45 minutes to walk through. There was also a pitch black maze and two smaller houses.