---
OCTOBER 2006
---
09/30/06 - Stasey Poker Invitational – Susan and I attended the 3rd quarter Stasey Poker Invitational on the last weekend of September. This event is hosted by Chris Stasey, the son of my boss at Frontier. There were about 30 players and the buy-in was $10. Unlike our monthly company poker parties, this was more "tournament style". This means once you lost your chips the game was over; no buy-backs. In addition, the blind increases were a tad less friendly and there was more table shuffling in order to ensure there was always a comparable number of players at each table.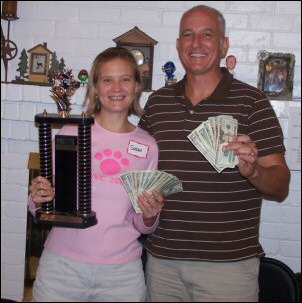 Susan (1st) and Robert (2nd)
The "Frontier Group" took charge at this tournament and claimed 6 of the top 8 spots and all of the top 4. In fact, my lovely wife claimed 1st place and I took 3rd. As such, we collected a nice little prize from this tournament (which is always nice). The next tournament is in December and we'll definitely try to make this one (if Frontier gets invited again after this routing of the regular poker players ;).
10/06/06 - Bass Hall Björk – The big boss at Frontier frequently hands out freebie tickets he acquires to various events. Normally these are for sporting events and Susan and I occasionally partake in a game at Ranger's stadium; however, this week I scored tickets to the Fort Worth Symphony at Bass Hall!
There were three main performances for the evening. The opener was the first performance of Symphony No. 3, "Vespertine" by a local composer, Kevin Puts. The performance had several aspects I enjoyed, but it also included certain aspects from 20/21st century music that I don't really care for. This includes segments where it seems one half of the orchestra is playing a completely different piece from the other half. I'm not sure of the terminology (it has been a while since my college Music Appreciation course), but I know it is a comparatively recent development in music composition. Personally I think it sounds like the orchestra stopped in the middle of the melody to tune their instruments again.
The second performance was by an amazing violinist, Giora Schmidt. He was accompanied by the orchestra with his rendition of Bruch's Violin Concerto No.1 in G Minor, Op. 26. He was extremely talented in his performance of a very challenging piece for violin. In my opinion this was by far the best performance of the evening and was thoroughly enjoyable.
The third performance was Mendelssohn's Symphony No. 3 in A Minor, Op. 56, "Scottish". This piece was a very traditional classical piece played wonderfully by the Fort Worth Orchestra. It was a little long but definitely worth sticking around for (some people left after Giora Schmidt's performance).
After the evening's listening pleasures we walked a few blocks over to Uno's and dined on Chicago style pizza and pasta. Yum!
10/07/06 - If You Build It, They Will Come – My boss at Frontier, Gary, has some land South of Fort Worth near Glen Rose. On this land is his very own softball field that he and his sons built over the course of several years (shortly after "Field of Dreams" played in theatres). Gary invited us out this weekend for some softball and BBQ - an offer too good to refuse.
The game was actually an anniversary celebration of the marriage between Gary's son, Chris, and Reba (which took place on the same softball field). The two teams were essentially bride vs. groom and Susan and I helped to fill out the groom's team.
| | |
| --- | --- |
| | |
| Chris Stasey Hits One Deep | Nathan Hits One Not So Deep |
It was a very friendly game of softball. Strike-outs were not allowed (you were at the plate until you hit the ball), there was no base stealing, and everyone was required to have a good time :). The game was 7 innings and the groom's team won with a final score of 14 to 13. Yours truly scored 3 of those winning runs =D; not bad for someone who hadn't played any type of baseball in at least a decade.
After the game we enjoyed some spectacular brisket, beans, potato salad, and homemade ice cream with a few games of washers (similar to horseshoes) and even a campfire when it got cold.