---
OCTOBER 2008
---
10/10/08 - So You Think You Can Dance? – It was time for our, hopefully, annual trip to the SYTYCD live tour at Grand Prairie. I know I say this every time, but you simply cannot have a bad performance at Grand Prairie - the theatre is so small that nearly all the seats are excellent. The down side is you have to work fast to get tickets. I was online several months ago within minutes of the opening sale and I almost missed out - it was a ticket frenzy (that and I don't like how Ticketmaster handles tickets - I much prefer having to go through a box office where you cannot purchase hundreds of tickets using sneaky tricks like the scalpers do). That all being said we had great seats this year and we were able to see all the action.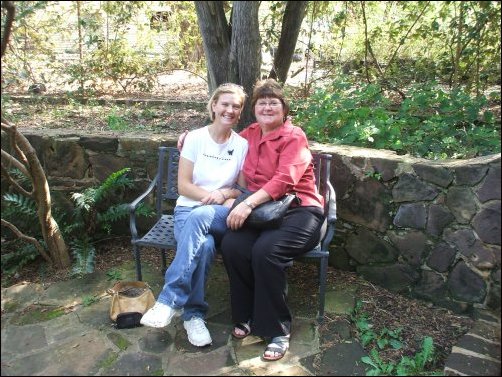 Bonus Picture of Susan and Nina
We didn't snap any good pictures from the show (mainly cause we wanted to watch instead of photograph). Therefore I'm going to provide videos of several of our favorite performances (in no particular order; however, the Courtney and Mark contemporary is my personal favorite):
10/11/08 - So You Think You Can Paint? – Nina and I made a trip to the Fort Worth Kimbell Art Museum to catch a glimpse of several impressionist paintings. This is more Nina's cup of tea but I do appreciate art to a certain extent and I certainly enjoy perusing the paintings. The gallery featured paintings by Manet, Degas, Renoir, Van Gough, and Monet (my favorite of the group).
10/18/08 - Meandering in Mansfield – Susan and I met up with Donna for the 2nd annual (I believe it was the 2nd - I may be wrong - I swear I remember last year Mansfield advertising it as the 1st annual) Mansfield Music and Wine Festival. The festival was a bit more structured than last year - the city actually had the street barricaded and even had some chairs and tables available.
The event was very similar to last year. We purchased a wine glass for a nominal fee and then wandered around downtown Mansfield looking for shops offering free wine tasting or music (there were several live bands this year and one harpsichordist). As you track down each location you check off a box on your scorecard. If you happen to find all locations you may turn in your completed card for a chance to win a prize.
The wine isn't spectacular (it is mostly hosted by Mia Vino - a below average winery in my opinion), but the event is still loads of fun. We also had good times hanging out with Donna for the afternoon - we were happy she and her ex-sister-in-law were able to join us!
10/19/08 - Stasey Softball – It has been a little over a year since we gathered for a softball game with friends. I would say we were a little out of practice, but despite being rusty, our team still ended up winning the game. It was tough going with the Cates (the visitors) starting strong and taking an early lead; however, the Bombers (our team) had a dazzling rally in the 7th and final inning.
Susan - Almost Pointing at the Right Score
Susan and I personally scored several runs and I believe I hit better today than I've ever hit before. It was lots of fun and the BBQ at the "closing ceremony" was delicious. Thanks Gary, Reba, Chris, and crew for inviting us out!