---
OCTOBER 2012
---
05/31/13 - Fall 2012 Adventures – While preparing diary entries for our 2013 cruise I realized I never posted anything for the two vacations we took in the fall of 2012. Gasp!
In September 2012 we took Nina and Paula on a grandiose tour of New York (a city my mother had wanted to visit for years). There was a LOT of walking, but it allowed us to cover most of the things my mom wanted to see. This included:
| | |
| --- | --- |
| Times Square | A |
| Grand Central Station | B |
| Broadway – Phantom of the Opera | A+ |
| Rockefeller Center | C |
| Circle Line Sightseeing Cruise | A+ (included Brooklyn Bridge and Statue of Liberty) |
| Central Park | A |
| National History Museum/Rose Space Center | B |
| Ground Zero/Twin Tower Museum | B |
| China Town/Little Italy | A |
| Carnegie Deli | F- (big tourist trap and a huge waste of food/money) |
| Traces Dance Troupe | A+ |
It was a jammed packed trip with lots of opportunities for food, wine, and spectacle (just ask my mom about the naked cowboy).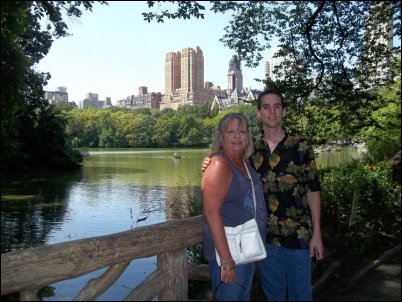 In October 2012 Susan and I decided it was time to take a little private vacation (Susan had been enduring a lot of stress at both work and home with sick kitties). As such, I planned a "last minute" vacation to Puerto Vallarta, Mexico. We booked a long weekend at the Occidental Grand Nuevo Vallarta – a really nice all inclusive hotel just off the beach.
Puerto Vallarta was definitely a splendid city to visit as it had a lot of interesting things to do. Some of the highlights included the following excursions:
We swam with wild dolphins in the open ocean with Wildlife Connection. This was a much better experience than swimming with captive dolphins (read up on it – it is cruel to keep a dolphin in an enclosed space). The wild dolphins were very inquisitive and would swim around us when we were in the water. They would also follow beside the boat and do "tricks" to entertain us. Mainly they just wanted to interact :).
On one evening (it had to be done in the dark) we released baby sea turtles into the ocean (also with Wildlife Connection). This will probably stand as one of the most memorable experiences on any of our trips. The baby turtles were simply adorable and they would flail as you were trying to put them into the beach. We would shine flashlights at the ocean to mimic the moonlight reflecting off the waves – this is what instinctively guided the baby turtles into the water (although several of them weren't very bright and they wanted to go the wrong way).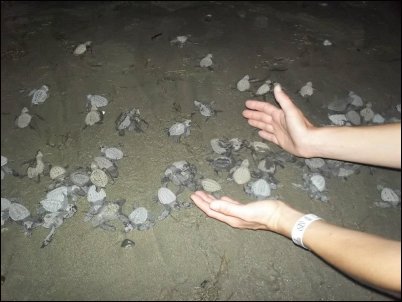 We also did a bit of snorkeling and bird watching via OceanFriendly Tours at Marietas islands in the Banderas Bay. This tour company normally does Whale tours; however, that is usually during winter so we were a few weeks too early to see any humpbacks. The tour guides provided lots of informational tidbits about oceanography and preservation.
On another evening we attended the Rhythms of the Night performance on the South side of the bay. This was a great nighttime adventure involving a leisurely cruise (free rum punch!) toward a private beach. Once there we enjoyed a delicious tribal dinner followed by a live performance similar to Cirque du Soleil.