---
SEPTEMBER 2001
---
09/14/01 - Nathan's Quest For Employment - For those of you who are not familiar with my search for gainful employment in Fort Worth, let me fill you in on all the interesting, and perhaps not so interesting, details...
My job search has been a continuing process since before Susan and I made the big move. I mailed and faxed countless resumes, applied online for hundreds of positions, called a variety of businesses, visited some local proprietors, and even listed myself with a few staffing agencies. For several weeks, this resulted in zero positive feedback from the job market. Worried that I wasn't going to find a job in either the computer or accounting industry in the near future, I decided to accept part-time employment at a local Olive Garden. Although the job was not my favorite in history, I did learn a great deal about wine and I enjoyed plenty of free Italian food =).
Fortunately, as of September 4th, I obtained a position with Frontier General insurance agency as a Staff Accountant. Frontier General is a fairly large company that provides all types of insurance for both commercial and personal needs. My job requires me to perform various analytical tasks such as reconciling the fifty-plus checking and investment accounts, balancing the daily claims, and creating reports that assist others in making decisions (your typical bean-counting stuff). The position I was hired for has excellent benefits, superb hours, and the staff is extremely friendly. Thus far I am thoroughly enjoying the work and I'm certain things will continue that way indefinitely.
| | |
| --- | --- |
| 09/18/01 - Shreveport! - For Labor Day weekend, my parents came through Fort Worth and picked us up and we all went to Bossier City/Shreveport, LA for a weekend of gambling, relaxing, and fun. When Nathan's bitter relationship with the slot machines came to an end, he finally surrendered to playing games at the tables. THEN he started having fun, because money actually came IN sometimes! One night we all played poker in our motel with extra pocket change. Supper one night at Ralph & Kacoo's was Cajun- complete with alligator, gumbo, shrimp, crab, fish, and hush puppies. We went to several casinos and when it was all said and done, we all came out a little ahead. | |
09/24/01 - The New Car - Well, Susan and I have finally decided to upgrade from her "sweet-sixteen" 1986 Monte Carlo to a "we finally have real jobs" 2000 Ford Taurus. This baby is loaded and was a tremendous bargain! Some of the features include:
Less than 20,000 miles and in mint condition
The engine is in perfect running condition and gets really good gas mileage
The 2000 Taurus also received excellent ratings during low-speed and high-speed crash tests
Auto-Everything (headlights, climate control, traction control, etc.)
Power-Everything Else (seats, mirrors, windows, etc.)
6 Disc CD Changer and surround stereo system
The side mirrors defrost when you turn on the rear window defroster
There are separate A/C and heat vents for the rear passengers.
The car has a neat anti-theft feature that allows the car to only be started with programmed keys.
The console has compartments everywhere and the interior is roomy and comfortable
There is a huge trunk that can be accessed through the rear seats (it also has a nifty glow-in-the-dark trunk release in case I decide to stuff Susan in it).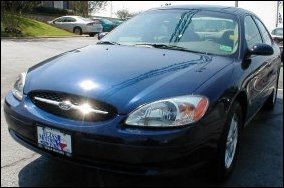 Our New Car =)
So far we have taken the car on one trip to Lawton and Stillwater. It drives smoothly and we love it!