---
SEPTEMBER 2008
---
09/01/08 - Grapes of Wrath & Murder – Here at murder central we've held a variety of murder mysteries. We've tried different folks, different themes, but there is usually one constant - the murderer escapes our collective grasp. Here is a summary of our past mysteries:
This year's murder was during the late nineties at a vineyard in Napa Valley where we all had a taste for wine and foul play. The winery owner, Barry Underwood (who was buried under the wooden wine cellar) was found dead, stabbed with a vine cutting tool. Suspects were abound and they all looked guilty; however, there was one specific villain who seemed to have motive, opportunity, access to the murder weapon and the secret passage leading to the wine cellar. For the first time since we've hosted these dinners the clues actually fit together for us and we were able to ascertain the killer. Salude!
| | |
| --- | --- |
| | |
| Ralph Rottingrape & Hedy Shablee | Otto Von Schnapps & Tiny Bubbles |
| | |
| Papa Vito | Marilyn Merlot & Bud Wizer |
09/01/08 - Laborless Day – Bob and Deb invited us out to their cottage (well, not really a cottage but I didn't take any pictures so I can get away with calling it that) on the lake for Labor Day weekend and we were happy to accept. Their house on the lake is tucked away in a nice secluded spot and surrounded by lots of trees - it was really quite pleasant. There is a garden out front from which we picked fresh eggplant, okra, and peppers. Bob grilled the veggies and steak and we enjoyed a delicious dinner (well, strike the single hot pepper Susan ate...and the subsequent napkins she devoured to neutralize the fire) outside with a light breeze to keep us cool. There was even a nice little pond nearby where we could watch birds and sneak a peek at the tiny fish.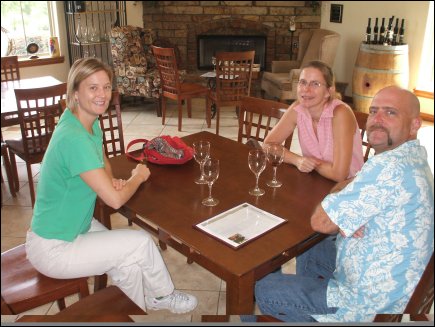 Before dinner we took a short tour around the lake to visit a few wineries. The wineries were of the typical Texas flair - that meaning we certainly enjoyed the visits but the wine was simply mediocre - that being said, we're always up for visiting more wineries!
09/05/08 - Century Club - 100% Complete – I began my quest to become a member of the Wine Century Club earlier this year. Surprisingly, and with a lot of help from Donna, Gary, and Chris, I was able to finish much more quickly than I expected. This was an extremely fun task to complete and I'll continue to check off more grapes as I taste them; however, as I found toward the end, new grapes are going to be fewer and farther among tastings.
My 100th grape, Concord (a very common grape for jelly and juice, but not so much for wine), was delivered to me on Friday by Donna (who I presume was simply dying to have me finish). I shared the bottle with Susan and Chris Friday evening as a little bit of a celebration. The wine was über-sweet and reeked of grape jolly rancher candy.
One hundred down...plenty more to go.
09/06/08 - Fall Gallery Night – WARNING - gratuitous photo below - don't scroll down if you are easily offended by headlights and rear bumpers.
Susan and I got turned on to gallery night a few years ago. We have made several trips and each time we have had lots of fun hopping from one art gallery to the next - grabbing a few appetizers here; clutching a few free glasses of wine there. It's all good, clean, fun - and we even purchase the occasional item of jewelry or candle (but definitely not the $10K+ art that could have been scribbled by a monkey drunk on banana liquor). One of our favorite galleries this year is owned by Rebecca Low - a sculptor of metal . Rebecca was a hoot and one of her prized pieces was a woman made entirely of car parts. She urged us to touch various parts of the sculpture, and surprisingly, the sculpture reacted - In one spot the "car" winks and says, "I'll give you 10 minutes to stop that." Other times the art just moans and groans - it really was quite humorous.
Bumper?....I barely know her?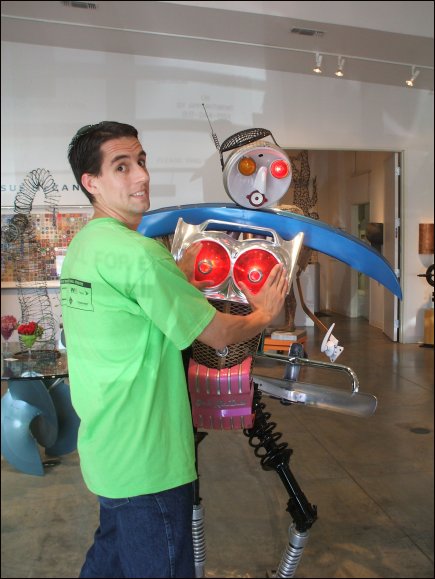 09/13/08 - Organic Bites – Organic Gardening over the years…it started out with some herbs in a window box just for fun…rosemary, basil, and such. Then they started dying, so I planted them outside (expecting them to go ahead and finish dying). Some of them did (the oregano, thyme, and cilantro). Others flourished (rosemary, basil, sage, parsley, chives, dill). Next I tried some tomatoes (with minimal success). Then I saw some little plants for sale (okra, eggplant, greens, peanuts, watermelon, black eyed peas). Then I planted some seeds (cantaloupe from a fruit I purchased) that are growing like crazy.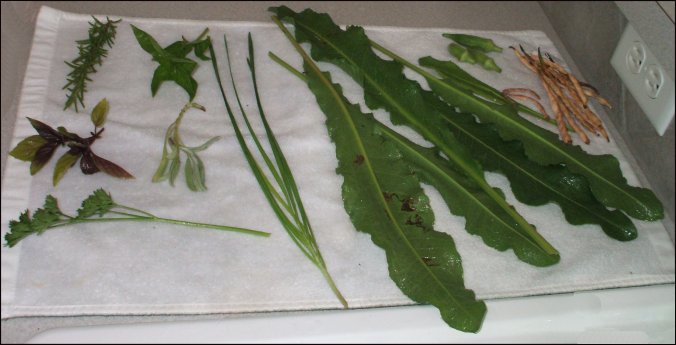 Now I've expanded and am waiting for other seeds (beets, lettuce, potatoes, etc.) It's been so fun watching what will and will not grow in this region; the differences in soil type (sand, clay, etc) and amounts of sun and water each require. I've really enjoyed picking things to eat and experimenting. The veggies, fruits, and herbs and interspersed in the flower gardens. I'm so excited to see what else will grow!!!
09/14/08 - Grapefest 2008 – Our semi-regular trip to Grapefest was lots of fun this year. Just like in the most recent years the festival is growing toward more of a beer, music, food, and art festival...and oh, they have some Texas wine. It is still entertaining to walk down main street, visit a few wineries, and pick up a few items we cannot live without (such as a few new wine-related clothing items).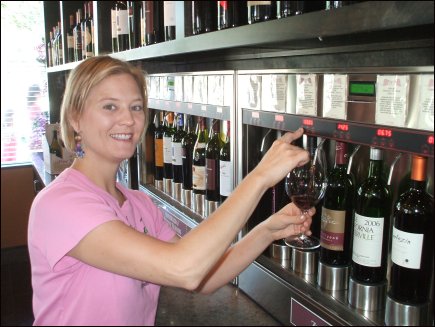 The biggest highlight for me was visiting the new Tastings: A Wine Experience. Upon arrival you are issued a "credit card" and wine glass. From there the tastings are self-serve and dispensed from an automated machine. You find a tasty sounding bottle, insert your card, and push a button. Then a 1-once, half glass, or full glass of fresh wine (the wine is vacuum sealed) is dispensed. It's very innovative, and despite the fact it isn't a very personable experience, is still enjoyable. It was certainly an easy way to sample several wines that might otherwise not be offered during a normal tasting (because typically businesses don't sample expensive wine because the unused portion spoils). The restaurant/bar also has a variety of food and snacks to enjoy with your wine tastings.
09/21/08 - Paso Robles – It kind of feels like all of my diary entries have been wine related this month - I suppose that isn't a bad thing - I'll just blame it on being harvest season. That being said, I certainly enjoyed witnessing harvest in California this year. We timed it perfectly (mostly by accident) and several of the vineyards were picking grapes while we sipped on our beverages. I can honestly admit harvest was much more plentiful here than in our personal backyard (the birds picked my two vines clean as soon as the grapes hinted at being ripe - which is okay; I'm sure birds enjoyed them).
| | |
| --- | --- |
| | |
| Pacific Ocean View | Giant Fig Tree in Santa Barbara |
Susan and I picked Paso this year because we consistently find ourselves enjoying wine from this appellation. They absolutely make good Zin and Syrah here. One interesting thing we noticed is that there seems to be a competition between West and East Paso. The West side is a little earthier and the East is a bit more fruity - we all preferred the East. We received lots of recommendations of spots to visit and nearly all were excellent choices.
| | |
| --- | --- |
| | |
| Relaxing at Justin Vineyards | Group Therapy at Meridian Vineyard |
The weather was simply gorgeous while we were there. The sky was nearly always a crystal clear blue, the temperature was cool, and there was always a gentle breeze blowing. The only time we were really cold was during a trip to Hearst Castle - the wind coming off of the ocean was a tad chilly.
| | |
| --- | --- |
| | |
| Those Are Some Tall Weeds | Rolling Hills |
Nina, Susan, and I flew into downtown Burbank (thanks for the tip Mark) instead of Los Angeles. We were in and out of the airport in less than 15 minutes and we didn't have to drive through the LA traffic (since Burbank is North of the city). It definitely was a time saver and supplied us with lots of extra moments to spend driving along Highway 1 plenty of rolling hills, ocean views, and even zebras lining the countryside.
| | |
| --- | --- |
| | |
| Mine...mine...mine... | Plenty of Time to Stop and Smell the Roses |
Before we hit Paso we made a shot pit stop outside of Santa Ynez Valley for a bite to eat and to hit a few wineries before 5PM (which is when most in this area closes shop for the day). We had a lovely random meeting with a couple of new friends at Roblar Winery. Art and Cindy were locals to the area and filled us in on some great places to wine and dine. They also invited us to follow them over to Brander Vineyard where the host treated us like royalty since we were "friends of friends". It was a superb experience and maybe someday we can return the favor if Art & Cindy ever come to Texas.
| | |
| --- | --- |
| | |
| Fun in the Sun and Shade | Paso Robles Scenery |
| | |
| Morning Fog - Literally Rolling In Over the Mountains | Eberle's Underground Cellar |
We eventually arrived in Paso, had dinner at a nice local Italian place (Lombardi's - I'm going to list some specific places here and there so that Dave and Anita can more easily plan their next wine trip ;), and eventually checked into our bed and breakfast at Carriage Vineyards. The B&B is situated near the top of a hill outside of Templeton (a "suburb" of Paso...assuming a town of about 20K can have a suburb). The view from atop the hill was breathtaking - you could see several vineyards, lots of olive orchards, and watch the horses and cattle in their pasture. Our hosts, the Farleys, were awesome - Leigh Ann always prepared a delicious breakfast!
| | |
| --- | --- |
| | |
| Horses Love Fresh Peaches | Vineyard View at Carriage Vineyards |
Our first two days in Paso were spent hitting several wineries in the area. There were about 10 we had on our to-do list and we stopped at quite a few more than that over the course of our 4 1/2 days in California (31 total - don't ask me how - I'm pretty sure Susan doesn't remember most of them - and yes, that is because Susan always drank the rest of my sample since I was driving). Some of our very favorites were Four Vines (Zin bliss), Peachy Canyon, Robert Hall, Vina Robles, Eberle (be sure to take the tour here - they have an underground cellar), Meridian (nice cheese tasting here too), Tobin James, and Clavo (a new winery with extremely smooth reds).
| | |
| --- | --- |
| | |
| Castoro Cellars - "Dam" Fine Wine (Their bottles have a beaver on them) | Okay Nina, Put Down the Water |
When we weren't wandering around and touring various wineries we spent our time eating local faire or simply relaxing and enjoying the atmosphere. We visited a tiny cheese factory, Vivant, on Friday for lunch and Nina even found time to snag a beer at the local Firestone Brewery (I won't tell anyone if you won't). The downtown area, a neat little square of small boutiques, was also a great place to hang out after hours; however, the town does shut down early so most of our evenings were spent back at the B&B.
| | |
| --- | --- |
| | |
| Got Wine? | Harvesting the Bold Reds |
| | |
| Susan and Peaches (at Peachy Canyon) | The White Grapes are Golden and Ripe |
On Friday we hit the road West toward the Pacific Ocean and drove a smidgen further North on Highway 1. Our destination was Hearst Castle. There is lots of history there, but mainly it is an amazing place to see what the wealthy in the 1920's spent their fortunes on before they had the luxuries of today. The castle featured a marble outdoor swimming pool, a gold plated indoor swimming pool, statues from ancient Egypt, and massive amounts of woodwork imported directly from Europe. It was fascinating; however, I do believe we arrived a little early for our tour (probably about 30 years early looking at the age of most of the passengers on the tour bus - sorry Nina, I couldn't resist the poke!). One the way back from Hearst we visited a public beach and stopped to spend an hour or so in Cambria (a quaint town to obtain fresh seafood while on the coast).
| | |
| --- | --- |
| | |
| Hearst Castle - Gold Plated Swimming Pool | Hearst Castle - In the Garden |
Overall our trip was immensely enjoyable, relaxing, and certainly a nice break from work (which has been swamping lately). Now where to next?