---
DECEMBER 2006
---
12/09/06 - November Roundup – I've been a bit negligent with the blog the past month, but in my defense, it is the holidays ;). As such, I've decided to catch up in one quick entry with all of the items we did last month.
Nov 4 - Canton - Susan and I made the semi-lengthy trip to East Texas in order to peruse the Canton First Monday Trade Days. This is very similar to the Weatherford Trade Days but much, much larger. We spent the morning and afternoon looking at a few antiques, shopping at the vendors, and snacking on lots of greasy "carnival" food. All in all the trade days wasn't anything spectacular, and in the future, we'll just stick to driving to the much closer Weatherford First Monday Trade Days.
Nov 12 - Greek Festival - Our annual pilgrimage to the Fort Worth Greek Food Festival was toward the middle of November. As usual there was an abundance of excellent food and entertainment. We split the Moussaka plate for lunch on Sunday; it included potatoes, green beans, spanakopita, dolmathes, and a Greek salad. For dessert Susan had Galaktobouriko and I had the Loukoumathes (description of these items). Opa!
Nov 18 - Stargazing - About a month earlier my boss, Gary, had invited several of my coworkers and me to a stargazing and meteor shower watching event at his ranch south of Fort Worth (same place as the baseball field). The meteor shower in question was the Leonids; however, we figured out shortly before the event that it wasn't going to be "visible" from central US until about dawn (this was more of a European event). Nevertheless we didn't want this to damper our fun so we marched on just a simple night of stargazing.
We all met at the Coyote Loco Diner just outside of Glen Rose. This is a true "hole-in-the-wall" restaurant; in fact, there were lots of holes in the walls letting in the cold outside air [:D]. The floor was similar to that of a barn, covered in sawdust, and the tables were simply picnic tables. The food was outstanding! Susan and I split a chicken-fried steak and still weren't able to finish. Our entire table also shared an order of thick onion rings.
After dinner we made the short drive (only a few miles away) to the ranch and set up the campfire (it was a little chilly that night). The campfire and blankets kept us warm and the smores and hot chocolate kept us full while we had a wonderful time trading stores and pointing out the occasional constellation. This event was tons of fun and inspired us to plan a real camping trip for slightly warmer weather this spring.
Nov 23 - Thanksgiving - The holidays have begun and we kicked off the season with a trip to Lawton for Thanksgiving. We spent the weekend hanging out with family, eating wonderful food, playing a few hands of poker, and spending an afternoon out at the refuge. It was a relaxing couple of days (we needed it) and as usual we had a great time. Susan also snapped lots of good pictures:
| | |
| --- | --- |
| | |
| Autumn in Bloom | Stoic on the Prairie |
| | |
| Longhorn in the Wild - Have any Treats? | Prairie Dog Day - Chirp! Chirp! |
| | |
| Bison Family in the Wild | Our Family in the Not-So-Wild |
Nov 30 - Smores - Our first "true" cold front passed through late in November. It was so cold that we decided to light up a fire and have a few of our leftover smores from the stargazing party.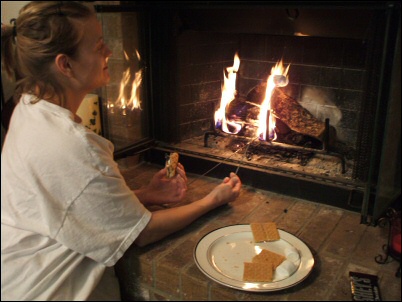 We've had the wood sitting in our garage for over a year, but I still had a difficult time getting it to burn - I hope I'm never stuck in the wilderness without any gasoline.
12/11/06 - Squirrel Run – I almost forgot to mention the Squirrel Run event I attended last month. This was my second formal 5K run to participate in (Buffalo Boogie earlier this year was the first). The run was held at the Fort Worth Botanical Gardens but most of the run took place on the city streets bordering the gardens (unfortunately; I would have preferred the scenery inside the garden). It was certainly a chilly morning (about 45 degrees), but all the runners warmed up quickly after the cannons announced the start of the run.
Surprisingly, I topped all of my previous run times (I usually average about 23' on a treadmill) by taking 3rd in my age group with a time of 21'49". With the varied terrain I was quite amazed I managed to cut over 60 seconds off of my average; however, running with a group definitely keeps you motivated. For those of you counting that is a little over 8.5 MPH (once again, average). I have a goal I haven't really tried to meet yet, but I'll give it a shot one of these days; I'd like to run 1 mile in less than 6 minutes (10+ MPH). I'll post here if I ever manage to accomplish it.
12/12/06 - Winter Wizard – One of the interesting viral videos last year was a "Clark Griswold" style light decoration. It featured music from the Trans-Siberian Orchestra and thousands of lights twinkling in tune with the music. It was definitely a marvel of extra time and wasted electricity.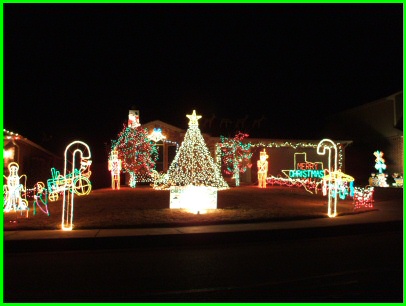 Earlier I was listening to a local radio station and they were discussing good spots to catch house decorations. A gentleman from Burleson, TX (less than 15 miles from our house) called in to boast about his home. It features in excess of 40,000 lights and 7 songs to which those lights dance rhythmically.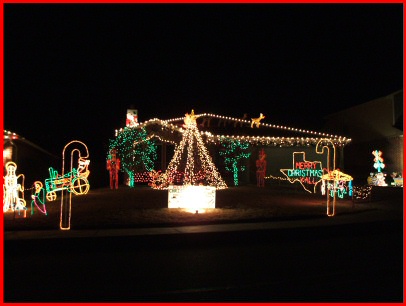 Susan and I made the short trip Tuesday night and it was well worth the few miles on the car. I would even go as far as to say the home's performance was every bit as good as the Internet video competition. All 7 shows were spectacular and both Susan and I enjoyed the free show. I especially liked the reindeer on the roof that would light up whenever their names were called out in various songs (you can see Rudolph above).
12/16/06 - Jingle Bells – We stopped by University Square (near TCU) this evening before dinner to take advantage of a local carriage service offering free Christmas "sleigh" rides. Almost immediately I noticed Beth, one of my coworkers, with her family. They invited us to join them on their carriage so we were able to share a lovely experience with friends. Now if only there had been snow :).
Dashing over the concrete,
In a two-horse open carriage,
O'er the parking lot we go,
Laughing all the way.
Bells on bobtail ring,
Making spirits bright,
What fun it is to ride and sing
A carriaging song tonight.