---
FEBRUARY 2004
---
02/01/04 - Susan's New Computer - This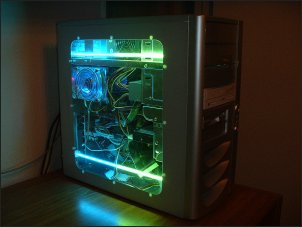 was originally supposed to be Susan's birthday present this year, but I finished it early and though it would be cruel not to let her use it. I'm including a picture of it online so that everyone can see that regular PCs (i.e., not Macintosh) can look interesting too!
02/02/04 - 15 Credit Hours Down; 12 To Go - My third semester at UTA began late last month. 9 hours was a little rough, so I decided to stick to 6 this Spring. The semester wraps up on May 14th and then I'll take my last 2 classes over the summer!
Software Tools – What I thought was going to be an easy class over Microsoft Word, Excel, Powerpoint, and Access has turned out to be a ton of work. I find it odd that a class designed to teach you how to use these programs in a business environment has been spending the majority of the time writing research papers and creating presentations over cowboy rodeos and geysers. Personally, I think the instructor should give us the data/research as a template and then leave it up to us to format the data in each program.
Accounting in Managerial Planning and Control  – Another one of my required courses, this class concentrates on gather and reporting information for use in planning, control, decision making, and performance evaluation.
02/14/04 - Valentine's Day Snow - As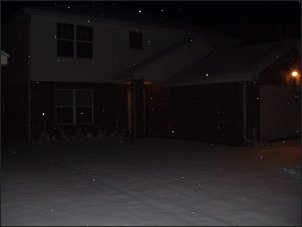 Susan was getting ready to leave for Las Vegas (Vet conference), I stepped outside to take this picture at about 6AM. The weather channel called for a few snow flurries overnight, but assured there would be no accumulation. We received a little snow last year, but not even close to the 3+ inches we have right now! Unfortunately, it will probably all melt away before having to return to work on Monday.