---
JANUARY 2006
---
01/04/06 - Dallas Stars – Susan and I had the opportunity to attend our first Dallas Stars hockey game today. We tried to go last month, but an ice storm locked us inside on the night of the game. Not so today! In fact, the weather was so pleasant we could have worn shorts and a T-Shirt (Is it really January?!?).
This game was much more interesting and fun to watch than the earlier Brahmas game. The Stars were behind 1-0 most of the game, but pulled it together in the third period to emerge victorious with a score of 3-1. Go Stars!
Instead of driving to Dallas we took our second ride on the train. For the most part I really like how easy and convenient the train is. On the downside, you are at the mercy of the train schedule. For example, our train ran into some unknown problems on the way back from the game and the trip took about an extra hour. It wasn't a huge problem (except Susan had to work the next day...sorry sweetie!) and on the upside it timed the trip to closely correspond with the final 10 minutes of the Rose Bowl game. Our entire car was filled with Texas fans (I know, "Whoda Thunk?") and we had several travelers with cell phones providing play by play commentary on the final few minutes of the game. Hook 'Em Longhorns!
01/06/06 - Frontier Christmas – My company Christmas party was actually a month ago, but the pictures just arrived today. There were lots of good candid shots and posed pictures. I could post a lot of them, but most of my readers wouldn't recognize anyone in the shot. As such, I selected the picture of the table Susan and I dined at for dinner.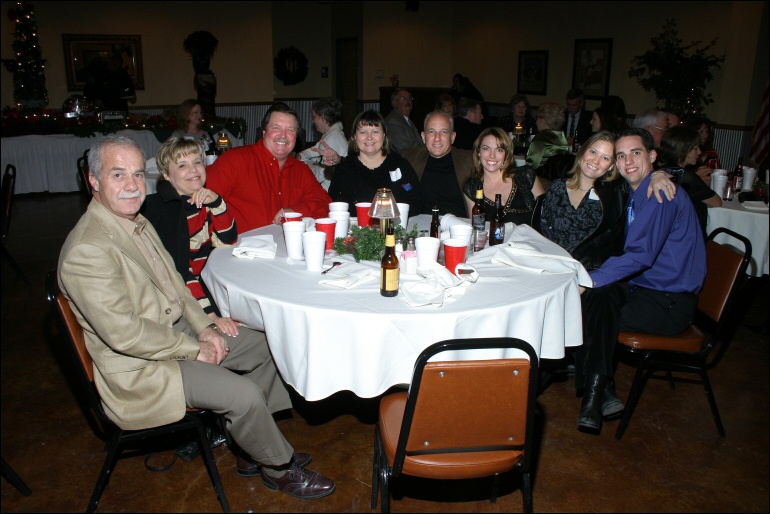 L2R: Nassar and wife, Gary (Boss #2), Lynn (Gary's wife), Robert, Kristi (Boss #1), Susan, and yours truly.
01/06/06 - Home For the Holidays – Although the holidays are sometimes hectic, Susan and I never miss being able to hang out with friends and family. We had lots of fun this year and acquired some good memories. Here are a few pictures from this year's various Christmas gatherings:
Lawton
Pottsboro
Pottsboro
Claremore
Claremore
01/07/06 - You Might Be a Redneck – I would like to start off by stating our neighbors across the street are good people; they're nice and always cheerful. In addition, their kids are well behaved and friendly. That being said, Susan and I occasionally joke about whatever might be laying around in their front yard or by the curb. Sometimes it is a beat-up car, maybe a 60's couch, half a recliner, or who knows what else they might be working on at the time. The items usually disappear within a week or two (relocated or garbage collection - I'm not sure which). Nevertheless, it is always fun to see what might appear next.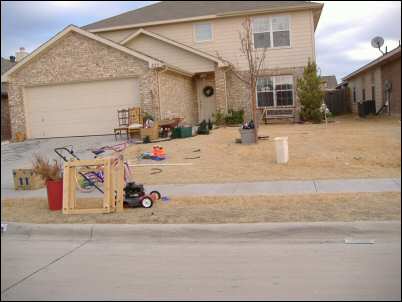 In the spirit of this I posted the above picture from the other morning. It only looked like this for about 24 hours...so I'm not sure what was going on. I'd call it a garage sale, except it was on Christmas Eve. Anybody need a lawnmower?
01/08/06 - Equine Fun – I think it has been over a year since Susan's last diary entry. Not that I mind, but it does mean this site presents a slightly biased outlook at the events in our lives. I blame it on her demanding schedule which leaves little time for leisure; that and it might intervene on her cat naps ;). However, as an avid reader, I wanted to provide an opportunity for Susan to share her thoughts about a particular recent affair – a horse ride with her friend Carey. Unfortunately, I wasn't actually there, so I'll just have to make something up and let her fill in the details later. Hmm…I've got an even better idea…we can all fill in the details for her instead! I've presented a summary of her enchanted afternoon on horseback but left some of the details blank (think Mad Lib). Simply fill in the blanks and compose the perfect story. Click submit and then both Susan and I will receive a copy to read as well (and maybe even post it in a subsequent diary entry). Enjoy!
---
---
I started out with an original story before I added the Mad Lib part. If you want to read my original version, click here.
Here is Susan's version.
Here is Carey's version.
01/14/06 - Wine: Day 1 – Among the many wonderful gifts I received for Christmas was a "Make Your Own Wine" kit. I will henceforth refer to it as the "Make Your Own Moonshine" kit. It comes with bottles, corks, labels, grape juice, a fermenting bag, various additives, and yeast. The entire moonshine process takes about 30 days so I thought it might be interesting to document the progression of my rubbing alcohol...err, wine.
The grape juice included in my kit was Merlot and initially extremely sweet (I had to sample it). Pouring the originally contents resembled pouring a container of blood (or what I would imagine it would look like). The juice was extremely thick, but in its defense, it was a concentrate. After adding about a gallon of water it started to resemble the regular Welch juice variety.
I started out by "sterilizing" my equipment. I emphasize the word sterilize because apparently the process documented in the instructions is a mockery to the word based on the type of sterilization Susan uses at work. Of course, I'm only brewing potentially toxic beverages; I'm not trying to actually save any lives. My sterilization consisted of putting a tiny packet of cleaning solution into a stainless steel container of hot water and subsequently soaking all of my wine tools that I would be using (mainly the measuring spoons, funnel, and fermenting bag). I washed my hands real good too ;). Nevertheless, if the wine ends up tasting like fungus, we'll all know why.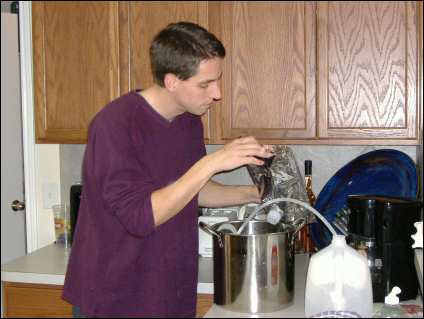 The second step required the funneling of the grape juice into the fermenting bag. Subsequently I added two different kinds of yeast and agitated (the bag, not Susan). Finally I sealed the bag with an air valve that performs an as yet unknown function. I speculate, as the fermenting occurs, that the air in the bag will decrease. I believe the air valve will allow more air to come into the bag when it is needed. We'll see...I'll check on it every few days to see if my theory is correct.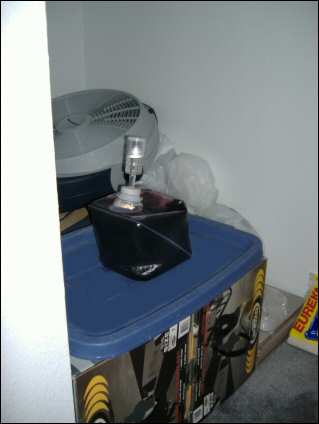 The fermenting process requires a dark room essentially at room temperature (between 70 and 76 degrees). I selected the closet under our stairs. It will henceforth be referred to as the "Wine Cellar".
01/17/06 - Wine: Day 3 – I started thinking about the picture I took of the wine cellar and it didn't seem like a very clean environment with all of the junk in the background. Since then I've cleaned out cellar and moved a bunch of the stuff to an upstairs closet and the attic. It will look much more presentable in future photographs.
Turns out the valve is not for letting air in, but for letting carbon dioxide out. I only found that out after doing a little research on the net. The second purpose of the valve is to also keep bacteria from getting in. Good...I'd hate for the bacteria on the outside to become friends with the bacteria I couldn't completely sterilize from the inside.
Something else I learned...fermenting is noisy. Well, not terribly noisy, but more like "If this were sitting by my bed at night it would drive me bonkers" noisy. It sounds like a freshly opened can of Coke; it fizzes - constantly.